At Computex, XMG not only presents the new gaming laptops XMG APEX 15 and XMG APEX 17. In a roadmap update, the company also gives a preview of which other laptop models are planned for the coming weeks and months. Besides first information about the XMG PRO 16 Studio, the roadmap also offers a sneak peek at various upcoming launches from the sister brand SCHENKER.
XMG laptop roadmap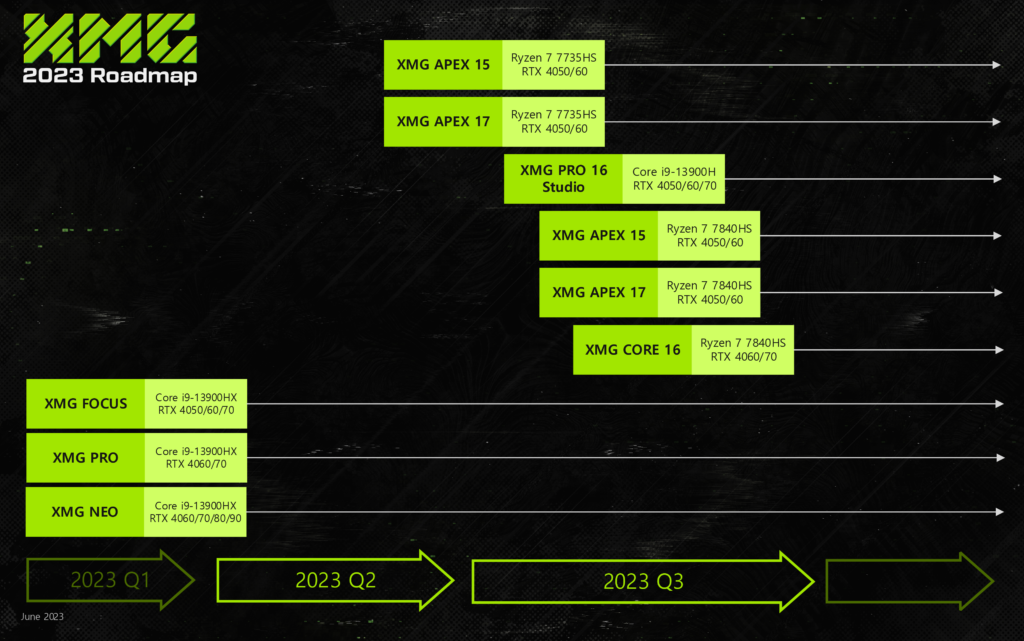 XMG APEX series
XMG APEX 15 and APEX 17 are built for performance, sporting an AMD Ryzen 7 7735HS processor and the option for an NVIDIA GeForce RTX 4060. The 15- and 17-inch 144 Hz screens and powerful components lend themselves to gaming, while the laptops feature generous memory expansion options thanks to 2x DDR5 RAM and 2x SSDs. With weights of 2.2 kg and 2.47 kg, respectively, the APEX series maintains a manageable heft for all this power.
XMG APEX series can be configured with upgradeable storage and memory on bestware where XMG APEX 15 starts at € 1,399 incl. 19% VAT with RTX 4060. A variant with RTX 4050 will be exclusively available via notebooksbilliger.de later in June. XMG APEX 17 starts at € 1,299 with RTX 4050. An upgrade to the faster GeForce RTX 4060 is available for an additional charge of € 158. Pre-orders are now open, with shipments beginning mid-June.
There are also plans to offer a Zen 4-powered variant later relatively soon. This upcoming refresh, while not yet officially announced, is expected to provide more options for LCD panels, including a WQHD resolution, and potentially faster memory speeds than the current DDR5-4800, pending validation. Alongside the processor upgrade, these enhancements are projected to increase the cost somewhat. An additional highlight of the Zen 4 refresh will be the introduction of a new chassis in the XMG CORE family, similar to XMG NEO 16, with a sizeable 99Wh battery and a maximum of RTX 4070 graphics, though (differing from XMG NEO) without XMG OASIS support.
XMG PRO 16 Studio
Next, the XMG PRO 16 Studio offers content creators a versatile workstation. It comes with an Intel Core i9-13900H processor, up to an NVIDIA GeForce RTX 4070, a 16:10 aspect ratio and NVIDIA Studio certification. It stands out with its highly efficient vapor chamber cooling solution, support for 2x DDR5-5200 RAM and Thunderbolt 4, making it the perfect companion for intensive creative tasks.
The XMG PRO 16 Studio is competitively priced similar to the current XMG FOCUS 16 with RTX 4060/4070. Despite a slightly lower all-core rendering power, XMG PRO 16 Studio offers enhancements such as additional USB-C power delivery, Windows Hello camera, 2.5 Gbit LAN, longer battery life (due to H-series CPU), and a slim, all-aluminium chassis. It's a compelling premium option for content creators and gamers, due to be available in European in late July or early August. Subscribe to bestware's newsletter to be informed about the product launch this summer.
SCHENKER laptop roadmap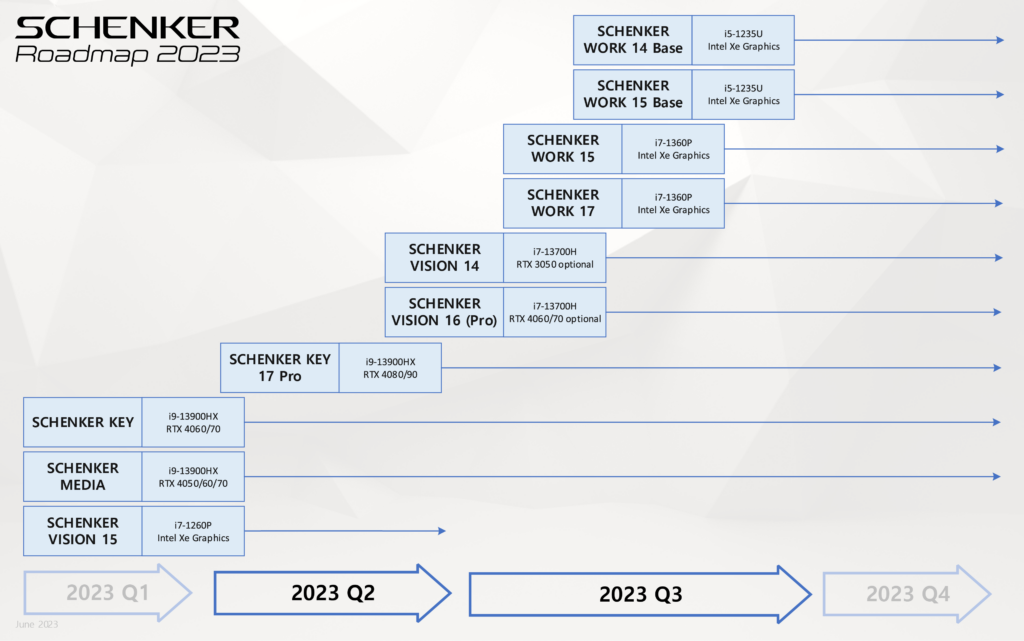 SCHENKER WORK Base series
Our new WORK Base series brings flexibility and adaptability into focus in a light, compact form factor. The series introduces an optional LTE module with SIM card slot in the 15.6″ model, an extra layer of privacy with a webcam shutter on the 14″ model, and a 180° hinge across the series. While it operates on lower CPU power, the upgradeability remains parallel to its original SCHENKER WORK counterparts.
With an Intel Core i5-1235U processor, these devices support up to 2x DDR4 RAM. They feature a 1080p FHD display with a brightness of 300 nits, an aluminium shell, and a 180° hinge. Weighing 1.37 kg and 1.75 kg, respectively, they're equipped with Wi-Fi 6E, LAN port, MicroSD card reader, and full-function USB-C. The SCHENKER WORK Base series with i5-1235U will cost less than € 800 incl. 19% VAT, bundled with 8GB RAM and a 500GB SSD with memory and storage upgrades available on bestware.
SCHENKER VISION series
The SCHENKER VISION 14 is powered by an Intel Core i7-13700H, and it can be outfitted with an NVIDIA GeForce RTX 3050 for graphics-intensive tasks. Its 14-inch, 16:10, 90 Hz, high-resolution (2880×1800 px) screen covers 99 % of the sRGB colour space, making it ideal for creative professionals on the go. Constructed with an AZ91D magnesium frame, the laptop boasts 2x DDR5 RAM slots, Thunderbolt 4 support and a weight of only 1.3 kg.
Up a size, the SCHENKER VISION 16 (Pro) packs the same core processing power as the VISION 14 but with a larger 16-inch, 240 Hz display with 2560×1600 px resolution. It can house an NVIDIA GeForce RTX 4070 for superior graphics performance. The high-quality AZ91D magnesium chassis also supports 2x SSD slots and weighs between 1.5 – 1.6 kg, striking a balance between power and portability.
SCHENKER KEY 17 Pro
The recently unveiled SCHENKER KEY 17 Pro is a high-performance workstation that ranks as the most potent in our 2023 portfolio. Backed by Intel's Core i9-13900HX and top-tier NVIDIA GeForce RTX 4090 or 4080 GPUs, KEY 17 Pro shines a spotlight on its high-resolution 4K or WQHD displays that cover at least 99 % of the sRGB and extended DCI-P3 colour space. Coupled with the ability to install up to three M.2 SSDs, broad connectivity options, and top-tier components make it an ideal workstation for creative professionals and demanding tasks such as virtual reality, 3D CAD applications, and real-time rendering.
The robust aluminum chassis houses a 99 Wh battery and cooling system designed to handle the most demanding components. KEY 17 Pro comes with three slots for M.2 SSDs, the primary slot future-proofed with PCI Express 5.0. Additionally, it supports up to 64 GB of plugged-in DDR5 memory with a clock frequency of 5200 to 5600 MHz depending on the chosen RAM capacity. All graphics outputs are connected to the NVIDIA GPU, with ports including HDMI 2.1, Mini DisplayPort 1.4a, and two Thunderbolt 4 ports with integrated DisplayPort stream. This makes it compatible with all current virtual reality headsets and capable of managing up to three external monitors besides its internal display.
Are there any plans for AMD Ryzen 7040 series (Phoenix) without dedicated graphics?
At the moment, we do not have the possibility to introduce Zen-4 based laptops without a dedicated GPU into our lineup due to a variety of factors, including available R&D resources and questions of consistent availability across the supply chain. Keep in mind that laptops without dGPU require a much larger volume than gaming laptops in order to provide a return on their investment. However, we are presently in discussions with AMD and potential partners about future products with AMD Ryzen. Please stay tuned for updates later this year.
Are there any plans for AMD Ryzen 7945HX? (Dragon Range)
At the moment, we do not have such plans. For performance similar to Dragon Range, please see XMG FOCUS, XMG PRO, XMG NEO and SCHENKER KEY 17 Pro for our products with Intel Core i9-13900HX. Please also note the CPU Undervolting and DDR5 Memory Tuning options on XMG NEO (E23).
Further questions or feedback?
Thank you for your continued interest and loyalty this year. Follow us on Reddit or join our Discord server for some occasional sneak peaks into our product planning – and subscribe to the newsletter of our partner shop bestware.com if you would like to be the first to receive more information about upcoming product launches. We look forward to your feedback!