In February, we introduced the new XMG FOCUS 15, FOCUS 16 and FOCUS 17 – each equipped with Intel's high-performance Core i9-13900HX and graphics cards up to the NVIDIA GeForce RTX 4070. We are now following up with the obligatory technical deep dive, which takes a close look at the new models and explains the technical details and special features of the current XMG FOCUS series.
Highlights & Features
Here are the most notable highlights:
Three different chassis and screen sizes
Intel Core i9-13900HX and NVIDIA graphics cards up to the GeForce RTX 4070
Geared towards great cost/performance ratio
Maximum graphics power rating of up to 140 watts (115 watts TGP plus 25 watts Dynamic Boost 2.0)
Powerful composite cooling system with five 6 mm and one 8 mm heat pipe
DDR5 RAM at up to 5600 MHz
Two M.2 SSD slots with PCI Express 4.0 connection
Wide selection of screen resolutions including Full HD, WQHD and WQXGA between 165 and 240Hz refresh rate
16:10 aspect ratio in XMG FOCUS 16 with up to 500 nits screen brightness
All available display options support G-SYNC, NVIDIA Advanced Optimus and an additional MUX switch
Two USB-A and two USB-C ports, one of which is Thunderbolt 4
HDMI 2.1 and Mini DisplayPort 1.4, both directly connected to the NVIDIA GPU
Separate audio jacks for microphone and headphones (compatible with combo plug headsets)
Gigabit Ethernet, Wi-Fi 6E and a microSD card reader
Full HD webcam with temporal noise reduction
Compatible with current VR headsets
Robust and sturdy build quality made of ABS polymer in all 3 chassis variants
Metal display lid on the XMG FOCUS 16 chassis
Large 73 Wh batteries
Full-sized, backlit keyboards with a dedicated numeric pad and large arrow keys
XMG FOCUS 15: Picture Overview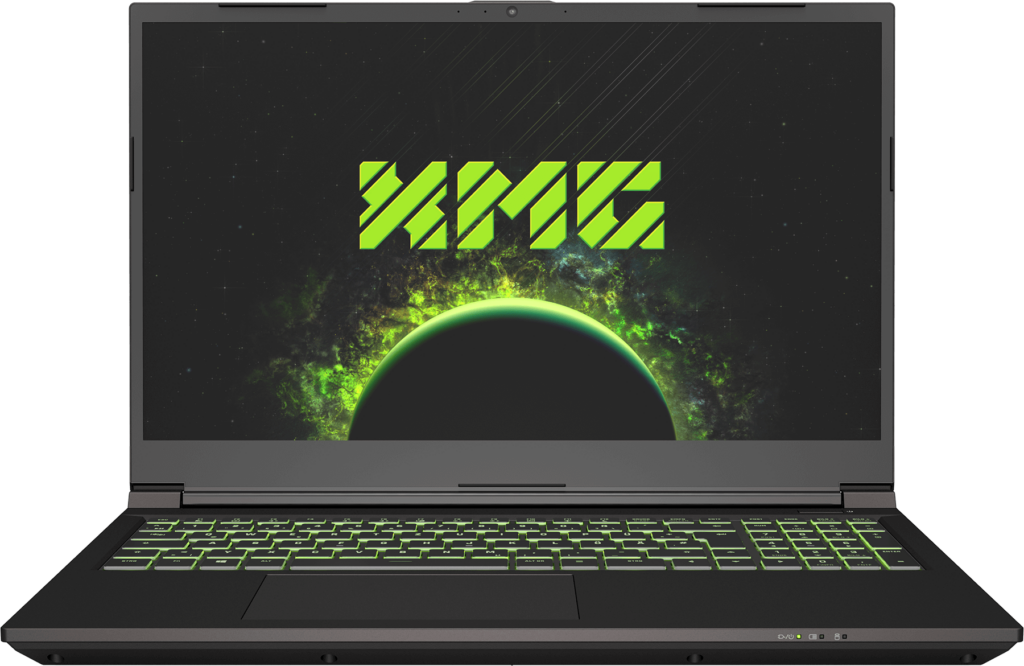 More pictures can be found on the product page.
Comparison with XMG FOCUS 16 and XMG FOCUS 17
Comparison with XMG FOCUS 16 and XMG FOCUS 17
The I/O port layout and keyboard modules are identical between the three models. The following pictures will show to-scale size-comparisons.
small = XMG FOCUS 15
medium = XMG FOCUS 16
large = XMG FOCUS 17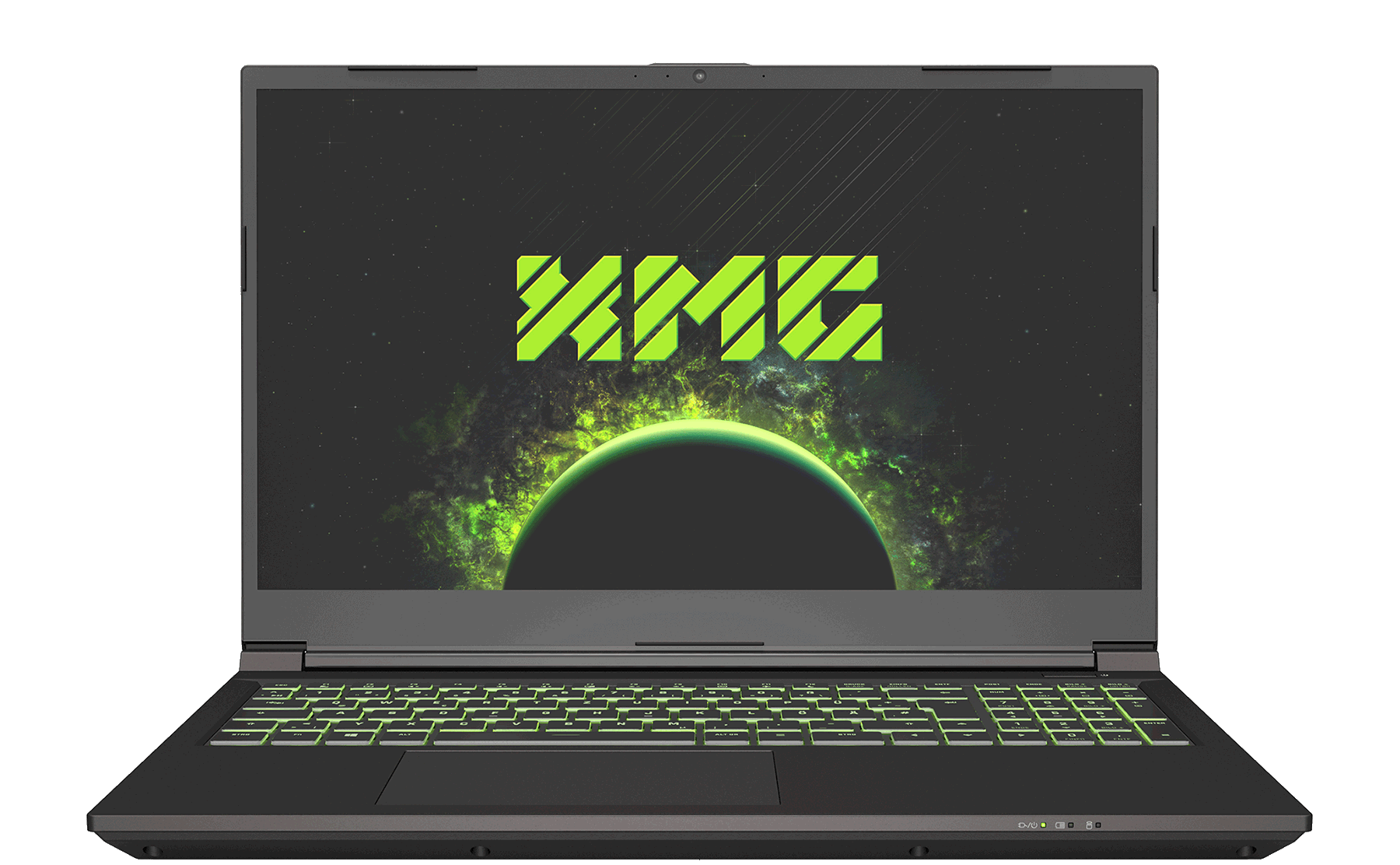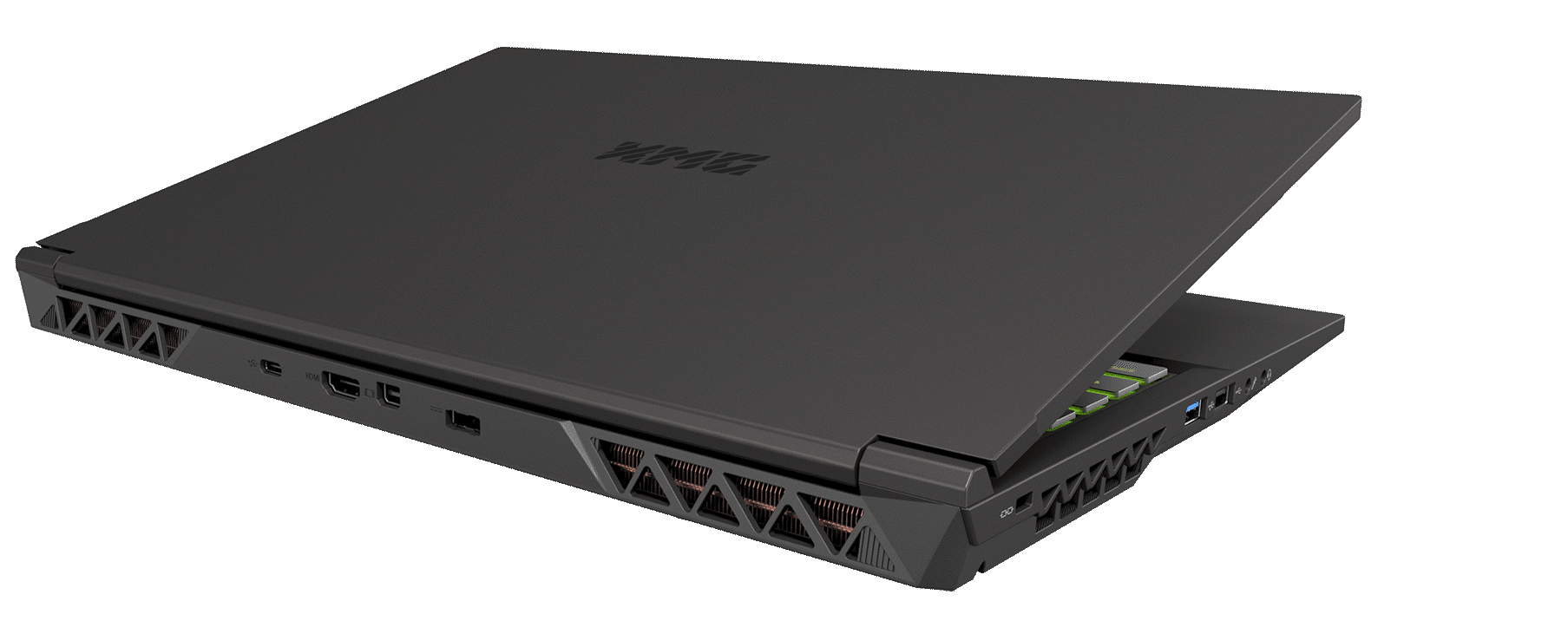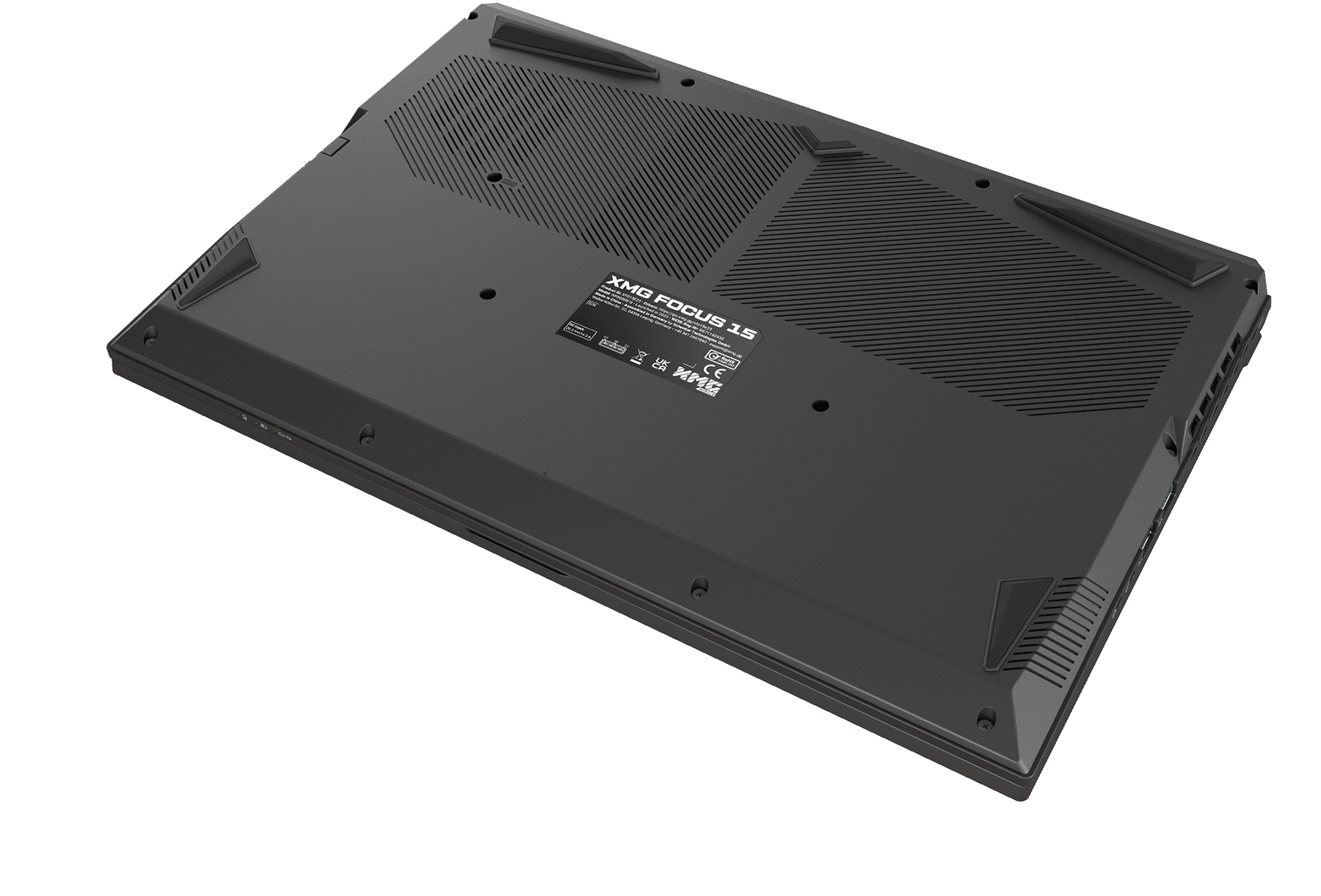 Click the link above each comparison picture for a full-screen view.
The Intel Core i9-13900HX advantage
We have committed to Core i9-13900HX in all variations of XMG FOCUS (E23) because of the following advantages:
Twice the amount of E-cores compared to i7-13700HX.
20% more L3 cache compared to i7-13700HX.
Officially supports DDR5-5600, where i7-13700HX only supports DDR5-4800.
Larger cache and faster memory will help gaming performance while the bigger core/thread count helps with content-creation workloads. Thanks to our volume commitment, the price gap between Core i7 and Core i9 in this generation is surprisingly small with less than 50 € incl. 19% VAT. Some background: Intel Core 13th Gen's (Raptor Lake) is manufactured in the "Intel 7" process which initially saw its first wide release with Intel Core 11th Gen (Tiger Lake). The fact that this process is quite mature may also result in Intel getting good yields on these big-core "HX" chips, helping to further bring their price down.
The following table shows a complete overview: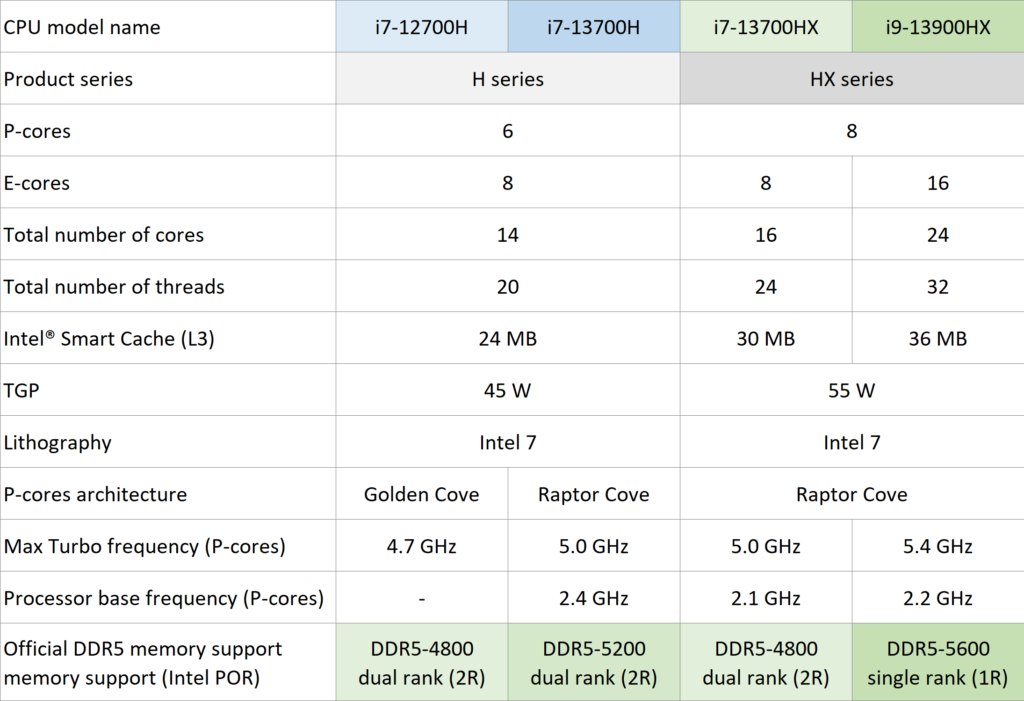 These spec and performance differences are much greater than what the market has seen in previous Core i9 laptop generations. Previously, the Core i9 in Intel's H series was the same chip as the Core i7, just with slightly better binning and thus slightly higher maximum clock speeds. Now in the HX line-up, the difference in silicon, combined with the potent cooling systems in XMG NEO, PRO, and FOCUS, actually provide for a significant uptick in performance, not unlike the differences between many of Intel's desktop CPUs. In fact, the "HX" series is directly derived from Desktop CPUs and chipsets. In Intel-internal documents, HX is described as the "SBGA" platform – essentially the "S" (Desktop) platform on a BGA socket.
DDR5 memory support
DDR5 memory speed differs between Single Rank and Dual Rank modules. Capacities of 64GB (2x 32GB) are currently only available in Dual Rank modules. Those are only supported with DDR5-5200 speed on Intel Core i9-13900HX. Furthermore, XMG FOCUS may only be able to run modules with speeds higher than DDR5-4800 if those modules are validated by the platform provider.
For more details on this topic, please see this article:
That article includes a link to this table:
This table shows you exactly which DDR5 memory modules can reach speeds higher than DDR5-4800 in XMG FOCUS (E23).
This caveat is only relevant for users who want to upgrade their own RAM.
If you buy XMG FOCUS at bestware or one of our retail partners, your system will come with the correct RAM modules from a list of validated SKUs out-of-the-box, so you will get exactly the RAM speed that is advertised in the configurator or product page.
Performance profiles
We recommend using the "Entertainment" profile for daily use.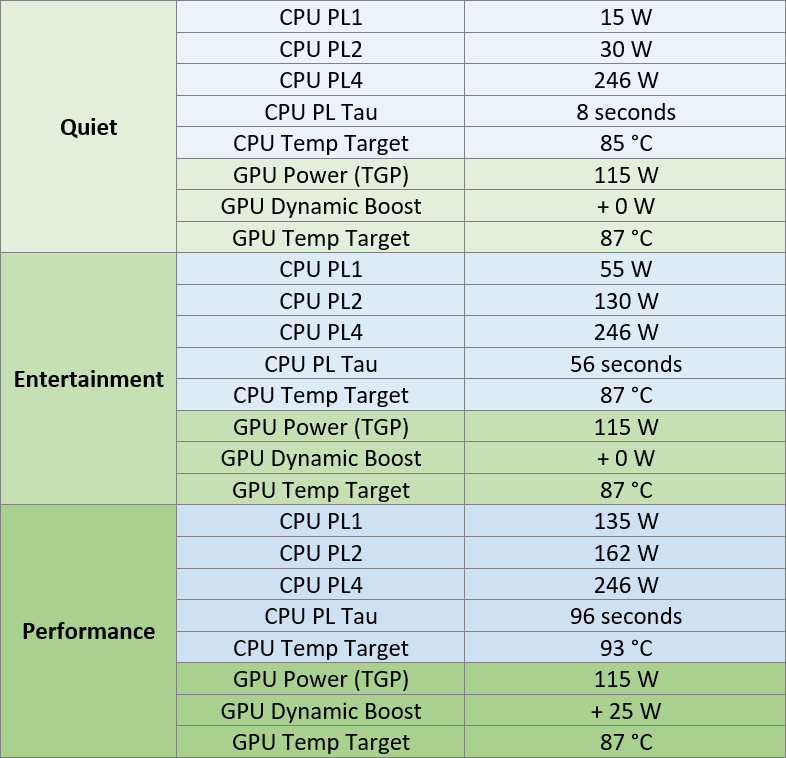 There are substantial differences in fan noise between Entertainment and Performance, despite only relatively small performance differences.
Fan curves
Our fan curves strife to approach a balance between performance and fan noise. This is especially true for CPU-only load, where additional fan speed does not gain much more CPU cooling due to the small contact area between the CPU die and the heatpipes.
The following table shows maximum fan speed levels in typical scenarios.

As you can see, the automatic fan speed tops out at 90% because there is not much more cooling improvement at 100%. However, you can still switch to 100% with the Fn+1 hotkey (not F1).
Internal Layout and Thermal Module
This picture shows the internal layout of XMG FOCUS 15 (E23):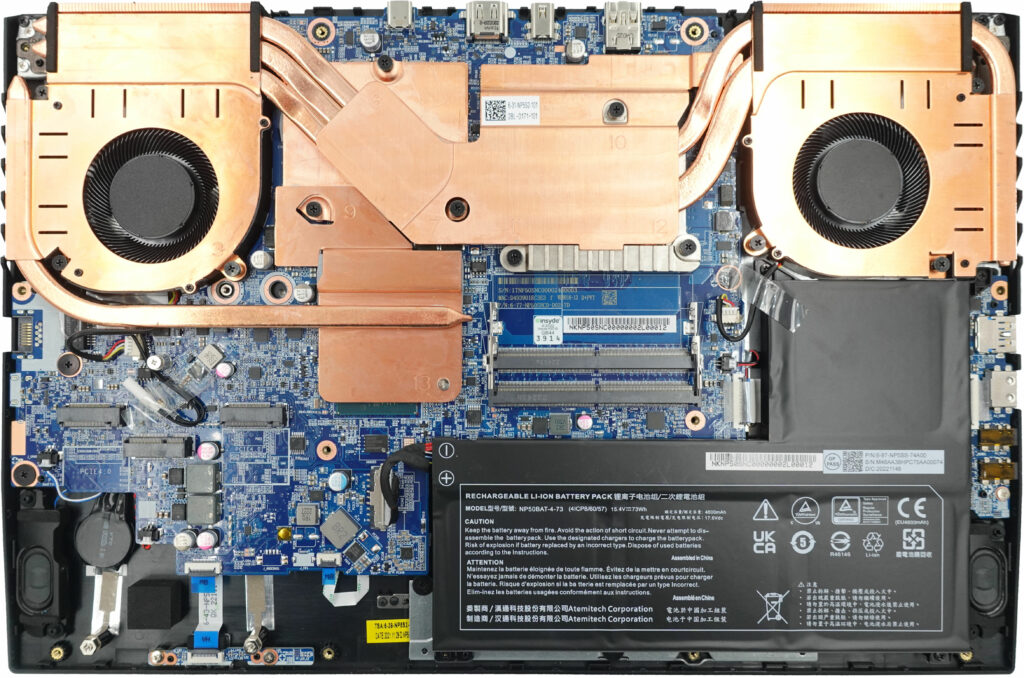 XMG FOCUS 16 uses exactly the same thermal module because it has the same chassis width. XMG FOCUS 17 uses a similar layout, just slightly enlarged with slightly longer heatpipes.
A comparison to XMG FOCUS from 2022 can be found here.
Notable upgrades in 2023:
Heatspreader elements that were previous made of aluminum are now made of copper
Previous model had 4 heatpipes, new model has 6 heatpipes
Previous model had 5 volt fans, new model has 12 volts
New fans have 79 fan blade to increase thermal output
New model has dedicated heatpipe for GPU VRAM and MOSFETs
Battery Life
Thanks to NVIDIA Advanced Optimus, the NVIDIA GPU should be automatically sleeping during battery life tests.
In our own testing on XMG FOCUS 15 in total Idle (Flight Mode, Lowest LCD brightness, disabled keyboard backlight), we see an average Discharge Rate of 8.5 watts. This should yield about 8 hours of battery life in Idle on this configuration.
If your idle power consumption (Battery Discharge Rate) in idle is much higher than this value, please check if you have any background processes running and if the NVIDIA GPU is sleeping. Disabling the NVIDIA GPU in Device Manager is not sufficient and actually counter-productive. To rule out the NVIDIA GPU for battery life tests, set "Display Mode" in BIOS Setup (F2) to "integrated Graphics only".
"iGPU-only" mode via BIOS setup
There is a real "iGPU-only" setting in BIOS Setup (F2). This function is hardware-based and thus requires a reboot. It completely shuts power to the NVIDIA GPU, making the NVIDIA GPU disappear in Windows. The result is identical with a well-managed NVIDIA Optimus work environment in which the NVIDIA GPU would be sleeping during web/office use.
The advantage of using this mode is that you do not have to be afraid of rogue programs hogging your dGPU. Looking at you, Epic Games Launcher…
Related FAQ:
With the "iGPU-only" setting in BIOS, you have no signal on external monitors via HDMI and Mini-DisplayPort, as those ports are directly wired to the NVIDIA GPU. DisplayPort over Thunderbolt however is wired to the iGPU and would still work in "iGPU-only" mode.
LCD Panel Comparison
XMG FOCUS series (E23) is available with 4 different LCD panels. Notable highlights:
Almost all panels offer a 60 Hz fallback option. Exception: the FHD panel in FOCUS 15 does not allow 60 Hz operation.
All panels support G-SYNC and NVIDIA Advanced Optimus
One panel is rated at "up to" 500 nits brightness
Two panels are rated with 99% DCI-P3 color coverage
Comparison table: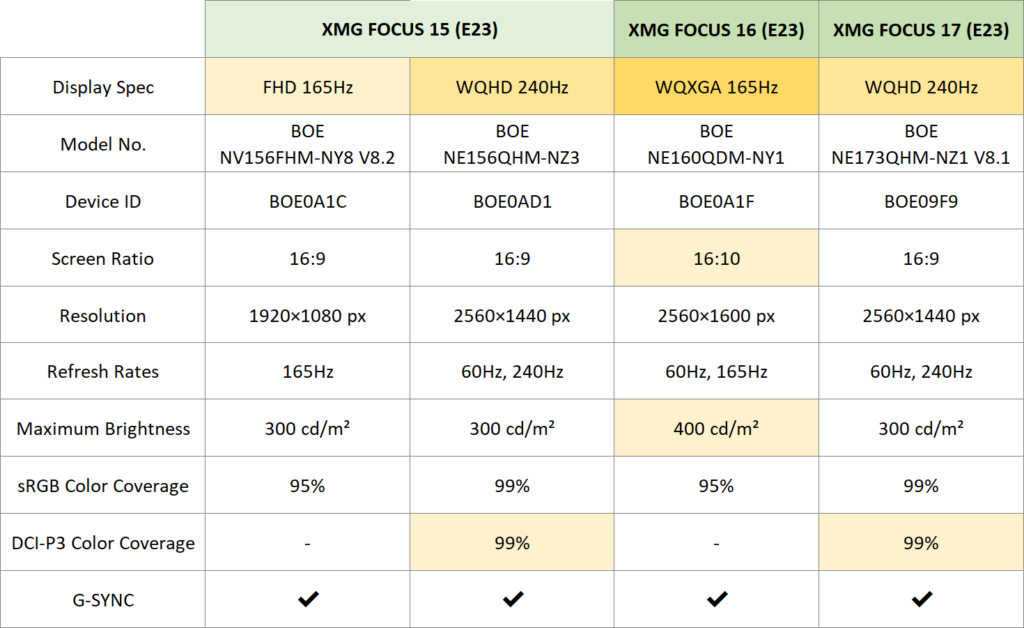 Up to 500 nits on XMG FOCUS 16 (E23)
The panel in XMG FOCUS 16 (E23) was initially advertised with only 400 nits (cd/m²). However, further testing has revealed that the panel may consistently reach over the 500 nits. Technical background: the panel BOE NE160QDM-NY1 is available in two revision:
BOE NE160QDM-NY1 V8.0 (BOE0985)
BOE NE160QDM-NY1 V8.3 (BOE0A1F)
According to BOE's original spec sheets, both panels are rated to achieve a typical value of 500 nits. Both panels also specify the same power consumption.
However, the V8.0 panel that was used in last year's XMG FUSION 16 only reached 395 to 460 nits based on our testing. Due to this discrepancy, we advertised it with only 400 nits last year in XMG FOCUS 16 (M22).
However, this year we are using the V8.3 version of this panel. This is now shown to reach well over 500 nits on multiple samples. In this review, the panel was measured at over 539 nits, based on a random mass production sample. We are considering to adjust our official advertisement from the current "400 nits" to an official "up to 500 nits" for XMG FOCUS 16 (E23).
Keyboard Layout
XMG and SCHENKER laptops are available with over 25 keyboard layouts. Please note the following features in the layout of XMG FOCUS series:
True Full Numpad: Follows exactly the layout of a standard desktop keyboard
Gap between Numpad and Alphabetic Keys: The gap helps to hit keys like Backspace and Enter faster when typing blindly because you can "feel" the gap and don't accidentally go into the numpad area.
Full Size Cursor Keys: Cursor/Arrow keys (↑↓←→) are same size like alphabetic keys
Dedicated Navigation Keys: PageUp, PageDn, Home, End – each function has a dedicated key without needing any Fn modifier
4-pin Rectangular Power Plug (ACES 56911)
XMG FOCUS and XMG PRO (2023) are using the 4-pin rectangular power plug that was already introduced in XMG ULTRA in 2020. Specifications and a justification for this power plug can be found in the recently updated FAQ article:
Compatible power adapters are listed in this document:
In the document, make sure to click on the "4-pin rectangular plug" tab at the top of the page.
Advanced BIOS Setup
Please note the following useful settings in BIOS setup:
Display Mode: allows you to switch between iGPU-only, dGPU-only and NVIDIA Advanced Optimus
FlexiCharger
Activation and deactivation of various Intel features
Options to disable M.2 ports, webcam, audio and radio
Configure VMD controller for RAID options
Storage security options
A full set of screenshots can be found here. BIOS Hotkeys:
F2 = Enter BIOS setup
F7 = Boot Media Select
Additional hotkeys in Windows:
Fn+1 (nicht F1) = Fan Boost
Fn+3 (nicht F3) = Switch Performance Profile
Remark on NVIDIA RTX 40 Series GPU Power
XMG FOCUS is able to max out the GPU power consumption of the RTX 40-series laptop GPUs (140 W for RTX 4050/4060/4070) in synthetic stress tests (e.g. FurMark). However, according to the NVIDIA specifications, the actual GPU power consumption depends on the type of workload. Therefore, the power consumption may be below (sometimes significantly lower) than the specified TGP and Dynamic Boost power draw values and is defined by NVIDIA.
GPU Temperature read-out in Control Center vs. HWiNFO64
NVIDIA GPU Temperature readings have always been based on what can be described as "GPU Die Average". This is a value that NVIDIA provides to software such as HWiNFO64. It presumably calculates the average value of all temp sensors located on the GPU die. This value always has been the main benchmark when it comes to GPU thermal throttling.
In HWiNFO64, this value is just called "GPU Temperature".
NVIDIA's maximum for this value has been 87°C. Upon reaching this value, the GPU would start to gently lower its power consumption.
Since RTX 40 series, the Control Center in XMG FOCUS (E23) and XMG PRO (E23) is displaying a different value. This new value is similar to (but not identical to) what HWiNFO64 calls "GPU Temperature Hotspot". It is a kind of GPU hotspot value that is provided by NVIDIA over SMBus for firmware control. We do not know how NVIDIA calculates this value, but it is being for GPU Fan Control in firmware.
Therefore, the GPU temperature value in Control Center will always be higher than "GPU Temperature" in HWiNFO64. Naturally, the Hot Spot value (hottest point on the die) will always be higher than the average value. Example: if HWiNFO64 reads 75°C GPU Temperature, Control Center may already read around 80°C. This is normal.
When indicating GPU temperatures for tech support, we recommend using the "GPU Temperature" value in HWiNFO64 because that's the one that can be better compared to systems from other vendors. The GPU temp value in Control Center can be ignored as it is only used for internal firmware control.
Related FAQ article:
Disassembly
Upgrading SSD and RAM and cleaning the cooling system is easy. Remove all bottom case screws to open the laptop. Related FAQ articles:
Configure and buy
The freely configurable XMG FOCUS 15, XMG FOCUS 16 und XMG FOCUS 17 laptops are available in our partner shop bestware.com. More product images, detailed specifications and information on the configuration options of the laptops are available on the respective product page.
Your feedback
We appreciate your curiosity and interest in delving into the features and capabilities of our XMG FOCUS gaming laptops. Now we eagerly invite your questions, observations, and insights. If you already own one of these devices, feel free to joint us on our Discord server in the channels #xmg-focus or leave your valuable comments in our Reddit thread. We are looking forward to your feedback!