With the XMG APEX model series (L23) and the brand-new XMG CORE 16 (L23), we recently unveiled our first gaming laptops featuring AMD processors from the Ryzen 7040 series. As a result, the XMG APEX 15 and APEX 17, part of the M23 model generation that was introduced just in June with CPUs from AMD's Ryzen 7030 series, already have successor models. Unlike the APEX series, the XMG CORE 16 is not merely an update; it is a completely redesigned laptop packed with high-end features. In this deep dive, we offer a comprehensive technical overview of these models.
Size comparison in pictures
The following animated GIF shows the three sizes of the XMG APEX 15 (15.6 inch), XMG APEX 17 (17.3 inch) and XMG CORE 16 (16.0 inch) in direct comparison: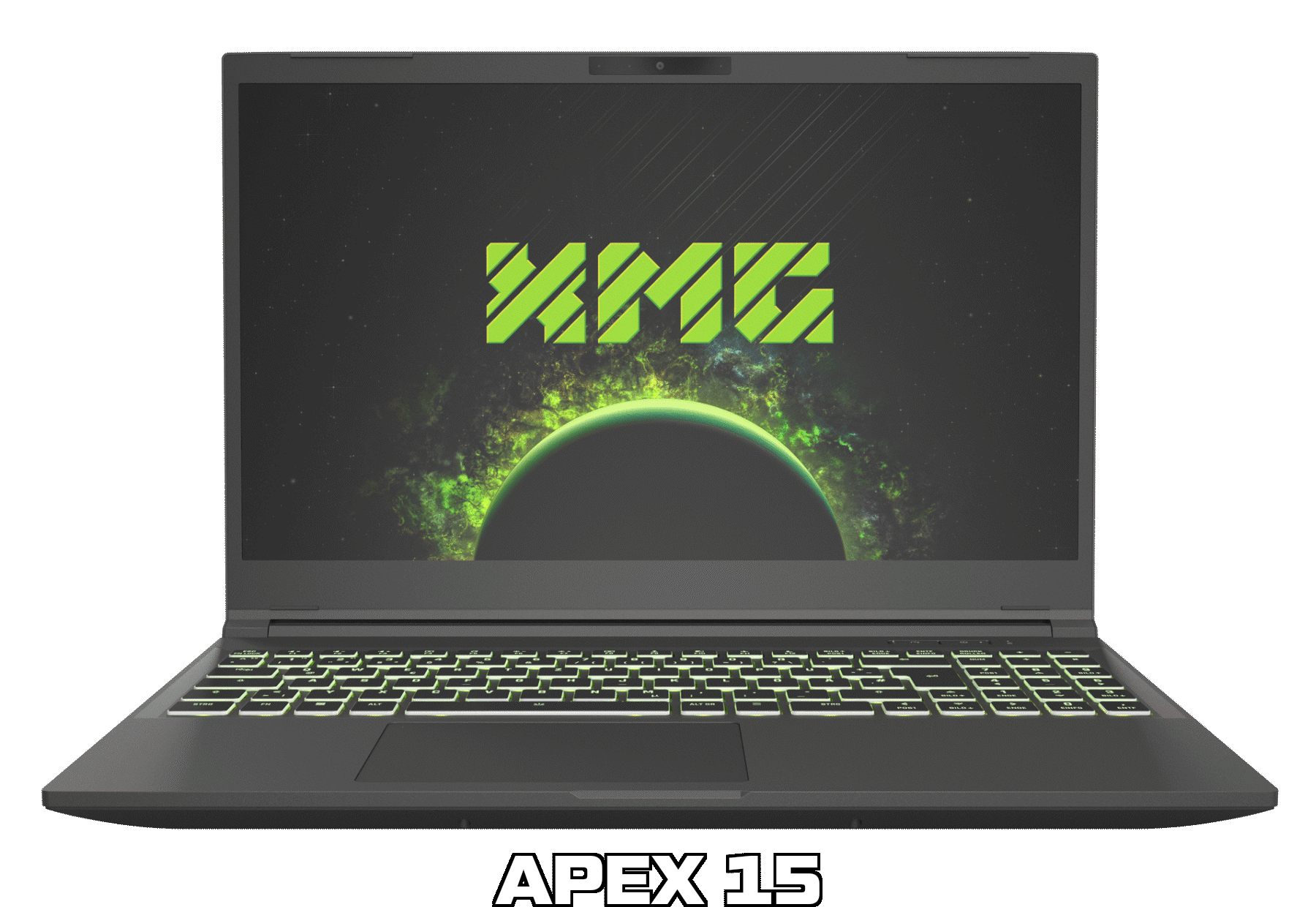 Check out the websites for the respective model series for more pictures of each laptop:
Differences between XMG APEX and XMG CORE
As mentioned before, XMG APEX and XMG CORE (2023) are based on the same mainboard layout. This causes them to have many similarities in terms of features and I/O ports. However, due to the differences between the two CPU generations, the chassis construction and various key components (keyboard, display, webcam), there are some notable differences. This table shows all those similarities and differences in one overview: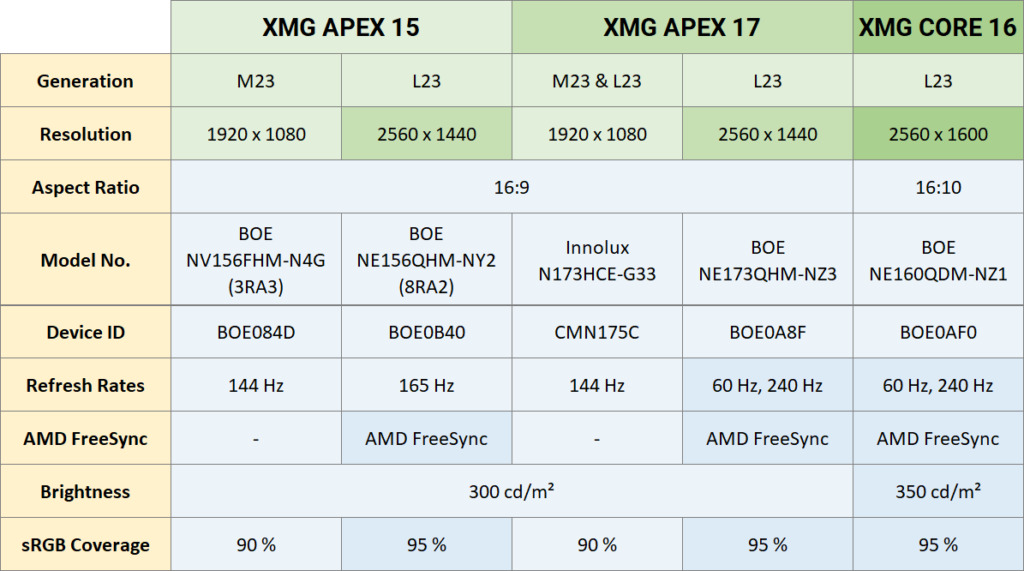 Differences between XMG CORE 16 and XMG NEO 16
The chassis from XMG CORE 16 has many similarities with the XMG NEO 16 that was introduced in early 2023. For example, it offers the same mechanical keyboard with Cherry MX switches. On the other hand, due to the different mainboard layouts between Intel in XMG NEO and AMD in XMG CORE, there are a significant number of differences. The following table gives you a complete overview: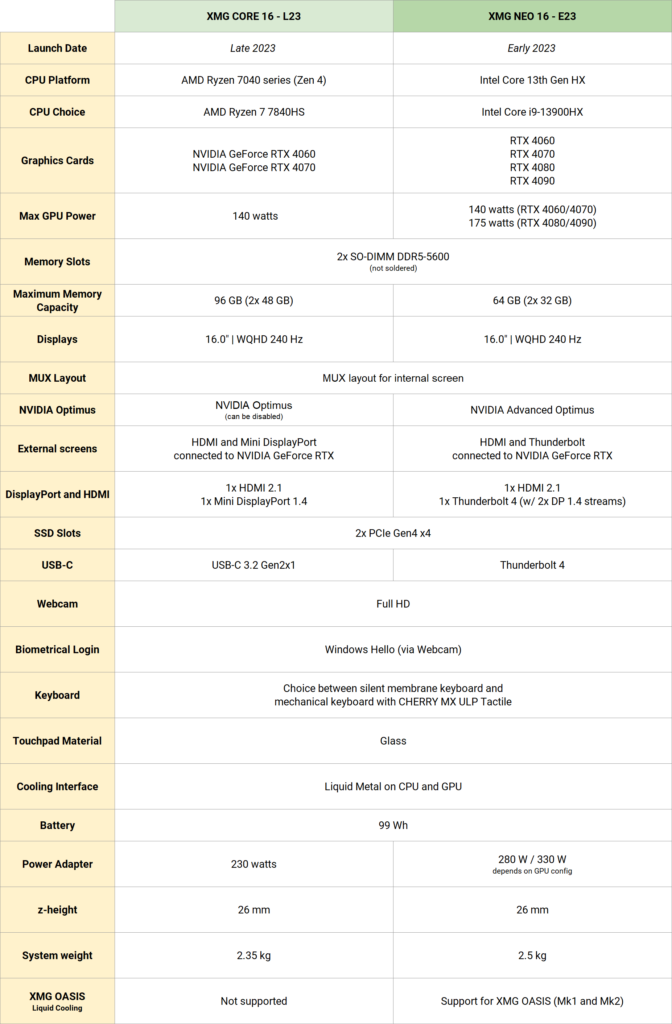 How does XMG APEX in 2023 compare to previous generations?
XMG APEX in 2023 shares similarities with previous generations of both XMG APEX (2020 to 2022) and XMG CORE (2019 to 2022) series.
Inherited from previous XMG APEX series:
Being exclusively available on AMD Ryzen CPU platforms
Offering some rather unique and edgy chassis designs (especially on XMG APEX 17)
Offering a more traditional I/O port load-out with Mini-DisplayPort
Being geared towards an excellent C/P ratio
Inherited from previous XMG CORE series:
The chassis of the new XMG APEX 15 has a strong resemblance to the previous XMG CORE 15.
The layout of the cooling system is derived from previous XMG CORE series with a hybrid heatpipe layout covering both CPU and GPU (previous XMG APEX had separate cooling loops for CPU and GPU).
Using the highly customizable XMG Control Center that has been known from XMG CORE and XMG NEO.
Why are XMG APEX and XMG CORE not available with …?
This year's XMG APEX and – to some extent – XMG CORE are geared towards offering some of the best "bang for your buck" value that you can currently get with RTX 40 series. To reach that goal, the platform is designed towards cost effectiveness. We would like to address a few of those "missing" features here:
1440p display resolution: XMG APEX (M23) will only be available with Full HD displays, running at 144Hz. The 1080p display resolution is becoming a rare sight in gaming laptops these days, but still offers higher performance (i.e. more FPS), especially on titles that are not DLSS-capable and longer battery life. There is also a price delta between 1080p and 1440p panels, making the product with 1080p more affordable. By not offering LCD upgrade choices, we reduce our logistics overhead, leaving the more premium features for the later-to-be-released Zen 4 generation.
NVIDIA G-SYNC, NVIDIA Advanced Optimus: Those features are heavy hitters in terms of component choice and license fees. With only a small selection of approved panels, G-SYNC and Advanced Optimus severely limit our flexibility in picking cost-effective displays for this series, thus making the cost savings from the aforementioned 1080p displays virtually impossible. However, XMG APEX attaches both HDMI and Mini-DisplayPort to the GeForce RTX graphics card, allowing you to bypass NVIDIA Optimus when gaming on external monitors. Optimus can also be disabled in the internal screen using the MUX switch either via Control Center or via BIOS Setup.
Charging the laptop over USB-C: Power delivery over Type-C is complex, somewhat inefficient and (especially on platforms with less engineering experience) somewhat more error-prone. The additional control chips and voltage regulators require mainboard space that is better used for other I/O ports and the cooling system. To compensate, you can buy a smaller, lighter power adapter with our standardised 5.5/2.5mm barrel plug. When you don't need the full 230W power on-the-go, you can use the new and extremely light and compact 180W power adapter (FSP FSP180-ACBU3) that have recently launched with SCHENKER VISION 16 Pro.
Support for USB4: despite having been launched (on paper) with AMD Ryzen 6000, true and full USB4 support on AMD platform is still extremely rare to see in the real world. Most load-outs of what other brands label as "USB4" are nothing more than USB-C 3.2 Gen2x2 with 20 Gbps. Those solutions do not offer direct PCIe support and are therefore not compatible with Thunderbolt docking stations nor eGPUs. This scarcity has technical reasons which can be summed up with the eco-system including the suppliers of supported ICs and verification pipelines are just not as mature as they are on Intel's platform with Thunderbolt 4. Therefore, to save cost and development time, XMG APEX (M23) comes with a standard USB-C 3.2 Gen2x1 loadout with maximum of 10 Gbps USB bandwidth. This is still plenty of connectivity for fast external SSDs or for multi-USB port replicators, but it does not support the DisplayPort ALT mode. External monitors must be connected directly to the laptop via HDMI or Mini-DisplayPort. XMG APEX (M23) does not have true Docking Station support.
Support for XMG OASIS: this one is easy. With the high efficiency of AMD Ryzen CPUs and low wattage requirements of RTX 4050/60 series, there isn't really a need for water cooling. While XMG APEX is able to run the CPU at 80W and the GPU at 140W, the GPU will hardly ever scratch the 100W power consumption line in gaming workloads and the CPU will see the 80W only in all-core scenarios such as Cinebench, Blender and software-based video encoding.
Overclocking, Undervolting, Custom Memory Tuning: none of those are supported out-of-the-box on AMD Ryzen 7030 and 7040 series. There is no widely available, vendor-supported reference code. There is a general impression that AMD's platform already achieves top efficiency out of the box.
Batteries larger than 62 Watthours in XMG APEX: the 99Wh battery from the slightly more bulky XMG CORE 16 does not fit into the streamlined chassis of XMG APEX series. Fortunately, thanks to the efficiency of AMD's CPU platform, battery life with 62 Wh battery can still be quite good, provided one makes sure to keep the NVIDIA GPU sleeping.
RGB light bar: not needed. RTX 40 series provides enough FPS already.
Performance Profile Overview
The XMG APEX (M23/L23) and XMG CORE (L23) both utilize the Control Center familiar from earlier XMG CORE and XMG NEO models. They feature three primary performance profiles:
Balanced: This mode incorporates NVIDIA Whisper Mode. It's ideal for regular tasks and quieter gaming experiences.
Enthusiast: Both Enthusiast and Overboost maintain a GPU power limit of 115 watts. However, Enthusiast is geared towards everyday high-end gaming.
Overboost: While mirroring the Enthusiast's power, Overboost has a more aggressive fan setting and offers an extra 25 watts through Dynamic Boost 2.0. The actual usage of this extra power might vary based on the GPU task. It's suited for intensive all-core CPU rendering and maximizing performance in high-demand games.
It's worth noting that the CPU power limits differ across all three profiles.
Suggestions:
For day-to-day work and quieter gaming, opt for "Balanced."
For standard high-end gaming sessions, "Enthusiast" is recommended.
For tasks requiring the utmost power, like all-core CPU rendering or achieving peak game performance, choose "Overboost."
For a detailed breakdown of the power limits, refer to this table: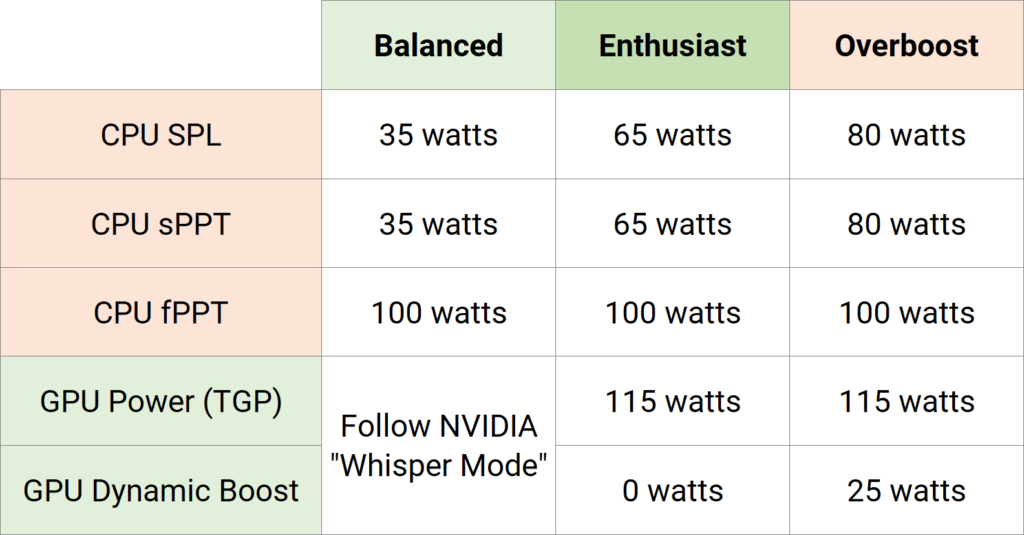 These settings are consistent across all 2023 XMG APEX and CORE models, regardless of the CPU or GPU model selected. Unless otherwise stated, all benchmarks in the following paragraphs are conducted in "Overboost" profile.
Reference Benchmarks: CPU and GPU comparison
XMG APEX and CORE offer a range from RTX 4050 to RTX 4070, together with the choice between the Zen 3-based Ryzen 7 7735HS and the Zen 4-based Ryzen 7 7840HS.
We provide reference benchmarks in 3DMark Time Spy and Cinebench R23 to compare the major SKUs against each other. This table also includes the XMG CORE 15 from 2022 with AMD Ryzen 9 6900HX and RTX 3060 for comparison:
Remarks:
All benchmarks in "Overboost" profile on flat table without further customizations or tweaking.
AMD Ryzen 7 7735HS with 2×16 GB DDR5-4800.
AMD Ryzen 7 7840HS with 2×16 GB DDR5-5600.
XMG APEX 17 is also available with RTX 4050, but the 3DMark performance is identical to XMG APEX 15, that's why it's left out here for the sake of brevity.
Generally, the 3DMark performance is not limited by thermals because the GPU never runs into any thermal limits.
The Cinebench R23 10-minute Multi-Core test is best equipped to show potential thermal limits. However, XMG APEX 17 and XMG CORE 16 are able to run it non-stop at 80 watts thanks to liquid metal cooling.
Overall, the Ryzen 7 7840HS shows improvements in "performance-per-watt" efficiency. Together with the faster DDR5-5600 RAM, the 7840HS allows to boost gaming performance as indicated in the 3DMark Score.
CPU energy efficiency comparison: AMD vs. Intel
To expand on the benchmark results, let us compare each CPUs benchmark score with its average power consumption during the benchmark run. We will compare the two CPUs available in XMG APEX and XMG CORE with two up-to-date CPUs from Intel.
System configuration:
In order to show that efficiency may vary depending on which power limit you are running, we recorded two values at two different power limits for each AMD Ryzen CPU and Intel Core i9-13900HX.The AMD Ryzen scores are based on the "Overboost" profile with unlimited power limits. The scores represent the maximum of each system.
The i9-13900H score is from the "Entertainment" profile in XMG PRO 16 Studio. Scores and power consumption in the "Performance" profile would be higher.
All systems were run with default settings without any additional tuning.
Here are the results: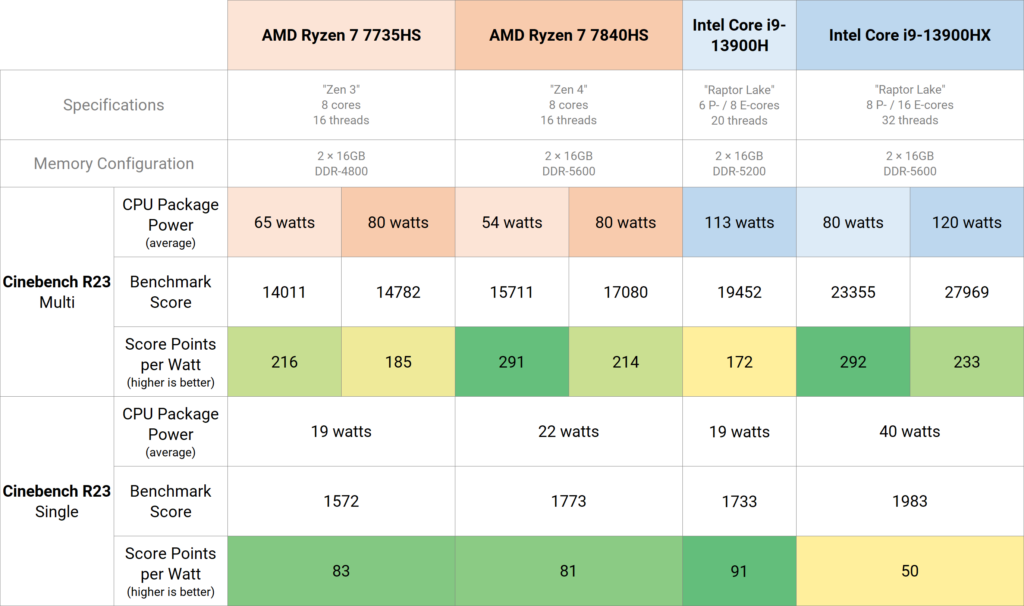 Remarks:
"CPU Package Power" is read by HWiNFO64 and describes the power consumption of the whole CPU or SoC package after voltage regulators. The values should be comparable.
However, the value does not represent the total system power consumption of the laptop. It does not measure power consumption of memory or the rest of the mainboard. So please allow some room for margin of error.
Cinebench is not representative for all workloads. It is known as a "brute force" method to saturate the logic circuits of CPU cores, but it is not very sensitive to cache size, memory speed or any advanced compute acceleration. Gaming, AI workloads or more varied benchmarks such as Geekbench may yield slightly different results.
Observations:
Compared to "Zen 3", AMD Ryzen 7 7840HS with "Zen 4" achieves higher scores in the Single-Core benchmark, but also draws slightly more power.
In Multi-Core benchmarks, "Zen 4" clearly pulls ahead of "Zen 3" in terms of efficiency.
The Single-Core result of Intel Core i9-13900H (not HX) has a slightly higher "Performance per watt" efficiency than AMD Ryzen in these tests. Again, take these numbers with a grain of salt, but at least it shows that Intel and AMD are relatively even when it comes to Single-Core performance and efficiency.
In Multi-Core benchmark, the Intel Core i9-13900HX, when power-limited to a moderate value such as 80 watts, can match the peak efficiency of AMD Ryzen while delivering outstanding all-core benchmark scores. When run at higher power, it achieves even higher scores, but at the expense of efficiency.
The Single-Core efficiency of Intel i9-13900HX seems to be considerably lower than the competition here. This makes sense, because the CPU brings 24 cores while the benchmark is using only one of them. The other cores can be considered "baggage" when they are so much under-utilized.
Analysis: The Intel HX-series demonstrates notable efficiency when fully utilizing its 32 threads. However, AMD Ryzen processors deliver a balanced performance in mixed workloads, effectively handling both single- and multi-core tasks.
AMD Ryzen with Zen 4 is especially efficient when being limited to the 54 watts TDP around which the CPU is designed. Running the CPU at 80 watts unlocks additional multi-core performance, but at the expense of "performance per watt" efficiency.
Given the rarity of fully saturating all CPU cores in everyday operations (aside from X265 encoding, Blender etc.) and the ongoing shift towards GPU-accelerated workflows in content creation, AMD's offerings align well with typical user scenarios, providing a pragmatic solution for a variety of workloads.
What is the difference between Ryzen 7 7735HS and its Ryzen 6000 predecessor?
Both are based on the "Zen 3" microarchitecture. AMD Ryzen 7030 series is a refresh of Ryzen 6000 series. They share a lot of similarities:
"Zen 3+" core architecture
8 cores, 16 threads
TSMC 6nm FinFET process
210mm² CCD size
FP7 Package
Precision Boost 2
DDR5-4800 support
Radeon 680M iGPU
However, the Ryzen 7 7735HS still manages to post a slightly higher core clock compared to the Ryzen 7 6800H.
As per AMD's spec sheet:
| | | |
| --- | --- | --- |
| CPU | Ryzen 7 6800H | Ryzen 7 7735HS |
| Base Clock | 3,2 GHz | 3,2 GHz |
| Boost Clock | up to 4,7 GHz | up to 4,75 GHz |
It is evident from the Cinebench and 3DMark CPU Score comparison in the table above that the performance of Ryzen 7 7735HS is all but identical to its 6900HX predecessor.
Temperature Diagrams
In order to showcase the capabilities of the cooling system, we provide a few diagrams that showcase the relationship between CPU and GPU power consumption and temperatures in selected stress test scenarios. All tests are conducted in "Overboost" profile with the laptop sitting on a flat table, without any tuning.
Example: XMG CORE 16 | Ryzen 7 7840HS | RTX 4070 | Prime95 + Speed Way Stress Test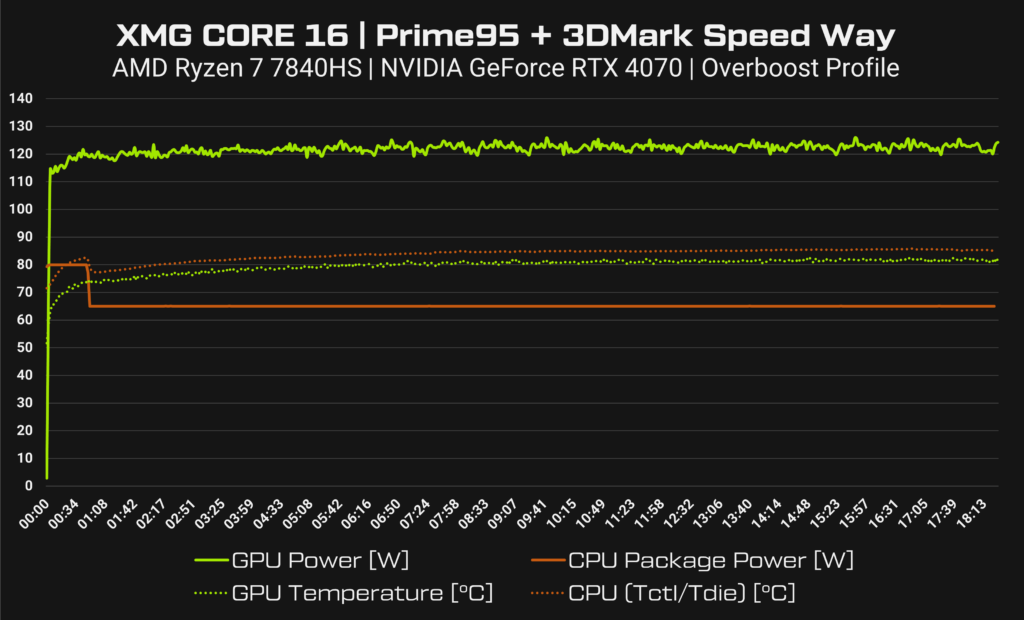 Remark: "CPU (Tctl/Tdie)" is the AMD CPU hot spot temperature sensor, which is used for fan control. This is the highest value that the CPU has to offer.
Full list of diagrams:
Observations:
All systems are capable of running CPU and GPU stress tests, respectively, without thermal throttling.
In a combined CPU+GPU stress test, CPU power is limited to 65 watts after about a minute of combined load.
Most scenarios still have some thermal headroom, i.e. the CPU and GPU temperatures are not hugging their respective target maximum yet.
CPU temperature is influenced by thermal interface material (see next paragraph).
Liquid metal on XMG APEX 17 (L23) and XMG CORE 16
2 out of 5 models use Thermal Grizzly Conductonaut as thermal interface material on the CPU and GPU. Please refer to this overview table: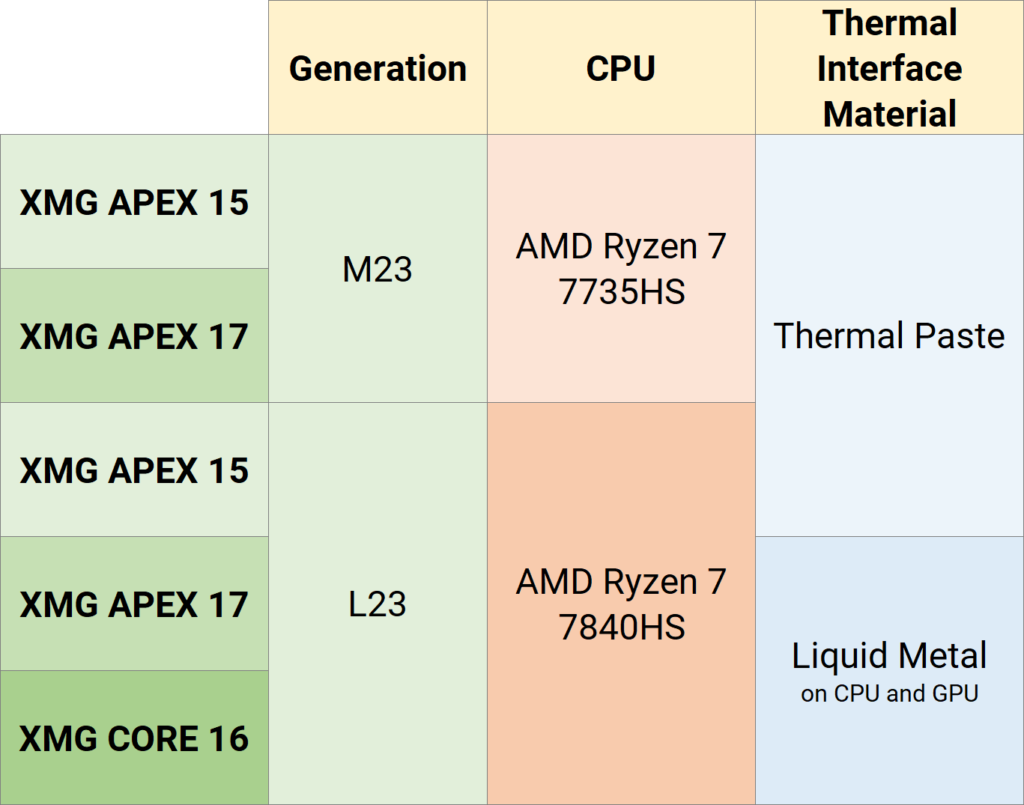 As you can see in the temperature diagrams above, the difference between liquid metal and thermal interface is not night and day. Even the "smallest" laptop (XMG APEX 15) with thermal paste is able to run the RTX 4060 at 120 watts non-stop with GPU temperatures only around 75°C.
The liquid metal implementation in XMG APEX 17 (L23) and XMG CORE 16 follows the tradition that has already been set up in XMG NEO and SCHENKER VISION series. For a full overview table of the thermal interface materials used in our XMG laptop portfolio going back to 2019, see this table:
Liquid Metal Safety Precautions
We have been using Liquid Metal on some series since the beginning of 2020 in XMG NEO series. To prevent the cooling agent from leaking out, a pressed, sponge-like material is used around the CPU, which in the long term collects and holds any liquid metal that escapes. The part of the heatpipe that contacts the CPU is nickel-plated to prevent a chemical reaction between the liquid metal and the copper heatpipe.
Liquid metal has less tolerance for uneven surfaces and improper mounting compared to silicon-based thermal compounds. To compensate this, the factory tolerances are very strict in our application. The cooling performance of each individual unit is tested after the application of liquid metal in the factory and then tested again on our assembly line.
When properly applied, Liquid metal can last a very long time. In thermal shock tests, which include thousands of Hot/Cold cycles, we measured no degradation of the thermal performance over time.
After-sales maintenance
The removal and reapplication of liquid metal is significantly more time-consuming and error-prone than normal thermal paste. Therefor, we strongly advise against any "repasting" of the thermal compounds in XMG APEX and XMG CORE series unless it is performed by trained specialist staff. For more information, please refer to this thread:
If, after some years of use, you are unsure whether your cooling performance is still up to spec, we offer an all-round service package for € 69 plus shipping – in this process, the liquid metal thermal paste can also be renewed. Please refer to these FAQ articles for more information:
Internal Layout and Thermal Module
Because XMG APEX and XMG CORE share the same mainboard layout, they also look very similar inside. So we only show XMG APEX 15 here for reference: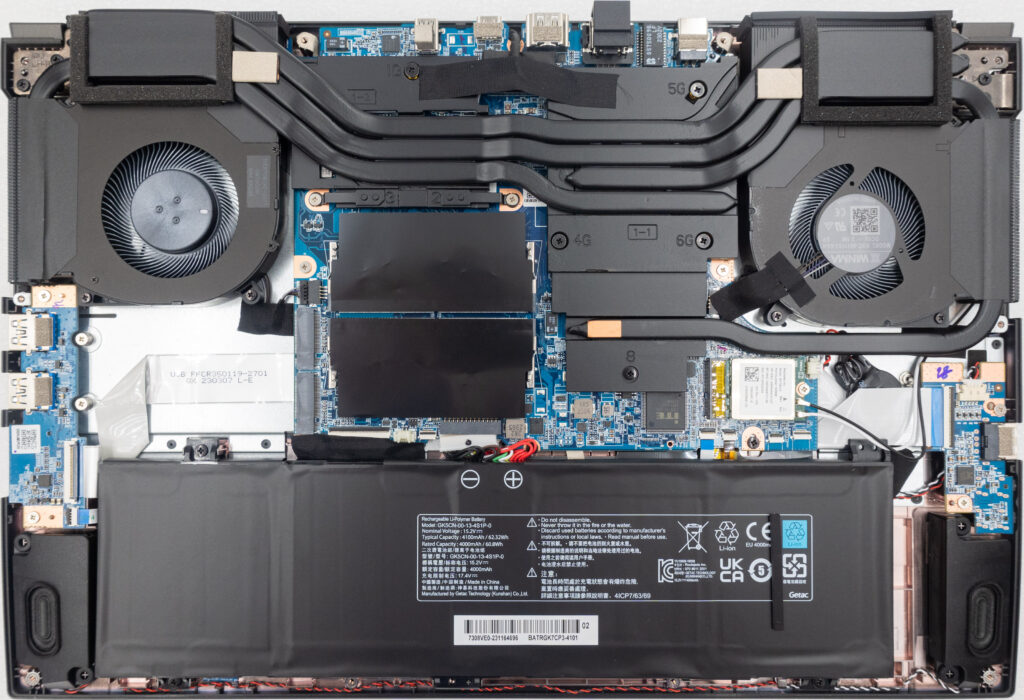 By opening the bottom case, you can access both SSD slots, the SO-DIMM DDR5 slots and the Wi-Fi module. Mainboard layout and cooling system layout (number of heatpipe, fans) are identical between each CPU and GPU because all CPUs and GPUs share the same power limits and the same reference design. The variations in heatpipe length between XMG APEX and XMG CORE are solely determined by the chassis size.
Full resolution pictures:
Memory Support: up to 96 GB with AMD Ryzen 7040 series
The two AMD Ryzen CPU generations have different memory support.
Ryzen 7 7735HS: supports DDR5-4800 CL40
Ryzen 7 7840HS: supports DDR5-5600 CL46
XMG APEX and XMG CORE with AMD Ryzen 7040 are the first laptops in our portfolio to support the novel 24 and 48GB "non-binary" module sizes. While classical "binary" module sizes currently max out at 32GB DDR5, supporting a maximum of 64 GB with two SO-DIMM slots, the "non-binary" module sizes now allow up to 96 GB of total system memory, making them exceptionally suited for memory-intensive workloads.
Please note:
The 96 GB upgrade is not supported on Ryzen 7 7030 series due to platform limitations.
The 96 GB is currently not planned to be supported on Intel Core 13th Gen HX series due to thermal concerns.
Validation procedure
The non-binary modules have been stress tested by us in multiple workloads, including:
AIDA64 System Stress Test
AIDA64 System Stress Test + GPU Stress Tests
Prime95
Linpack Extreme Stress Test
Ycruncher
OS installation, gaming and everyday work
Stress tests are conducted for at least 1 hour each, after which logfiles are analyzed for inconsistencies. Based on our tests, we have not found any performance or stability issues with these modules.
RAM temperatures in synthetic stress tests
Here is a diagram from one of our stress tests: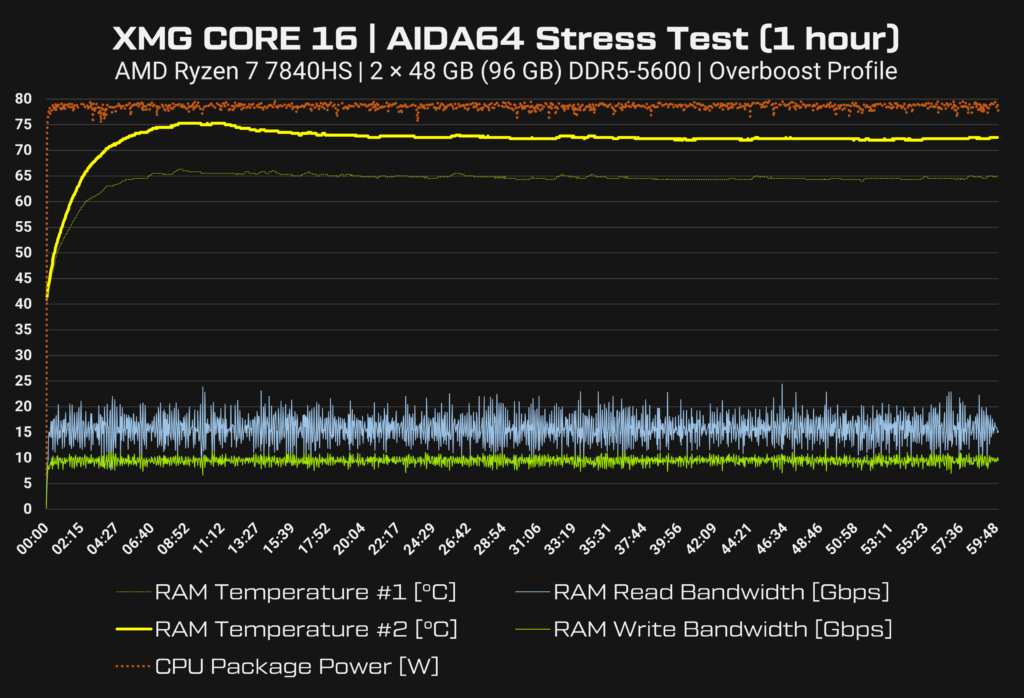 Observations:
On top of the DDR5 memory stress test, this test also drives up the CPU Package Power to almost 80 watts, elevating total system temperatures.
AIDA64 reads and writes to RAM simultaneously non-stop, leading to high stress on the RAM and RAM controllers.
In this test, the maximum RAM temperature is 75°C for RAM module #2, later settling at around 73°C for the remainder of the test duration. The temperature difference is related to the distance between the RAM modules and the CPU's heat-emitting area (see "Internal Layout" picture above).
RAM temperatures are slightly higher when also maxing out the GPU at the same time. But the difference is insignificant, because the GPU is located relatively far away from the RAM and the stress on the RAM does not increase with GPU load, because RAM bandwidth was already maxed-out by the GPU-less AIDA64 Stress Test.
Interestingly, the same RAM modules report higher voltages and higher temperatures in our current Intel Core 13th Gen HX series systems. That is why we currently only launch these modules on the AMD platform, not on Intel.
Benchmarks / Screenshots
Check out these two extra screenshots:
RAM compatibility
Currently only Crucial supported for 96 GB, not SK Hynix, not Mushkin.
Our 48 GB modules named Crucial CT48G56C46S5. These are currently the only 48 GB modules that we have verified. Our results may not apply 1:1 to modules from other vendors. We have not been able to get any mass production samples from SK Hynix and we do not see any available stock at European distributions. We do not plan to seek to acquire samples from Mushkin since we are already satisfied with our results on Crucial CT48G56C46S5.
Potential incompatibilities with other brands
For a full overview of compatible DDR5 SO-DIMM memory modules, please refer to this table:
We are currently listing "n/a" for those DDR5-5600 modules that we have not tested in XMG APEX and XMG CORE with Ryzen 7 7840HS. While any DDR5-5600 CL46 should work in theory, we currently do not have the time to test modules from RAM other than those listed as "Supported" in the table.
Warning: we have already received a report from one major RAM vendor that their DDR5-5600 modules may currently cause stability issues on AMD Ryzen 7040 series. Due to an NDA agreement, we are not able to share more details at this time. We asked the vendor for continuous updates on whether or not these issues will be solved and we will update this paragraph accordingly. (Last Update: October 3rd, 2023)
Because of this uncertainty, we recommend to only install memory modules that are listed as "Supported" in our table. In other words:
Only the modules that are listed and sold by us in XMG APEX and XMG CORE are guaranteed to work.
Installing modules from other brands does not void the warranty on your laptop, however…:
Any issues that occur exclusively on system configurations with unsupported RAM modules do not fall under our warranty agreement.
Background information: AMD Ryzen 7040 is AMD's first platform to support DDR5-5600 SO-DIMM specification. We ask for your kind understanding that we advise to take things slow while the platform and surrounding eco-systems continues to mature.
Rest assured: please do not let these caveats discourage you from maxing out the RAM configuration when configuring your XMG APEX or XMG CORE on bestware. The RAM modules that we list in our configuration pages (including DDR5-5600 and including the 48 GB modules) are fully supported without any issues.
LCD panel comparison
The XMG APEX with AMD Ryzen 7030 series (M23 generation) initially featured Full HD displays. The subsequent L23 generation, equipped with Ryzen 7040 series, introduced WQHD resolutions. Display choices affect FPS performance, battery longevity, and overall system cost. Each resolution for each chassis is paired with a unique LCD model, eliminating panel discrepancies across SKUs.
Refer to this table for a detailed comparison: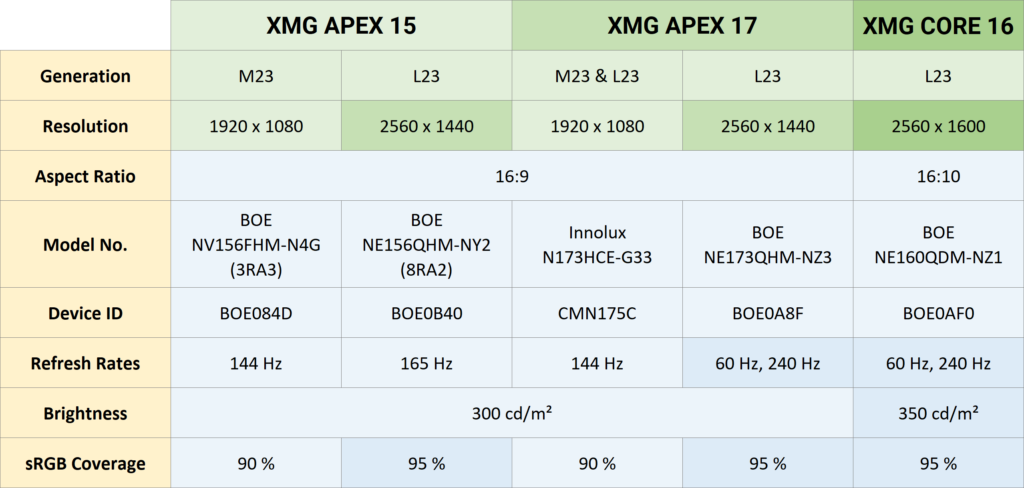 As illustrated, most panels have comparable specs, with a few (highlighted in darker blue) boasting slightly superior features. Among them, two panels offer a 60 Hz mode, while the rest do not.
Please note:
The 1440p panels support AMD FreeSync as long as NVIDIA Optimus is enabled. This includes content that is rendered on the NVIDIA GPU, as long as the AMD iGPU is responsible for image output on the laptop panel.
Battery Life
This table provides and overview in a simple local video playback scenario: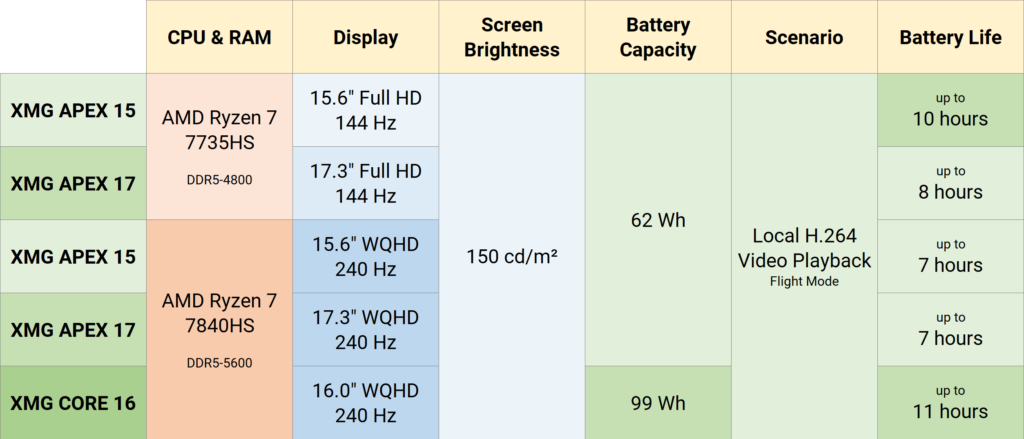 Battery life varies based on usage and selected components. The Zen4-based 7840HS outperforms the 7735HS in high-load situations, but both show similar efficiency at idle or minimal load. Nevertheless, faster RAM speeds and higher-resolution LCD panels in the L23 generation can impact battery life. When comparing CPUs, the LCD panel's difference might be more noticeable in low-load scenarios.
Keep in mind that these figures were recorded at different times with varying driver and OS versions.
The data reflects configurations with dual-channel DDR5 and a PCIe Gen4 SSD. The choice of GPU (RTX 4050, RTX 4060, or RTX 4070) isn't a factor here, as the GeForce RTX is inactive during non-gaming tasks.
If your battery life does not even remotely align with these projections, your NVIDIA GPU might be "always on" because of a some 3rd party software that is automatically started with Windows and running in the background. A classic example of this would be Epic Game Launcher. Please read this FAQ article for more information:
Keyboard Layout
The XMG APEX and CORE keyboards share the same logical matrix with the XMG NEO (2023). The matrix and keycap dimensions are also identical between the Membrane and Mechanical keyboards in XMG CORE 16.
Here is an example picture from XMG APEX 15 with German layout:

Click here for full screen view.
XMG CORE 16 and XMG APEX 17 follow the same logic.
Notable features:
Uniform Key Sizes: The Cursor/Arrow keys (↑↓←→) have the same dimensions as the alphabetical keys.
Efficient Navigation: Next to F12, there are dedicated keys for PageUp and PageDn. With the Fn hotkey, you can access Home and End. Additionally, the Cursor Keys double as Navigation Keys when combined with the Fn hotkey.
Context Menu Key: Unlike some manufacturers, we've retained the Context Menu key situated beside Ctrl-Right. It provides a handy shortcut for file and folder operations without needing a mouse right-click.
Swift Backlight Control: Quickly toggle the keyboard backlight using the Fn+Space combo, which is intuitive even in dim conditions.
Logical Fn Layout: Frequently-used functions like audio volume and screen brightness are positioned towards the left, with less common functions on the right.
FnLock Utility: With Fn+Escape, you can activate FnLock, which swaps the functions of F-keys and Fn-keys. We've ensured a gap remains for F4 and F5, allowing continuous access to popular commands like Alt+F4 and F5.
Handy Media Controls: Beneath the Escape, F1, and F2 keys, you'll find media controls accessible with a left-handed Fn stroke, facilitating play, pause, and track navigation in applications like Spotify.
Accessible Pro Keys: The Delete and PrintScr keys are readily available without the need for the Fn modifier.
Convenient Numpad: The numpad is present with compacted mathematical operator placement. While the XMG APEX 17 could technically accommodate an additional column, the cost implications make it impractical to design a unique 17.3″ keyboard solely for this model.
On top of these features, please note that XMG and SCHENKER laptops are available with over 25 keyboard layouts in our BTO online shop for the European market: bestware.com
Further note on the numeric keypad: Although the XMG APEX 17 could have accommodated an additional column in terms of space, it is not practical to develop a separate 17.3″ keyboard just for this one model for cost reasons. Even together with the XMG NEO 17, there would then not be a sufficient scale effect, since the NEO 17, in contrast to the XMG APEX series, is optionally available with a mechanical keyboard and one would therefore also have to create a second variant of the mechanical keyboard, which would be accompanied by high MOQ problems (minimum order quantities).
Disassembly
Upgrading SSD and RAM and cleaning the cooling system is easy. Remove all bottom case screws to open the laptop. Related FAQ articles:
Disassembly guides are located in the download portal for each model.
Press reviews
XMG APEX 15
XMG APEX 17
XMG CORE 16
Configure & buy
The freely configurable XMG APEX 15, XMG APEX 17 and XMG CORE 16 laptops are now available for order in our partner shop bestware.com. More product images, detailed specifications and information on the configuration options of the laptops are available on the respective product page.
Your feedback
We appreciate your curiosity and interest in delving into the features and capabilities of our XMG APEX and XMG CORE gaming laptops. Now we eagerly invite your questions, observations, and insights. If you already own one of these devices, feel free to joint us on our Discord server in the channels #xmg-apex and #xmg-core or leave your valuable comments in our Reddit thread. We are looking forward to your feedback!