Taipei / Leipzig, June 1st 2023 – The XMG APEX series receives a complete makeover in time for Computex. The APEX 15 and APEX 17 not only feature completely redesigned chassis, but are also XMG's first gaming laptops with AMD's current Ryzen 7 7735HS. NVIDIA laptop graphics cards up to the GeForce RTX 4060 provide upper mid-range performance. Despite good connectivity including two native monitor ports, XMG positions the APEX series as the most interesting option in its own portfolio in terms of price-performance.
Ryzen 7 7735HS, GeForce RTX 4060 or 4050 and Full HD display with 144 Hz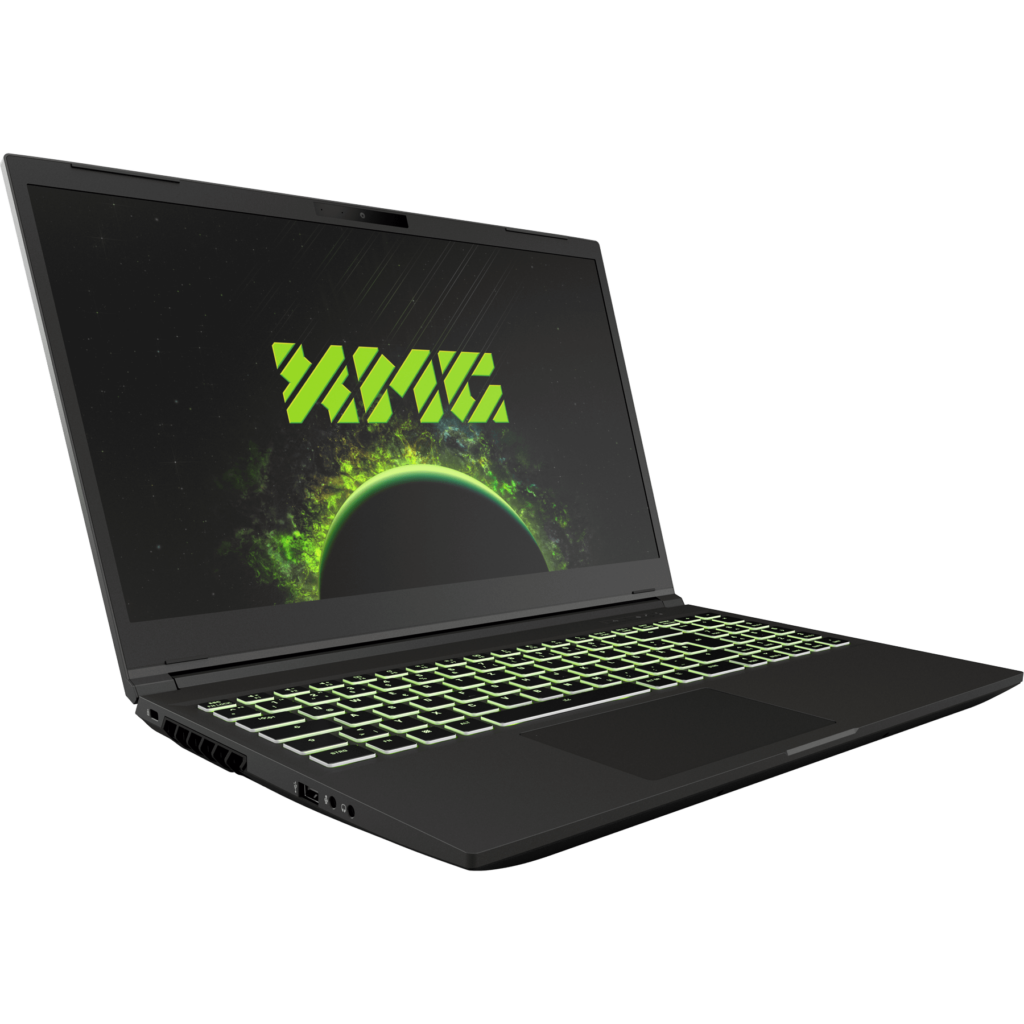 XMG's APEX series is now the entry point to its gaming laptop portfolio, after the former entry-level XMG FOCUS series recently moved significantly closer to the PRO series in terms of features and performance. This is also reflected in the pricing: there is currently no more affordable XMG laptop series than the APEX. However, "entry-level" in this case also means that the devices are more likely to be in the mid-range to upper mid-range in terms of performance.
Both the XMG APEX 15 and the APEX 17 (model generation M23) combine AMD's current Ryzen 7 7735HS with 8 cores and 16 threads with either an NVIDIA GeForce RTX 4060 or an RTX 4050, each with a maximum GPU power of 140 watts (115 watts plus 25 watts Dynamic Boost). In terms of resolution, a Full HD IPS display (1920 x 1080 pixels) with 144 Hz is well suited to these graphics cards.
The cooling system receives a significant upgrade: While previous model generations still had separate cooling loops for CPU and GPU, the interior of the current XMG APEX laptops is more reminiscent of the CORE series. They feature a more powerful compound cooling system with a heat pipe layout that covers both the processor and the graphics card, a new four-way instead of three-way air outlet and finally improved fans. Already featured in the NEO and CORE series, the XMG APEX 15 and APEX 17 also now share the significantly more extensive version of the Control Centre with manual tuning options: In addition to the three predefined performance profiles (Balanced, Enthusiast, Overboost), there is a further special custom profile that allows, for example, individual adjustments to the power limits of the CPU or the temp targets.
Freely configurable RAM and SSDs
The laptops provide two SO-DIMM sockets for a maximum of 64 GB DDR5-4800 RAM as well as two M.2 SSD slots with PCI Express 4.0 connection. As usual with XMG, the devices can be configured with RAM and drives as desired in the partner shop bestware.com. The M.2 slots are already equipped with a heat conduction pad ex works, even if the laptop is shipped with only one SSD.
The connectivity features include three USB-A (2x 3.2 Gen1, 1x 2.0) and one USB-C port (3.2 Gen2x1), an SD card reader for full-size SD cards, Gigabit Ethernet and separate audio jacks for headphones (compatible with combo plug headsets) and microphone. In addition, both laptops offer two native graphics interfaces – HDMI 2.1 and a Mini DisplayPort 1.4 – each directly connected to the NVIDIA dGPU.
Completely new chassis design makes the APEX laptops lighter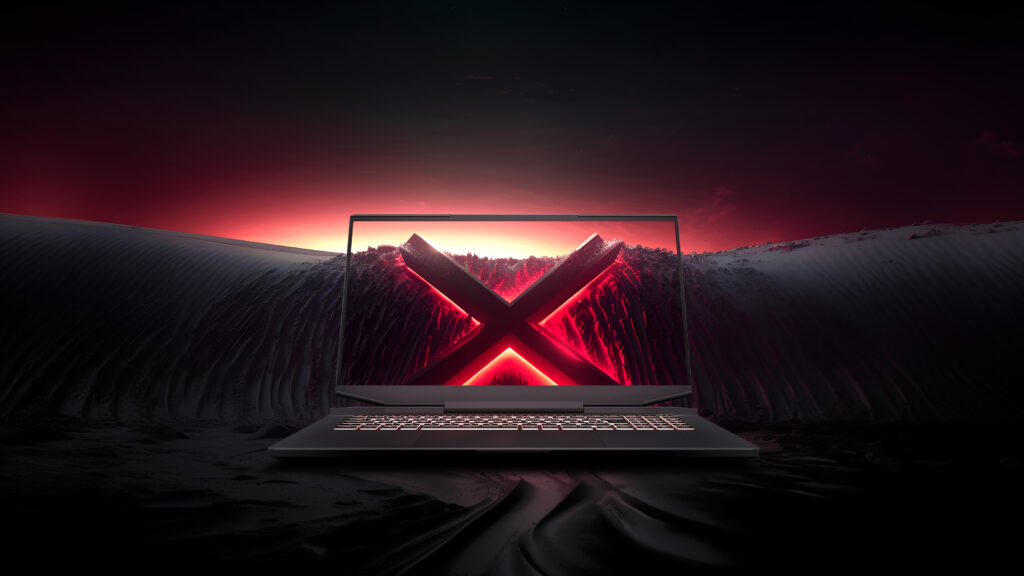 At 360.2 x 243.5 x 26.7 mm and 2.2 kg (APEX 15) and 392.9 x 260 x 24.9 mm and 2.47 kg (XMG APEX 17), the M23 model generation is significantly lighter than its predecessor. The chassis, which has been redesigned from the ground up, hosts a 62 Wh battery and is manufactured from precisely crafted plastic. The display lid of the 17.3-inch model, which is characterised by a striking gaming look (at least by otherwise rather reserved XMG standards) is forged from aluminium and provides additional stability.
The keyboards each have customisable single-zone RGB lighting, a dedicated numeric pad and large arrow keys. While the APEX 15 comes with a conventional 114.5 x 70 mm Microsoft Precision touchpad, the APEX 17 offers a generously sized 154 x 100 mm Microsoft Precision-compliant glass touchpad, which features automatic palm recognition to avoid accidental inputs and is capable of deactivating the entire right half or the input field.
Update to AMD Phoenix is already being planned
Meanwhile, a direct successor based on this chassis, which has now been presented at Computex, is already casting its shadow: Later this year, XMG plans to make the leap to a Zen 4 based processor. Along with this, the APEX series will also get a WQHD display as an additional configuration option. However, the switch to the Zen 4 platform is likely to be accompanied by a corresponding price increase.
Pricing and availability
The base specification of the XMG APEX 17 (M23), which can be freely configured on bestware.com, includes AMD's Ryzen 7 7735HS an NVIDIA GeForce RTX 4050, 16 (2×8) GB DDR5-4800-RAM, a 500 GB Samsung 980 SSD and a Full HD IPS display with 144 Hz. The starting price is € 1,299 including 19% VAT. An upgrade to the faster GeForce RTX 4060 (€ 158) is available for an additional charge. Meanwhile, the XMG APEX 15 (M23) starts at € 1,399 on bestware.com with otherwise the same equipment and a GeForce RTX 4060. The lower equipment variant of the APEX 15 with an RTX 4050 is available exclusively in the form of fixed configurations via the German online shop notebooksbilliger.de later in June. All models available on bestware.com are ready for pre-order with immediate effect, shipping is expected from mid-June.
Websites:
https://bestware.com/en/xmg-apex-15-m23.html https://bestware.com/en/xmg-apex-17-m23.html
https://www.xmg.gg/en/xmg-apex-15-m23/ https://www.xmg.gg/en/xmg-apex-17-m23/
Press material (download of the press release, pictures, data sheets):