As the year turns, we typically see a plethora of new launches in the laptop component sector. In our XMG laptop roadmap for November 2023, we provide an early glimpse as to why we are planning only minor updates for early 2024. Neither XMG nor SCHENKER have the introduction of new NVIDIA graphics cards on their agenda, but some CPU refreshes for existing platforms are anticipated. However, due to the embargoes imposed by AMD, Intel and NVIDIA, we are currently not able to provide any specific details.
Model updates for XMG and SCHENKER laptops
For the first quarter of 2024 (postponements into the second quarter are possible in individual cases), we plan a handful of model updates with relative certainty. These will likely be refreshes based on existing designs, featuring small but not groundbreaking improvements. This indicates that the currently available models remain an excellent choice for those seeking a future-proof laptop.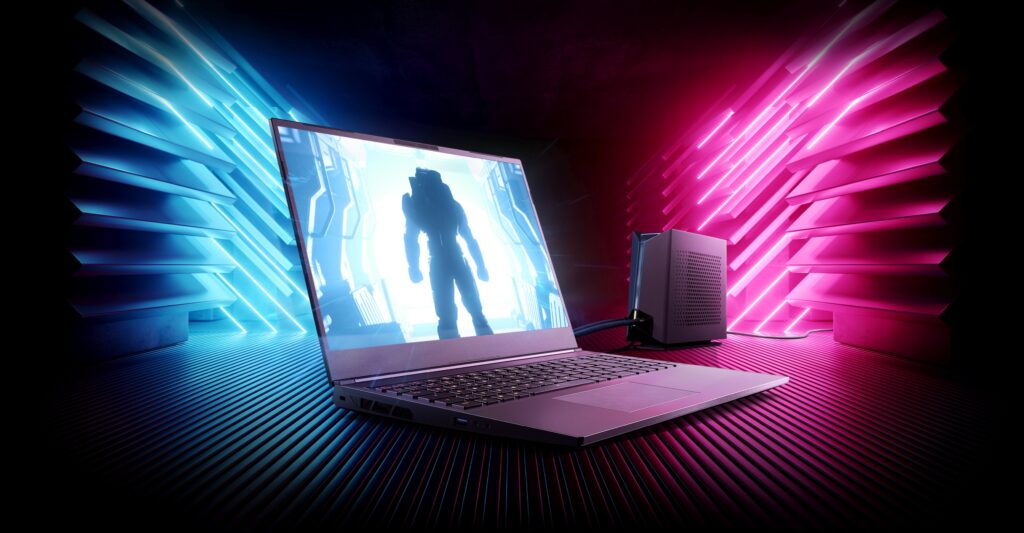 We have concrete plans for updates in the first quarter for:
Upcoming XMG laptop roadmap
For all other models from the XMG or SCHENKER portfolios, we are not currently in a position to issue a precise update timetable. This includes all notebooks based on AMD's Ryzen platform. More details will be unveiled somewhen around CES 2024 with the publication of our 2024 laptop roadmap.
Laptops with new NVIDIA graphics cards are not planned in the near future
Neither XMG nor SCHENKER plan to introduce laptops with NVIDIA GPUs other than those currently known and available during the first quarter; even minor updates, such as increased VRAM, are not slated. Graphics chips based on the Ada Lovelace architecture may remain the most recent NVIDIA offerings even in the medium term (source: PC Gamer).
In the desktop PC sector, there is already speculation about possible "SUPER" (source: Tom's Hardware) or "Ti" models (source: Notebookcheck), while the laptop GPU rumour mill remains comparatively quiet.
Laptops with new Intel CPUs
14th Generation Intel Core processors (Raptor Lake Refresh) have already debuted for desktop PCs, representing only a modest advancement over the 13th generation – marginally faster, yet without extra cores, a new architecture, or a die shrink.
Given that laptop HX series CPUs are derived from their desktop counterparts, it stands to reason that they would also exhibit a slight performance increment with the 14th generation. Currently, however, we can neither officially confirm nor deny the launch of new HX series CPUs. The first rumours (source: Wccftech) recently made the rounds.
According to a press report (source: PC Gamer), significant architectural changes may only arrive with the as-yet-unannounced Meteor Lake platform, about which we cannot make any official statements. Historically, roll-outs of this magnitude, which also entail a new BGA socket layout and therefore a new motherboard design, tend to occur in stages.
As per the PC Gamer article, Meteor Lake CPUs might target the mid-range performance class and thus rank below the HX series in terms of all-core performance, given that even current laptop processors, such as the Intel Core i9-13900HX, already boast 24 cores and 32 threads.
Laptops with new AMD CPUs
Emerging reports point to a minor update from AMD: AMD Ryzen processors from the Hawk Point generation (source: Wccftech) could offer a modest performance boost over Phoenix CPUs. Historically, such minor updates did not necessitate new motherboards but were compatible with existing designs, thus allowing integration into current laptop models with relative ease.
Additional plans for new notebooks
There are imminent plans to introduce more laptops, including those with AMD CPUs and GPUs, which are expected to be released before our 2024 XMG laptop roadmap is published.
Laptops with AMD CPUs without a dedicated graphics chip
We are working on a 14-inch laptop featuring an AMD Phoenix processor without a dedicated graphics unit, leveraging AMD's efficient iGPU. The official launch is currently planned for the end of 2023.
Laptops with dedicated AMD graphics cards
Our sister company TUXEDO, specialising in Linux laptops, is working towards the prompt launch of a model with an AMD Phoenix processor and a dedicated AMD Radeon RX 7600M XT graphics card. Those considering a well-equipped notebook tailored for Linux should anticipate an exciting new release shortly.
More laptops with 96 GB RAM
Currently, only our XMG APEX series (L23) and the XMG CORE 16 (L23) with an AMD Ryzen 7 7840HS support up to 96 instead of 64 GB of RAM. Due to the specific thermal constraints of larger RAM modules in conjunction with Intel Core HX series processors, we do not foresee offering this memory configuration in laptops with 13th or the presumably very similar 14th Core generation CPUs. Whether the advent of Meteor Lake will alter this limitation remains to be seen.
Laptops with OLED or mini-LED displays
Owing to the extremely limited availability of OLED or mini-LED panels for laptops, we currently have no intention of incorporating such displays into our products. The scant supply is often reserved as part of exclusive deals for only the largest multinational brands.
Our display highlights include high-resolution 4K panels at 120 Hz and 400 nits (configurable in the XMG PRO 17 (E23) and SCHENKER KEY 17 (E23)), as well as 144 Hz at the same brightness (configurable in the SCHENKER KEY 17 Pro (E23)).