We would like to update you with our latest roadmaps for both XMG and SCHENKER laptop brands. These overviews will show you what kind of product launches you can expect in the next couple of months. Specific launch dates will be up to logistical conditions – we will generally only launch once we have a confirmed ETA for substantial quantify of each product.
Timeline
The following diagrams will indicate the launch time for each product series and their specs.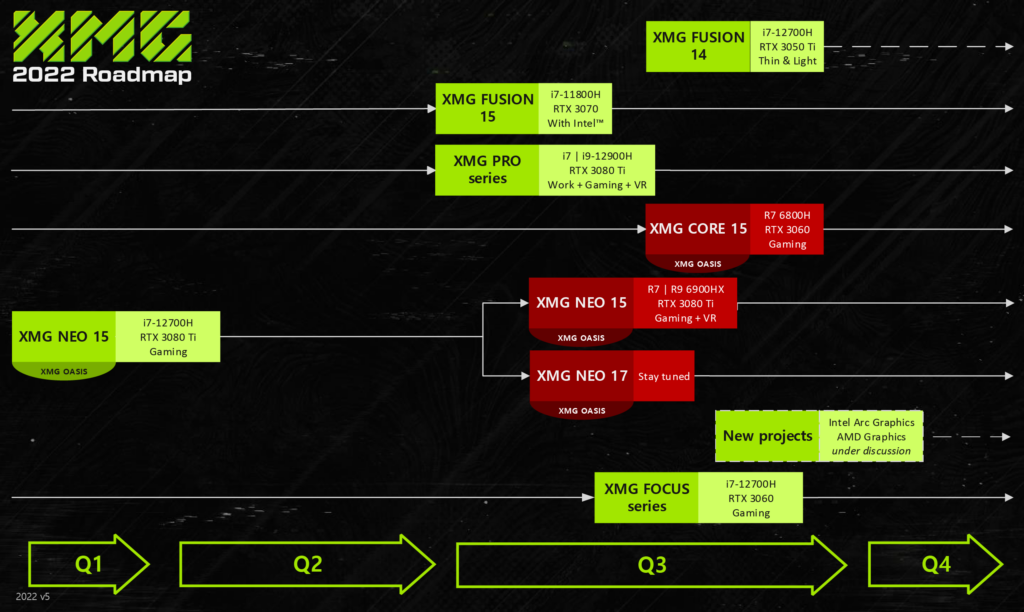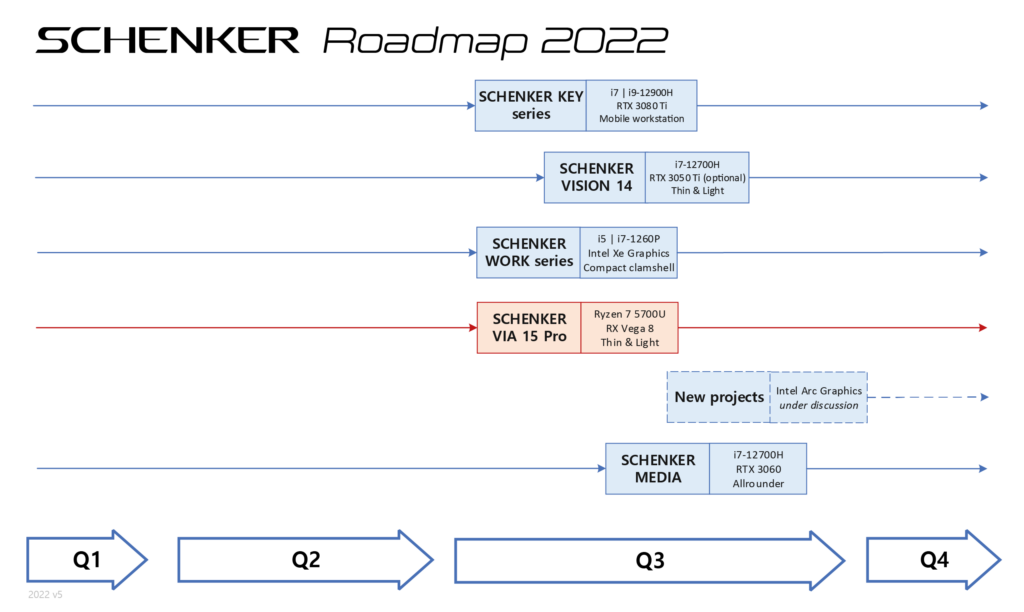 Note: The left edge of each bar indicates the general release plan, with on-shelf supply following shortly after. Projects that are being followed by dashed lines are still in the development stage and are subject to change without prior notice.  
XMG laptop series overview
XMG NEO series
XMG NEO (M22) is switching from Intel to AMD in Q3 2022. The AMD version will not support Thunderbolt 4 or USB4, but rather a traditional USB-C 3.2 Gen2 port with DisplayPort coming directly from the dedicated GPU. USB-C 3.2 Gen2 supports 10 Gbit/s of USB data transfer and is perfectly capable of supporting fast external SSDs and convenient docking stations.
The native DisplayPort signal from the NVIDIA GPU will make XMG NEO with AMD Ryzen 6000 compatible with VR headsets and high-end G-SYNC displays – something that was locking in the E22 generation with Intel Core 12th Gen. The M22 model series is also compatible with the XMG OASIS external laptop liquid cooling system.
Based on the same mainboard platform, XMG NEO 17 (M22) will come in a completely new chassis with powerful air cooling, and it will be our first laptop with a keyboard featuring the brand new Cherry MX Ultra Low Profile Tactile RGB mechanical switches. Stay tuned and subscribe to the bestware newsletter if you would like to receive more info as early as possible.
XMG FUSION series
XMG FUSION 15 (M22) has recently launched with Intel Core 11th Gen, based on an Intel NUC reference design. XMG FUSION 14 will be a relaunch of the critically acclaimed SCHENKER VISION 14 with the latest 14-core Intel CPU and with RTX 3050 Ti in a thin & light chassis with a dual fan cooling system and liquid metal on the CPU.
A previously planned XMG FUSION 16 has recently been put on hold because one of the key components did not pass our quality checks. We are working with our ODM partners to resolve these issues.
XMG PRO series
XMG PRO 15 and XMG PRO 17 (E22) has recently launched as a professional workstation with a rich I/O port selection including traditional Mini DisplayPort with dedicated GPU connection. The chassis has been completely overhauled compared to last year's model to allow higher power budgets. XMG PRO supports NVIDIA Advanced Optimus and G-SYNC with some of the most popular panel SKUs. XMG PRO series is the only XMG model that is available with 4K display resolutions.
XMG CORE series
XMG CORE 15 will be refreshed from last year's model with AMD Ryzen 7 6800H and RTX 3060. It will receive support for XMG OASIS, making it the first XMG CORE series model with liquid cooling support. Just like it's XMG NEO sibling, XMG CORE will support DisplayPort from dGPU, making it compatible with VR headsets and G-SYNC monitors. (But we would recommend at least RTX 3070-level performance for high-res VR headsets such as HP Reverb G2.
XMG FOCUS series
XMG FOCUS series is expected to launch with an overhauled cooling system and a significant performance upgrade. Just like XMG PRO, XMG FOCUS will have a dedicated Mini DisplayPort. In addition to the known and improved-upon 15.6" and 17.3" chassis, there will be one new, exciting form factor to be unveiled soon.
New projects
We are working with our partners on projects with Intel Arc and AMD Radeon graphics. Those projects are still under discussion, so we cannot yet make any promises regarding availability.
SCHENKER laptop series overview
SCHENKER KEY series
SCHENKER KEY 15 and KEY 17 (E22) are identical to XMG PRO in all but name. However, configurations of the professional workstations for high-performance computing and virtual reality application feature a 3-year warranty by default on bestware.com. In contrast to the XMG PRO, the SCHENKER KEY is aimed primarily at B2B customers.
SCHENKER VISION 14
VISION 14 will be refreshed with Intel Core i7-12700H and RTX 3050 Ti, the latter being optional. The system will retain its excellent 3K display, dual fan cooling solution and the high-precision keyboard. SCHENKER VISION 14 remains one of the most powerful and versatile thin & light products in the market today.
SCHENKER WORK series
SCHENKER WORK 15 and WORK 17 (E22) have recently launched with Intel Core i5-1240P and Intel Core i7-1260P. Those are Intel's Alder Lake "P28" offerings which represent the perfect sweet spot between computing performance and battery life. With 12 cores in total, the system has triple the number of CPU cores compared to the previous Tiger Lake UP3 and H35 platform. The chassis of WORK 15 and WORK 17 with their large screens and lift-up hinge design continues to be one of our most ergonomic business notebook series.
SCHENKER VIA 15 Pro
SCHENKER VIA 15 Pro has recently been launched with AMD Ryzen 7 5700U with 8 cores and 16 threads, being a continuation of its acclaimed Ryzen 4000 predecessor. This new release comes relatively close to the 4800H's multi-core performance while boasting higher single-thread performance and lower power consumption. VIA 15 Pro (M22) now comes with fully supported HDMI 2.0 and DisplayPort 1.4 via USB-C, supporting up to 2 concurrent 4K/60Hz displays.
VIA 15 Pro (M22) is the only 15.6" model in our portfolio that boasts a 2560 x 1440 pixel resolution without the baggage of a dedicated GPU. The AMD Radeon RX Vega 8 that is integrated in the AMD Ryzen APU provides plenty of performance to drive multiple displays, GPU-accelerated computing and casual 2D and 3D gaming.
SCHENKER MEDIA series
SCHENKER MEDIA series will closely match the line-up of XMG FOCUS series. This will be our all-round product for content creation at a more affordable price point compared to SCHENKER KEY series. As with the XMG FOCUS, a new display form factor is also being planned. We will reveal more details in the coming weeks.
New projects
As already explained in the XMG section, we are working with our partners on projects with Intel Arc and AMD Radeon graphics. The ones with Intel Arc graphics are more likely to be set in the business focused SCHENKER line-up. Those projects are still under discussion. Further announcements and sneak peaks will be shared as they come.
Further questions or feedback?
Thank you for your loyalty this year. Follow us on reddit or join our Discord server for some occasional sneak peaks into our product planning – and subscribe to our newsletter if you want to be the first to receive more information about upcoming product launches. We look forward to your feedback!