Last week we introduced the new XMG NEO 17 with AMD's Ryzen 9 6900HX, graphics cards up to the NVIDIA GeForce RTX 3080 Ti and a keyboard with fully mechanical CHERRY MX ULP Tactile switches. As usual, this is followed by the deep dive with a lot more technical info on the laptop, which boasts a 240 Hz fast 16:10 IPS display with 2,560 x 1,600 pixels, a 99 Wh battery, compatibility with the XMG OASIS and breathtaking performance.
XMG NEO in 2022: spec sheet comparison
The following table will highlight the most important similarities and differences between XMG NEO 15 with Intel vs. AMD, and between the new NEO 15 and NEO 17 chassis. The highlights of the new generation with Ryzen 6000 are marked in yellow and red.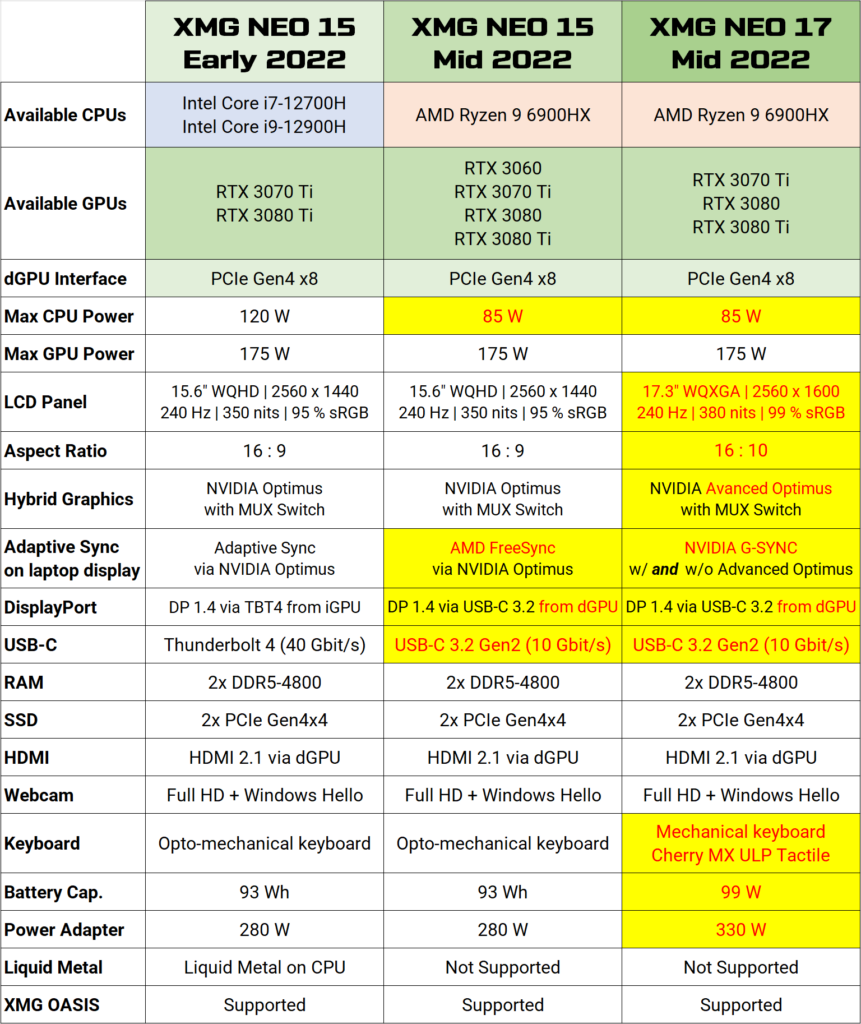 XMG NEO 17: first XMG laptop with 16:10 panel
XMG NEO series has always been our platform to showcase the latest, best components. XMG NEO 17 (M22) is the first iteration of a 16:10 panel in XMG's recent products. Previously, our company debuted a 14" 16:10 panel in SCHENKER VISION 14 (M21). XMG NEO 17 (M22) is going to use only one single panel SKU for all variations – there is no panel lottery! The panel for XMG NEO 17 has the following specs:
| Model Name | BOE NE170QDM-NZ1 (BOE0A99) |
| --- | --- |
| Resolution | 2560 x 1600 |
| Refresh Rates | 60 Hz, 240 Hz |
| Brightness | up to 380 nits (350 nits typical) |
| Contrast | 1:1000 (typical) |
| sRGB Gamut | 99% Coverage |
| Response Time | 3 ms (Rising or Falling) |
| Features | G-SYNC, Advanced Optimus |
Specs of the 16:10 displays in XMG NEO 17 (M22)
New Keyboard with CHERRY MX Ultra Low Profile Tactile switches
These new keyboard switches are an evolutionary improvement of those switches with a distinct clicking noise that CHERRY introduced for the first time last year in a laptop from Alienware. The switches from back then corresponded roughly to "CHERRY MX Blue", the new (tactile, non-clicky) switches correspond roughly to "CHERRY MX Brown".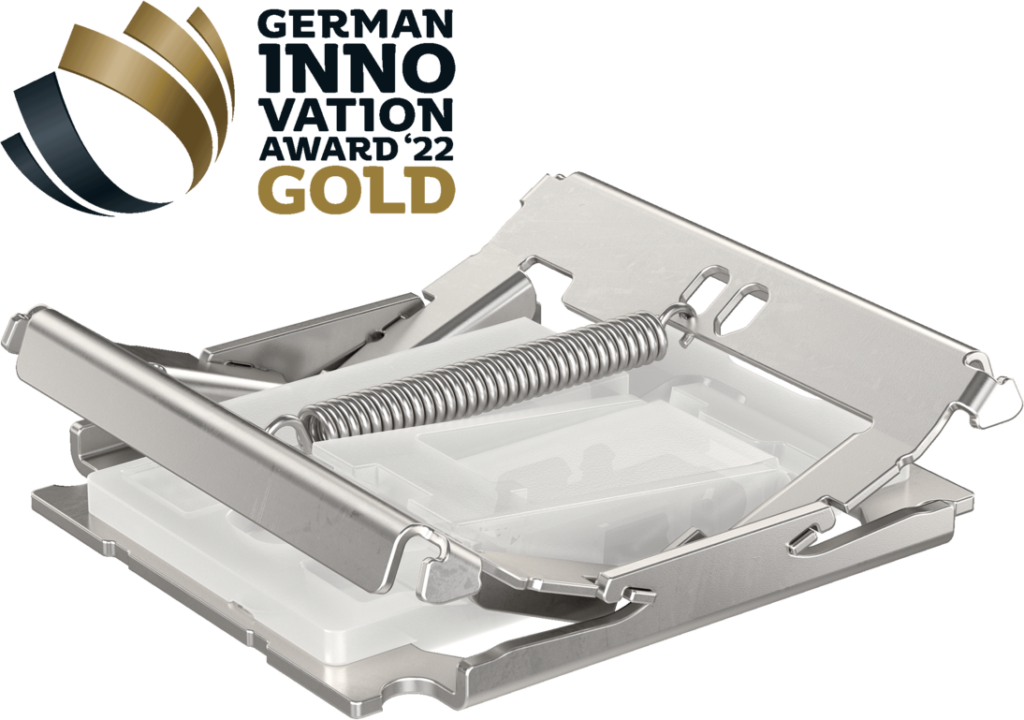 First product video
We have collaborated with CHERRY MX to bring you this first product video of XMG NEO 17. This 8 minute video will give you a general overview of the new XMG NEO 17 chassis and showcase the new keyboard with CHERRY MX Ultra Low Profile Tactile switches in detail:
First product review
Computerbase has already reviewed the keyboard of XMG NEO 17 in this German-language article. An English version via Google Translate can be found here. A detailed product presentation has also been published on the CHERRY MX blog.
Further information
The entire upper row, including the F-keys and the numpad area, consists of normal rubber dome keys. For the upper row, this is mainly due to the fact that the keys there are smaller (and corresponding half-size switches do not exist). With the numpad, it is partly due to a reduction in weight and cost, but also because at the time of product planning it was not yet clear how good the supply of these new types of switches would be due to logistical circumstances – that is why we deliberately did without the mechanical key switches when planning the numeric keypad, in order to minimise the supply risk. Here are some direct links to CHERRY resources on these switches:
Please note: despite these switches not being downright clicky, typing on this keyboard is not silent. A video to compare XMG NEO 15 and XMG NEO 17 typing acoustics will be uploaded shortly.
AMD Ryzen 6000: Zen3+ with many extras
XMG NEO series is our first product with the new AMD Ryzen 6000 series, which was already introduced by AMD in early 2022. After Asus, Lenovo, Acer and Razer, XMG is now only the fifth brand ever to offer laptops with Ryzen 6000 in the European market. As with Ryzen 5000, the timing of our market launch is linked to the timing of the broad availability of corresponding CPUs and chipsets from AMD. The following articles provide an overview of the special features of the AMD Ryzen 6000:
Here is a photo of the AMD Ryzen 9 6900HX in the mainboard of the XMG NEO 15 and XMG NEO 17 (M22). The picture was taken freshly after the mainboard was assembled – even before thermal paste was applied.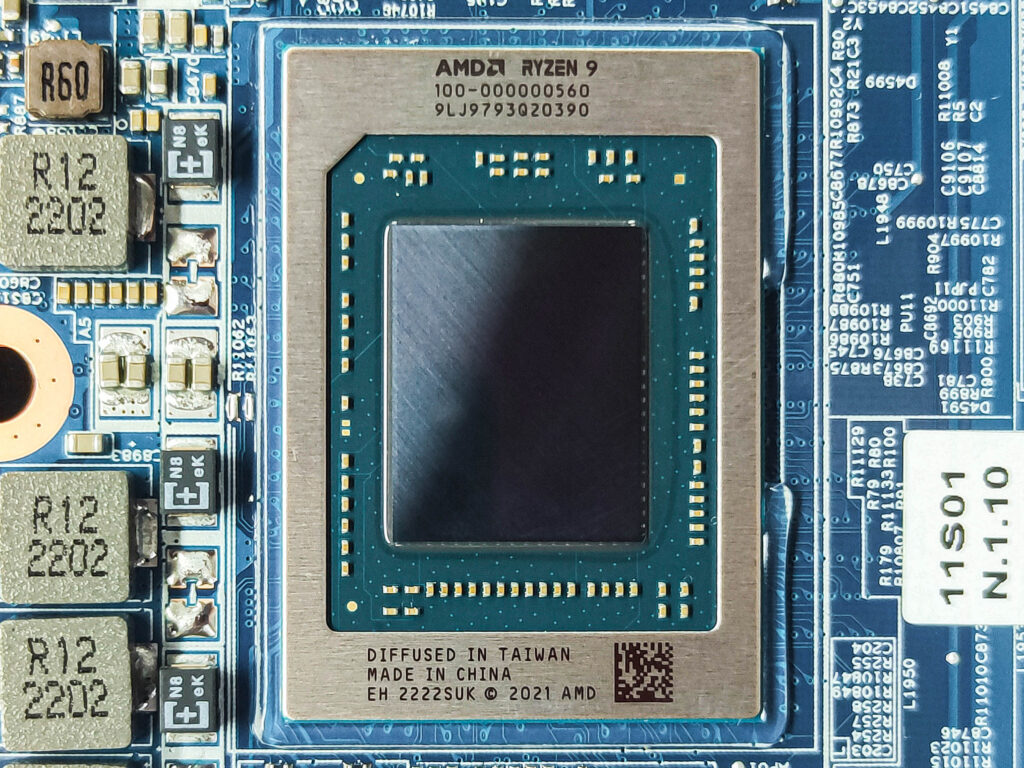 Power levels, fan speed and benchmarks
With our Control Center, you can set up your own performance profiles:
Balanced mode includes NVIDIA Whisper Mode by default
Enthusiast Mode uses a steeper fan curve than Balanced Mode
Overboost uses the same fan curve as Enthusiast, but higher power levels
XMG NEO 17 has an all-new cooling solution with significantly quieter and lower-frequency fans even at maximum fan duty. XMG NEO 17 is able to sustain the 175 watts GPU power limit of the NVIDIA GeForce RTX 3080 Ti on air cooling. Adding XMG OASIS liquid cooling does not directly increase the GPU power limit, but provides lower temperatures and increased overclocking headroom. The AMD Ryzen 9 6900HX supports a boost of up to 85 watts and can be sustained with up to 65 watts on air cooling. With XMG OASIS connected, the CPU can sustain up to 80 watts of power until the end of a typical 10-minute all-core stress test. The following benchmarks are based on air cooling in Overboost profile with R9 6900HX and RTX 3080 Ti.
| Benchmark | Score |
| --- | --- |
| Cinebench R20 Single | 613 |
| Cinebench R20 Multi | 5733 |
| Cinebench R23 Multi | 13796 |
| Time Spy Score | 12289 |
| Time Spy Graphics | 12531 |
| Time Spy CPU Score | 11081 |
Cinebench score of XMG NEO 17 (M22) with air cooling
Thermals with and without XMG OASIS
The following graphs will show the thermals and power limits of XMG NEO 17 in different situations: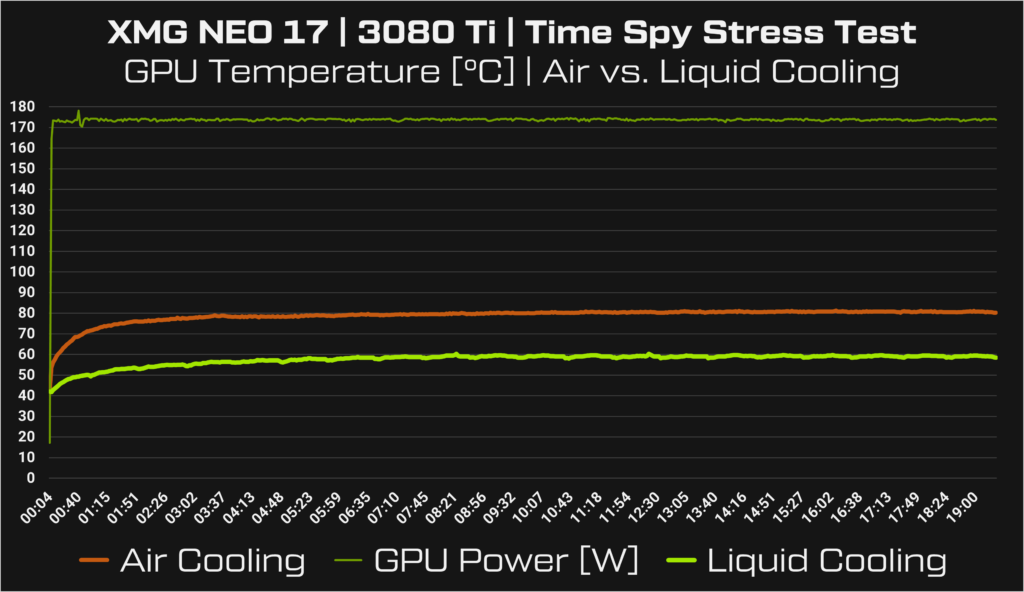 Time Spy Stress Test is able to hold 175 watts of GPU power during and beyond the whole 20 minutes of this benchmark. With XMG OASIS connected, the GPU temperatures are 20°C lower than on air cooling. Even with air cooling, the temperatures do not touch NVIDIA's 87°C GPU temp target, leaving additional headroom for overclocking or CPU load.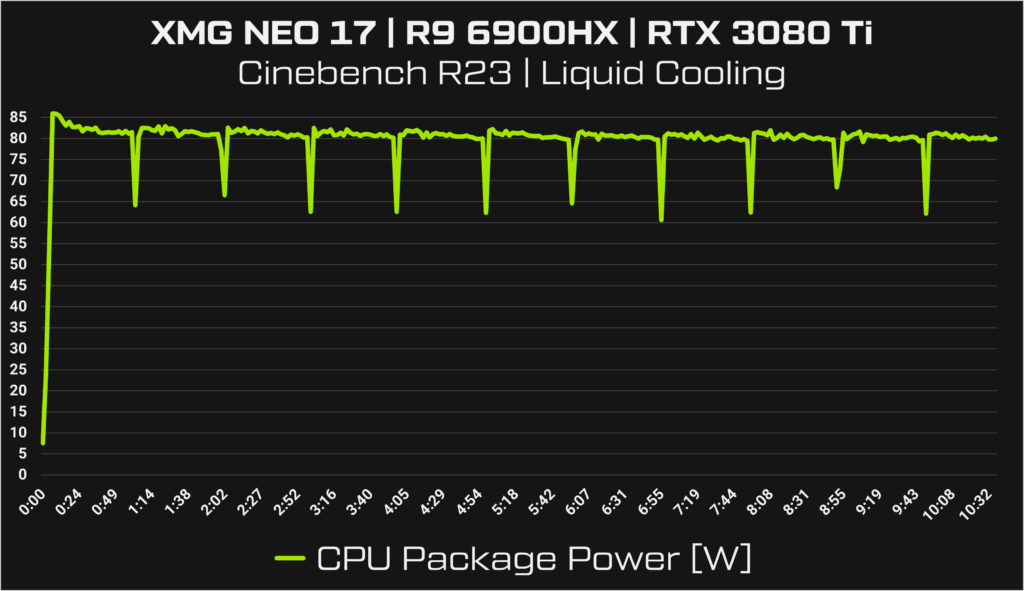 With liquid cooling, the system is able to sustain over 80 watts of CPU Package Power. We are operating at the limit of what is possible with AMD mobile processors. The average power envelope during this 10 minute stress test of the CPU is 20% higher with OASIS compared to without.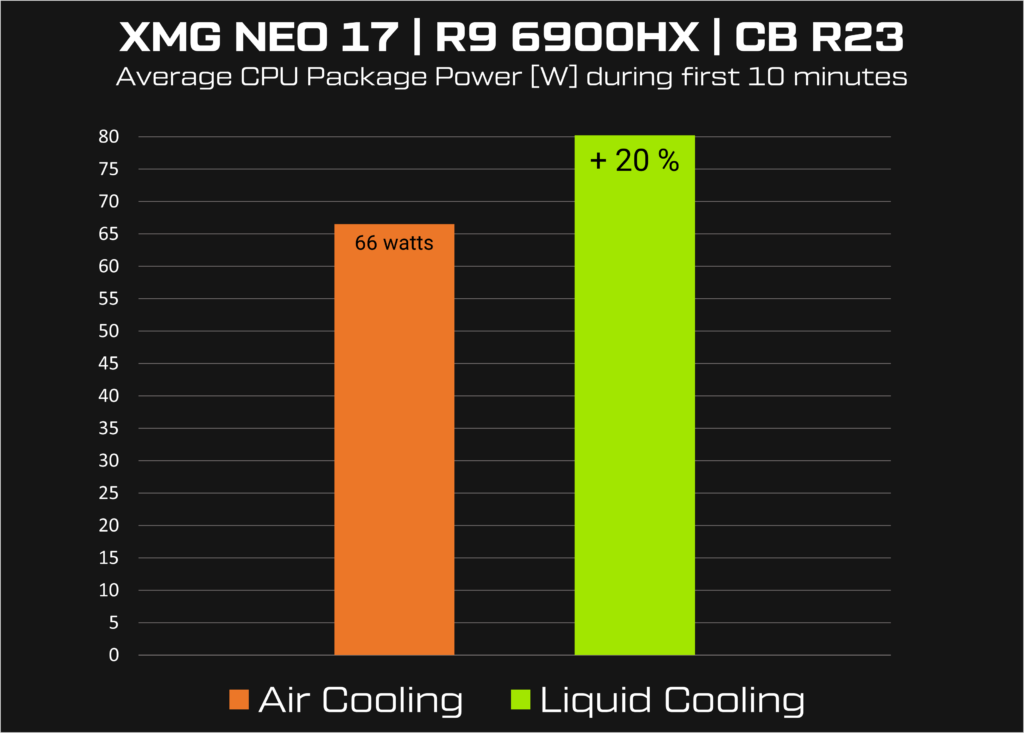 DisplayPort Support on USB-C via dGPU
XMG NEO 15 and NEO 17 with AMD Ryzen 6000 has both HDMI and DisplayPort directly connected to the NVIDIA RTX 30 series dedicated graphics.
The connections for external monitors are not routed through the iGPU.
The DisplayPort connection via dGPU is implemented over USB-C 3.2 Gen2, not USB4.
This setup has the following advantages:
Supports the full set of features in NVIDIA Control Panel for external monitors.
NVIDIA Control Panel will immediately recognize G-SYNC and FreeSync monitors.
You can expect a slight boost in gaming performance from the direct dGPU, especially in very high FPS games when comparing to running over iGPU via MSHybrid.
You get full support for all kinds of VR headsets with a good USB-C/DP to DisplayPort adapter. Please also check out our VR headset compatibility matrix.
Technical background on this choice can be found can be found in our detailed post on Reddit.
Details about NVIDIA Advanced Optimus
NVIDIA Advanced Optimus has been gradually introduced over recent years and is a very advanced feature that can only be certified by NVIDIA. Only a limited number of notebook LCD panels are able to support this feature. It was already present in FHD 144Hz SKU of XMG PRO 15 (E21) with Intel Core 10th Gen, but for 11th Gen we had to skip it because the popular WQHD 165Hz panel spec could not be certified in time. In XMG PRO series of 2022, we were able to introduce NVIDIA Advanced Optimus in PRO 15 with Full HD 144 Hz and PRO 17 with WQHD 165 Hz. And now it finally comes to XMG NEO series for the first time.  
What's the difference between NVIDIA Optimus and Advanced Optimus?
NVIDIA Optimus (aka 'MSHybrid') is a hybrid graphics solution where pictures that are rendered on the dGPU are funnelled through the iGPU toward the laptop display. On some laptop SKUs, NVIDIA Optimus can be disabled via a MUX switch. When Optimus is disabled, the iGPU is completely offline and the laptop display is directly connected to the dGPU. This kind of traditional MUX layout requires a system reboot for the switch to occur. NVIDIA Advanced Optimus is basically a MUX switch that does not require a reboot.
When does the switch occur?
The switch happens automatically when the NVIDIA driver detects the launch of certain applications – typically most benchmarks and games. However, not all games and benchmarks trigger the switch. For example, 3DMark Time Spy does trigger the switch, but Geeks3D FurMark does not. The number of applications that trigger the switch may increase with each NVIDIA driver update.
How do I know the switch has occurred?
During the automatic switch, the screen freezes for 2 to 3 seconds, including any mouse cursor movement. The screen will not turn black – it will just freeze momentarily. This short freeze time is normal by NVIDIA's standard and a technical necessity for the switch to occur. Don't be surprised: Windows might revert window positions to the previous arrangement after the switch, similar to how Windows remembers window arrangements on different external monitors. This, too, is normal and can not be prevented by NVIDIA.
How can I control NVIDIA Advanced Optimus?
On a system with support for NVIDIA Advanced Optimus, the NVIDIA Control Panel offers a new page called 'Manage Display mode' (see picture on the top right) with 3 options: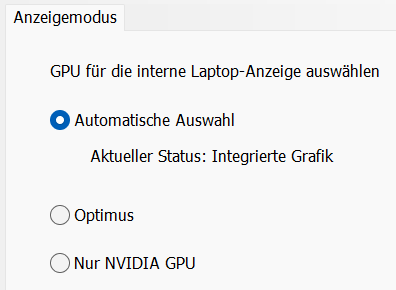 | Option | Description | G-SYNC support |
| --- | --- | --- |
| Automatic Select (Default) | This is NVIDIA Advanced Optimus. It will show which GPU is currently connected to the internal display. | ✔️ |
| Optimus | This option represents traditional Optimus aka MSHybrid. Selecting this option will mean that no automatic switch (and no display freeze) will occur. | ❌ |
| NVIDIA GPU only | This option represents traditional MUX layout. It permanently switches the system to Discrete mode, but without requiring a reboot. | ✔️ |
NVIDIA Advanced Optimus settings
Interior pictures
Here are some detail pictures from the bottom and the inside of the chassis: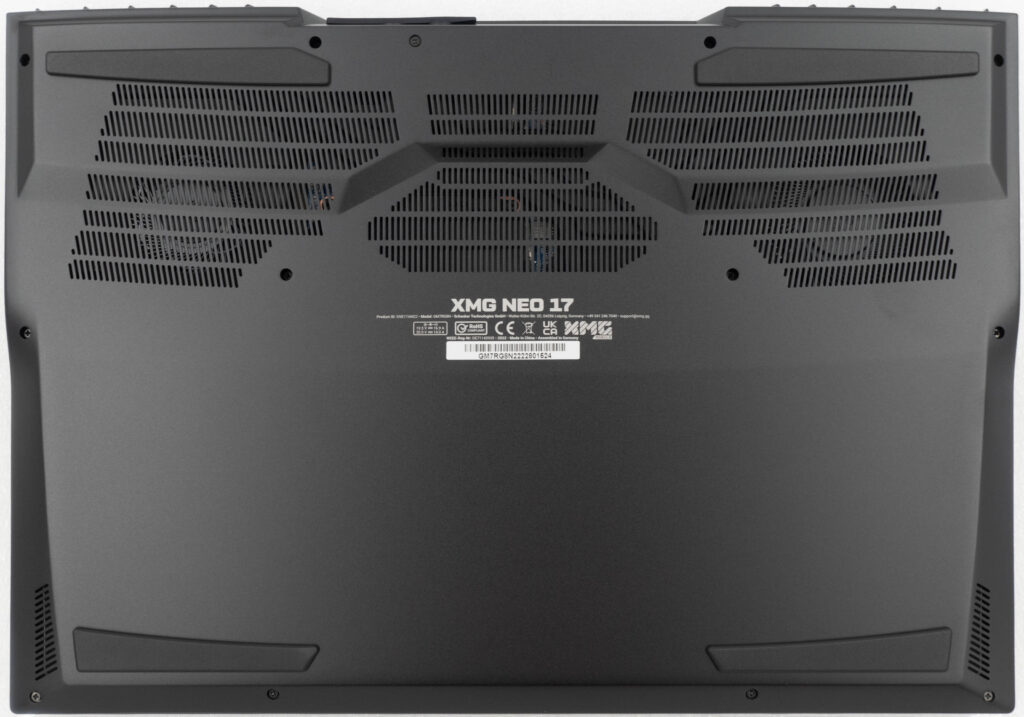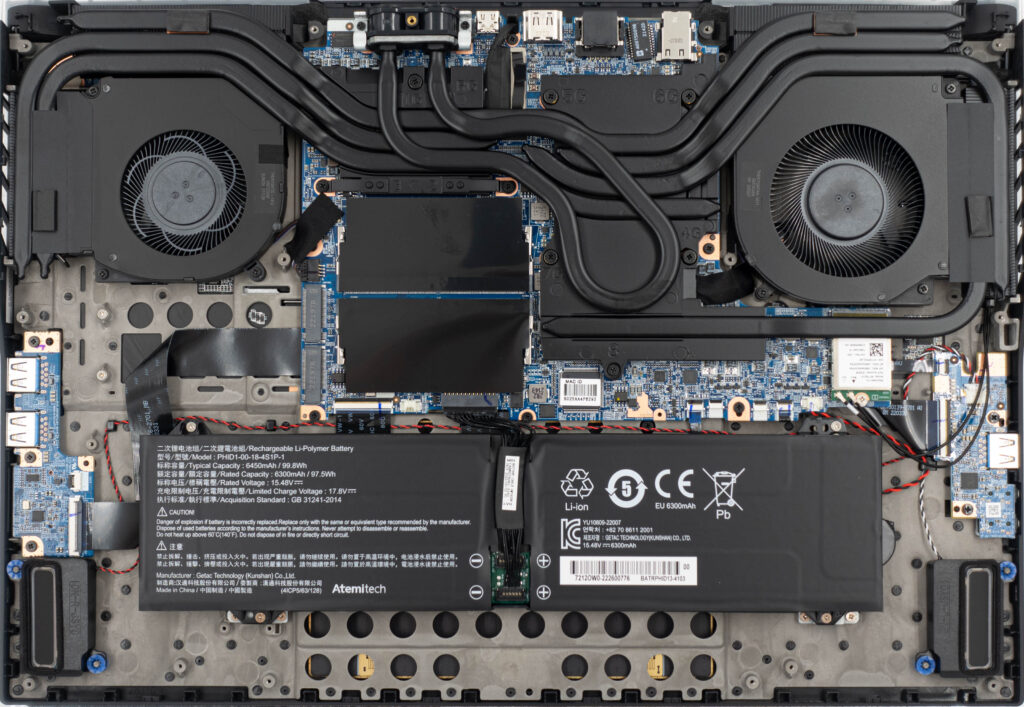 "But it looks so empty…!" Yes, the empty space is for buoyancy. 😉 XMG NEO 17 weighs only 2.8 kilogram, despite the gigantic 17″ 16:10 display and the air cooling system that can disperse a total of 175W GPU Power without breaking a sweat. On the left side, there is still space for two M.2-2280 SSDs with NVMe/PCIe Gen4, which are not yet installed in the photo.
Configure & buy
XMG NEO 17 (M22) is now ready for pre-order and is planned to be available in stock in early September. On the product page in our partner shop bestware.com you will find all further information about the configuration options, product images and technical specifications.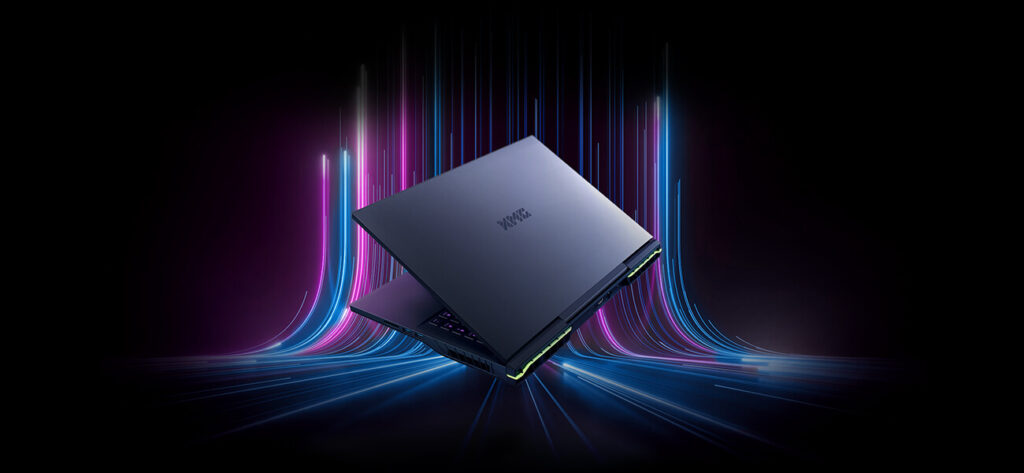 Your feedback
Thank you for your interest in this significant upgrade to our XMG NEO series. For further information on our roadmap plans, please check out this article. If you have any questions about XMG NEO 17, please feel free to reply directly in the linked thread on Reddit. We are looking forward to you feedback!