Las Vegas / Leipzig, January 5th 2023 – At CES 2023, XMG unveils brand-new high-end gaming laptops from the NEO series. The XMG NEO 16 debuts as the first 16.0″ variant of this model series, which, just like the XMG NEO 17 that is identical in most specification aspects, combines Intel's Core i9-13900HX and NVIDIA graphics cards up to the GeForce RTX 4090 with fully maxed-out power limits. Characteristic for the NEO laptops is compatibility with the optional, external laptop liquid cooling system XMG OASIS. In addition, they offer 240 Hz fast, high-resolution WQXGA displays in 16:10 format, a configuration option for mechanical keyboards with CHERRY MX ULP Tactile switches, DDR5-5600 or DDR5-6400 RAM as well as options for RAM overclocking and CPU undervolting.
XMG NEO (E23) with Core i9-13900HX and GeForce graphics cards up to RTX 4090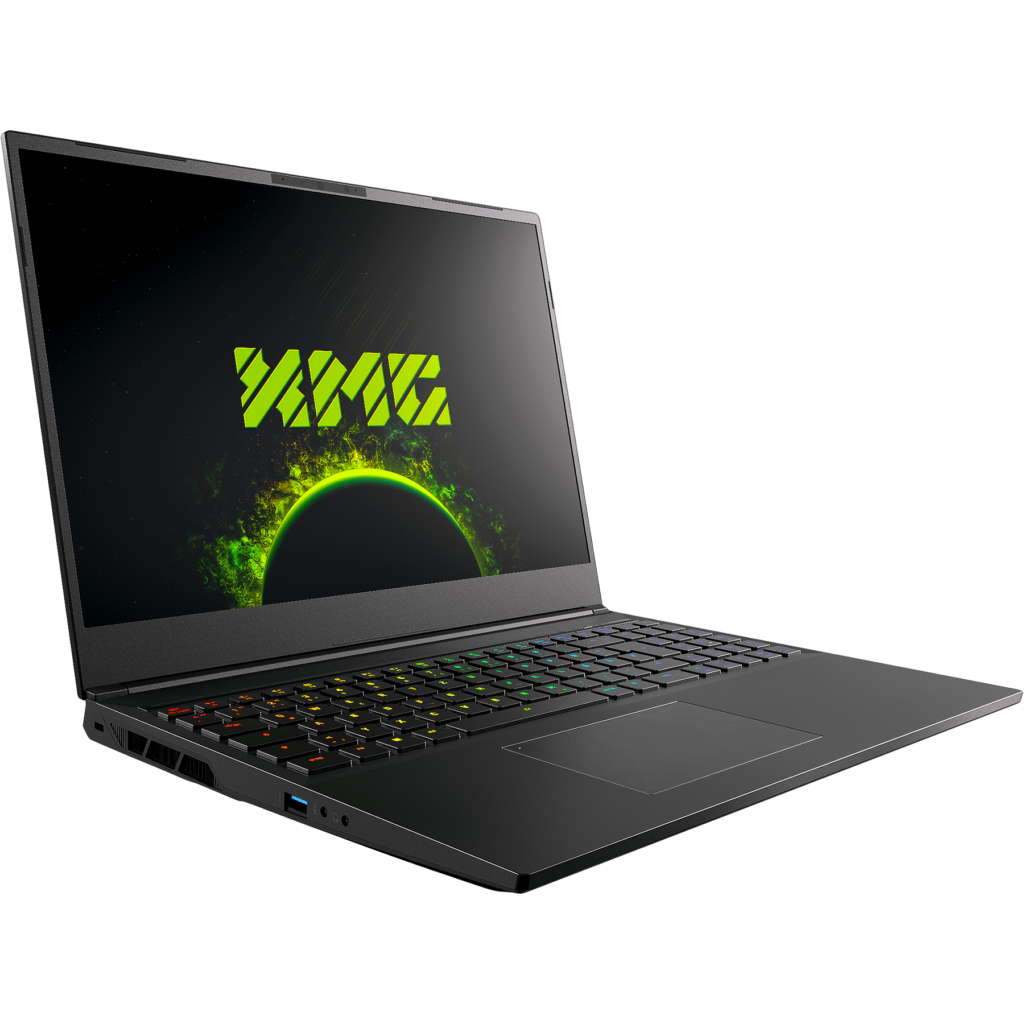 As the peak of performance in XMG's laptop portfolio, the NEO E23 model generation laptops are the first to feature the latest components from Intel and NVIDIA. On the CPU side, both the NEO 16 and NEO 17 are powered by Intel's Core i9-13900HX with 24 cores (8 P-cores, 16 E-cores), 32 threads and 36 MB cache. In contrast to the mobile H and HK processors, the Core i9 with HX suffix offers significantly more cores and performance; in the case of the 12th Core generation, the differences in terms of specification and thus performance were noticeably smaller. In the multi-core run of CineBench R23, the i9-13900HX scores a whopping 30,331 (NEO 16) and 30,483 (NEO 17) points.
In terms of graphics cards, there is not only an upgrade to NVIDIA's GeForce RTX 40 series, but also a wider choice than in previous NEO laptops – and in each case with the maximum permissible power limits. This applies to both the RTX 4090 and 4080 with a maximum graphics power of up to 175 and the RTX 4070 and 4060 with up to 140 watts.
Powerful air cooling system, maximum power limits and optional liquid cooling
A look at the sustained performance of the components demonstrates that the air cooling system of the XMG NEO laptops is extremely powerful: The continuously maintained CPU package power of the Core i9-13900HX is around 100 (NEO 16) and 125 watts (NEO 17) at full load through CineBench R23. Even the GeForce RTX 4090 runs at the full 175 watts in the 3DMark Time Spy stress test without any thermal throttling. This is partly due to the significantly more powerful air cooling system compared to last year's XMG NEO 15 (E22) with an Intel processor. Both the NEO 16 and NEO 17 utilise an interconnected system with five heat pipes, separate heat sinks on all four air outlets, two large fans with low-frequency, unobtrusive sound characteristics and liquid metal (Thermal Grizzly Conductonaut) for cooling the CPU and GPU.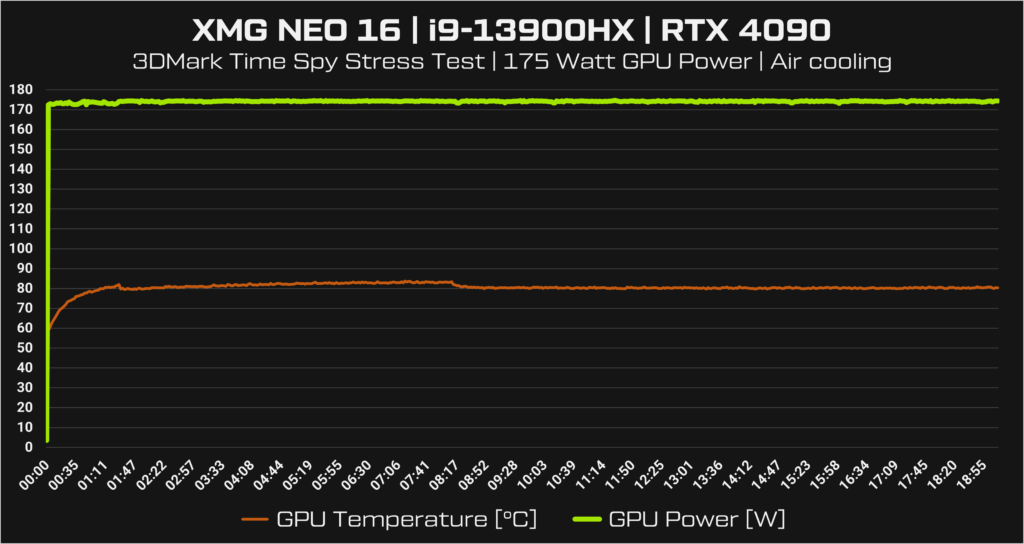 Additionally, it is possible to cool the NEO laptops with the optional XMG OASIS laptop liquid cooling system for significantly lower CPU and GPU temperatures, in order to enjoy quieter overall system operation, especially in full-load or gaming scenarios. The OASIS itself will receive a number of additional improvements for the new laptop generation, such as a magnetic docking mechanism to the liquid cooling ports of the laptops. XMG will specify details in a separate press release at a later date. Existing OASIS water cooling systems can also be used on new laptops from model generation E23 onwards by replacing the connecting tubes.
DDR5 RAM with manual tuning options and two M.2 SSDs via PCIe 4.0
Two SO-DIMM sockets for up to 64 GB DDR5 RAM and two M.2 slots for fast PCI Express 4.0 SSDs allow flexible memory and storage configurations. XMG offers dedicated tuning options for the RAM to allow savvy users to get the most out of the clock frequencies and timings. In addition, specially optimised DDR5-6400 overclocking DRAM modules with CL40 latency are planned for both the NEO 16 and NEO 17. However, the announcement of the availability date is currently still pending.
Fast 16:10 IPS displays with 2,560 x 1,600 pixels and modern connectivity
Apart from the display size, the screen characteristics of the XMG NEO 16 (16.0 inch) and XMG NEO 17 (17.0 inch) are similar. The IPS panels in 16:10 format feature a resolution of 2,560 x 1,600 pixels and are 240 Hz fast. Brightness and sRGB colour space coverage are 380 nits and 99 percent (NEO 17) and 350 nits and over 95 percent (NEO 16).
The connectivity is identical. It is worth emphasising that the integrated DisplayPort stream of the Thunderbolt 4 port is again directly connected to the NVIDIA dGPU in the NEO 16 and NEO 17 with Intel CPUs from the 13th Core generation. They are thus fully compatible with current VR headsets and allow the connection of an external G-SYNC display both via Thunderbolt 4 and the HDMI 2.1 port, which is also linked to the dGPU. In addition, there is 2.5 Gigabit Ethernet, three USB A 3.2 ports, a card reader for full-size SD cards and separate connections for microphone and headphones (compatible with combo plug headsets). Wi-Fi 6E certification is currently in progress and should be completed by the start of shipping.
99 Wh battery, up to 330 watt power supplies and two keyboard versions to choose from
At 358.44 x 266.8 x 26.1 mm and 2.5 kg, the XMG NEO 16 is somewhat more compact than the NEO 17 at 381.7 x 272.8 x 27 mm and 2.8 kg. The display lid of the 16-inch device is made of aluminium, whereas this also applies to the bottom shell of the 17-inch version. Additional differences include the design of the RGB lighting on the rear air vents: The NEO 17 uses RGB strips, while the NEO 16 has the LEDs integrated into the ventilation openings on the back of chassis.
Mobile power is supplied by a 99 Wh battery, while a 330 watts (with RTX 4090 and 4080) or 280 watts power supply (with RTX 4070 and 4060) is used when connected to mains power sockets. The new 330 watts model is around 20 per cent lighter than last year's counterpart with identical performance.
In addition to a 150 x 95 (NEO 17) or 114.5 x 70 mm glass touchpad (NEO 16), the E23 model generation for the first time offers the choice between two fundamentally different keyboard options. The high-end version continues to use a mechanical keyboard with extremely flat, precise CHERRY MX Ultra Low Profile Tactile switches and RGB per-key illumination. In contrast, those who prefer the quietest possible inputs can choose a silent keyboard with membrane technology and four-zone RGB lighting. Both feature N-key rollover, anti-ghosting, a dedicated numpad and large arrow keys.
Pricing and availability
The base configuration of the XMG NEO 16 (E23) and XMG NEO 17 (E23) gaming laptops, which can be freely configured on bestware.com, includes Intel's Core i9-13900HX, a GeForce RTX 4060, 16 GB (2×8) DDR5-4800-RAM, a 500 GB Samsung 980 SSD, a 240 Hz WQXGA IPS display and a silent membrane keyboard. The starting prices including 19% VAT are € 2,199 (NEO 16) and € 2,249 (NEO 17) respectively. Upgrades such as to the GeForce RTX 4070 (€ 375), RTX 4080 (€ 1,050), RTX 4090 (€ 1,687) or a mechanical keyboard with CHERRY MX ULP Tactile switches (€ 125) are available at extra cost and faster DDR5-5600 and DDR5-6400 RAM will be offered as soon as it is in stock in large quantities.
In line with NVIDIA's embargoes, pre-orders will start on February 1st (laptops with RTX 4090, 4080) and February 14th (laptops with RTX 4070, 4060). Shipping is available from February 8th (RTX 4090, 4080) and 22nd (RTX 4070, 4060). While the XMG NEO 17 with RTX 4090 and 4080 will be available from February 8th, the NEO 17 with RTX 4070 and RTX 4060 and the XMG NEO 16 will be on shelves in the following weeks.
Websites:
https://bestware.com/en/xmg-neo-16-e23.html
https://bestware.com/en/xmg-neo-17-e23.html
https://www.xmg.gg/en/xmg-neo-16-e23/ https://www.xmg.gg/en/xmg-neo-17-e23/
Press material (download of the press release, pictures, data sheets):