Leipzig, Germany, 26th November 2020 – By introducing the latest versions of the XMG NEO 15 and NEO 17 gaming laptops, XMG is among the first manufacturers worldwide to offer high-resolution WQHD displays featuring a refresh rate of 165 Hz. Since the launch of the first series in 2018, XMG NEO laptops have been providing maximum gaming performance following a long tradition of innovation and integrating cutting-edge technology ahead of the competition. As part of a sales promotion for Black Friday, the company is offering both laptops at a substantial discount via its own online store bestware.com.
165 Hz IPS gaming displays with a resolution of 2560 x 1440 – finally!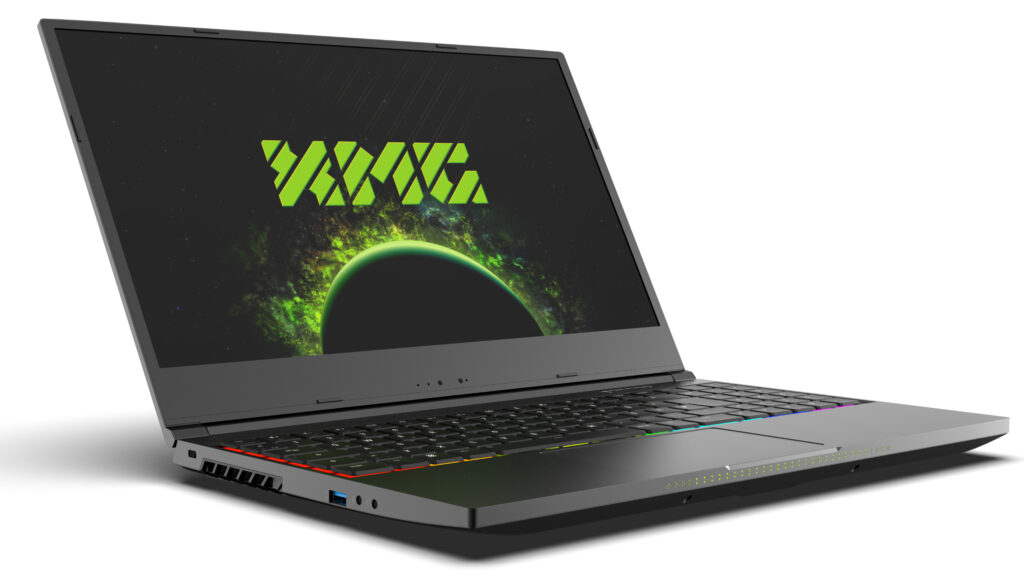 The demand for fast, high-resolution and fully gaming-ready displays in laptops has been on the rise among the gaming community for several years now. This comes as no surprise, since mobile processors and graphics cards from NVIDIA, Intel and AMD have recently been able to catch up with their desktop counterparts in terms of overall gaming performance. While Full HD displays were previously the established standard even in most high-end devices, XMG now believes that the time has come to switch to a higher resolution: the NEO 15 and NEO 17 are therefore now available with a 165 Hz WQHD IPS display, complementing the existing 240 Hz Full HD option. The new high-resolution display offers razor sharp image quality thanks to its impressively high pixel density of 188 ppi (15.6 inch) and 170 ppi (17.3 inch) respectively. For comparison, external 4K UHD monitors in the popular 27 inch size class offer no more than 163 ppi. While the excellent sRGB colour space coverage is almost 100 percent, the brightness reaches well above 300 nits. The displays are technically identical to the panels that US manufacturer Eluktronics also announced a few days ago would be available for two of its upcoming laptops (XMG NEO 15: BOE NE156QHM-NY2, XMG NEO 17: BOE NE173QHM-NY2).
The new WQHD displays are not the first innovation that XMG has made available to its customers in the NEO model series at an early stage. Back when the initial version was released in 2018, the German based company introduced what was then a brand new, opto-mechanical keyboard, which set a trend that other manufacturers and brands subsequently followed. With its precise responsiveness, the input device is one of the key features of the XMG NEO 15 and NEO 17, albeit in a version improved over several generations. The keyboard utilises tactile silent switches with an actuation point of two millimetres, a travel distance of one millimetre and is characterised by an actuating force of 60 g (cN). It also features Anti-Ghosting, N-Key rollover and freely configurable RGB per-key illumination.
XMG NEO 15 and NEO 17: Powerful solution for WQHD gaming
The top configurations of the XMG NEO series feature Intel's Core i7-10875H with eight cores and 16 threads as well as graphics cards up to NVIDIA's GeForce RTX 2070 SUPER. An optional configuration with a GeForce RTX 2070 Refresh is also available. Both graphics cards are performance optimised Max-P versions, with the maximum specified TGP of 115 watts. In combination with the freely configurable RAM of up to 64 GB and a maximum of two M.2 SSDs with PCI Express support, it is easy to put together a high-end gaming laptop that powers the high-resolution WQHD display with high frame rates, even in AAA game titles, to take full advantage of the fast 165 Hz refresh rate – including real-time ray tracing and Deep Learning Super-Sampling (DLSS). At the same time as the official launch of the laptops, a video will be published on the YouTube channel Jarrod's Tech, proving their remarkable performance potential.
At very high graphics settings, the XMG NEO at native WQHD resolution delivers around 120 FPS in Fortnite (High Preset), 150 FPS in Tom Clancy's Rainbow Six Siege (Ultra Preset) and 230 FPS in CS:GO (High Preset). Compared to the otherwise common Full HD resolution, the performance drop is only 22 to 35 percent depending on the game, despite a 78 percent higher number of pixels. However, NVIDIA's GeForce RTX graphics card easily makes up for this difference in games with DLSS 2.0 support, including the upcoming AAA title Cyberpunk 2077. With DLSS 2.0 activated in an existing title such as Control (High Preset), the performance increase of the RTX 2070 SUPER is an impressive 67 percent, raising the FPS from 48 to 81. Thanks to the use of liquid metal for processor cooling, even under full load the XMG NEO Series achieves operating temperatures up to 9° C lower compared to conventional thermal compounds.
Connectivity, chassis dimensions and weight
The connectivity options are identical for the XMG NEO 15 and NEO 17. Both gaming laptops offer Thunderbolt 3 including two DisplayPort streams directly connected to the NVIDIA graphics card, three USB 3.2 ports, HDMI 2.0 with HDCP 2.2 support, Gigabit LAN, WiFi 6, an SD card reader and separate audio jacks for a microphone and headphones or a headset. While the XMG NEO 17 utilises a 62 Wh battery, the XMG NEO 15 has a 93 Wh unit. At 359.8 x 243 x 23 mm and around 2.1 kg (XMG NEO 15) and 395.7 x 260.8 x 27.45 mm and around 2.5 kg (XMG NEO 17), the laptops offer a high degree of portability in their respective performance and size classes.
Pricing and availability
The XMG NEO 15 and XMG NEO 17, which can be freely configured at bestware.com, are available from € 1,831.63 (NEO 15) and € 1,753.64 (NEO 17). The base configuration features a 240 Hz Full HD display, Intel's Core i7-10875H, an NVIDIA GeForce RTX 2070 (Max-P), 8 GB DDR4 RAM and a 250 GB Samsung SSD 860 Evo in M.2 form factor.
The optional WQHD display can be pre-ordered in the XMG NEO 15 with immediate effect and at no upgrade cost, with shipping scheduled for mid-December. The new display for the XMG NEO 17 will be available to order from the end of December.
Black Friday sales promotion
As part of the Black Friday sales promotion on bestware.com, XMG is offering the NEO 15 and NEO 17 at a discount of 250 euros (start: 26th November, 16:00 CET; end: 2nd December, 18:00 CET). Within this period, these two models can be purchased starting from just € 1,581.63 and € 1,503.64 respectively. This includes pre-orders of the XMG NEO 15 with the new WQHD display. During the same period, XMG is offering a discount of € 200 on a special entry-level configuration of the XMG NEO 15 with Intel Core i7-10750H and NVIDIA GeForce RTX 2060 Max-P Refresh, reducing the starting price from €1,461.21 to just € 1,261.21.
Video on the Youtube channel Jarrod's Tech:
Websites:
https://bestware.com/en/xmg-neo-15.html
https://bestware.com/en/xmg-neo-17.html
https://www.xmg.gg/en/xmg-neo-15 https://www.xmg.gg/en/xmg-neo-17
Press materials (download of the press release, pictures, data sheets):
https://schenker.app.box.com/v/xmg-neo-15-e20
https://schenker.app.box.com/v/xmg-neo-17-e20