With the 15.6 and 17.3 inch XMG APEX gaming laptops, XMG is positioning a new model series below its own high-end range consisting of the NEO and PRO series. These new laptops combine mobile AMD eight-core processors up to the Ryzen 9 5900HX with NVIDIA GeForce RTX graphics cards up to the RTX 3070 with the maximum specified TGP for optimum gaming performance.
Ryzen 5000 mobile processorsand GeForce RTX 3070 or 3060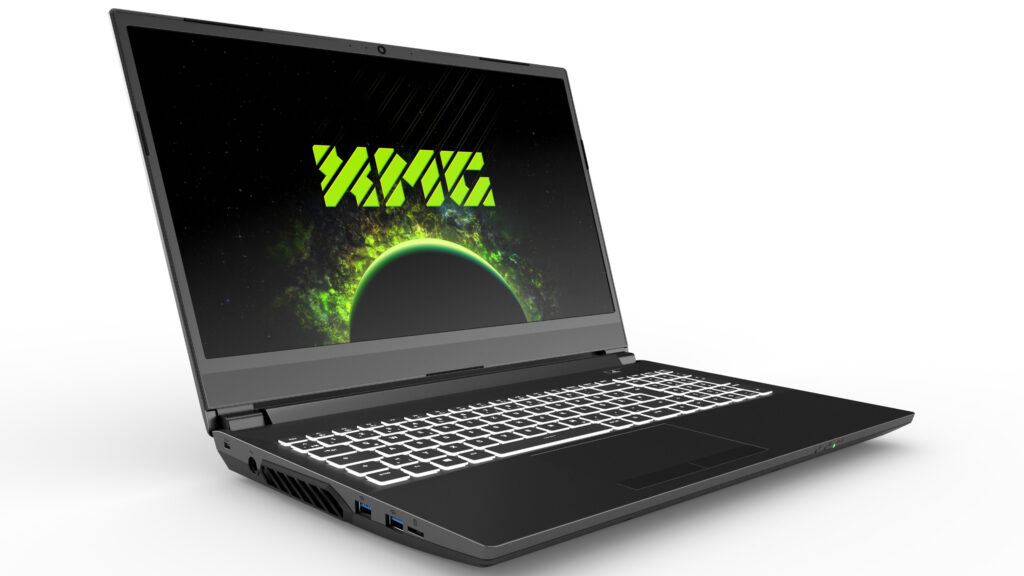 Until now, the XMG APEX 15 in the older E20 generation represented uncompromising desktop CPU performance, with processors up to the Ryzen 9 3950X in a laptop. Although XMG is already working on a direct successor under a slightly different name, it is unleashing the XMG APEX 15 and APEX 17 of the M21 generation for the time being with the currently fastest eight-core mobile processors from AMD.
The laptops are available with an AMD Ryzen 7 5800H as well as with the slightly faster Ryzen 9 5900HX from the 54 watt TDP class, as well as with an NVIDIA GeForce RTX 3070 or RTX 3060 in the respective maximum TGP configuration (RTX 3070: 125 watts plus 15 watts Dynamic Boost 2.0; RTX 3060: 115 watts plus 15 watts Dynamic Boost 2.0).
Distinctive gaming design
Visually, the newcomers are characterised by an extroverted aesthetic, as evidenced by the confident design of the display lid, which in the case of the 15.6 inch model is crafted from aluminium, and the large air vents in the chassis. At 361 x 258 x 29 mm and 2.2 kg (APEX 15) and 396 x 262 x 32.4 mm and 2.5 kg (APEX 17), both models are comparatively robust.
Fast 144 Hz displays and plenty of memory and storage
The laptops each integrate a viewing-angle-stable 144 Hz IPS display with Full HD resolution, a brightness of 300 nits and 90 percent sRGB colour space coverage, as well as a 49 Wh plug-in and thus exchangeable battery. In line with XMG's standard, there are two slots for up to 64 GB of socket-mounted instead of soldered DDR4-3200 RAM. For fast NVMe SSDs, APEX offers two M.2 slots with a PCI Express connection via four lanes each; due to the AMD mobile platform, this is PCIe 3.0.
Ready for VR and multi-monitor setups
Multi-monitor users or VR headset owners will find three external graphics interfaces, all of which are directly connected to the NVIDIA GPU. In addition to a Mini DisplayPort and HDMI output, the XMG APEX also offers DisplayPort via USB-C. The video interfaces are located on the back of the laptops, as is the 2.5 Gigabit Ethernet port.
There are also three USB-A slots, a headset-compatible 2-in-1 audio jack, a separate microphone input and fast Wi-Fi 6. Both laptops feature a full-size keyboard with full numpad and multicolour backlighting (15 colours) as well as a Microsoft Precision-compliant touchpad.
Freely configure and buy XMG APEX 15 and APEX 17
In our online shop bestware.com you can freely configure and buy the XMG APEX 15 (M21) and XMG APEX 17 (M21).
Additional information
On the individual product pages of the XMG APEX 15 (M21) and XMG APEX 17 (M21) fyou can find additional information about the specifications, data sheets and more. It's also always worth taking a look at our launch thread on Reddit, where we provide a lot of additional details.