XMG expands its PRO model series for gamers and creatives with the 19.9 mm thin XMG PRO 16 Studio featuring a 16:10 display. The first NVIDIA GeForce RTX Studio certified laptop from the Leipzig based company is also the first to integrate a vapor chamber. Compared to conventional notebook air cooling systems, this allows for quieter operation. In terms of performance, the thinnest member of the XMG PRO series is equipped with Intel's Core i9-13900H as well as graphics cards up to the NVIDIA GeForce RTX 4070 and combines these with an X-Rite certified, 240 Hz IPS display with 2,560 x 1,600 pixels in 16:10 format as well as extensive connectivity.
Vapor chamber allows for a slim design and a quieter operation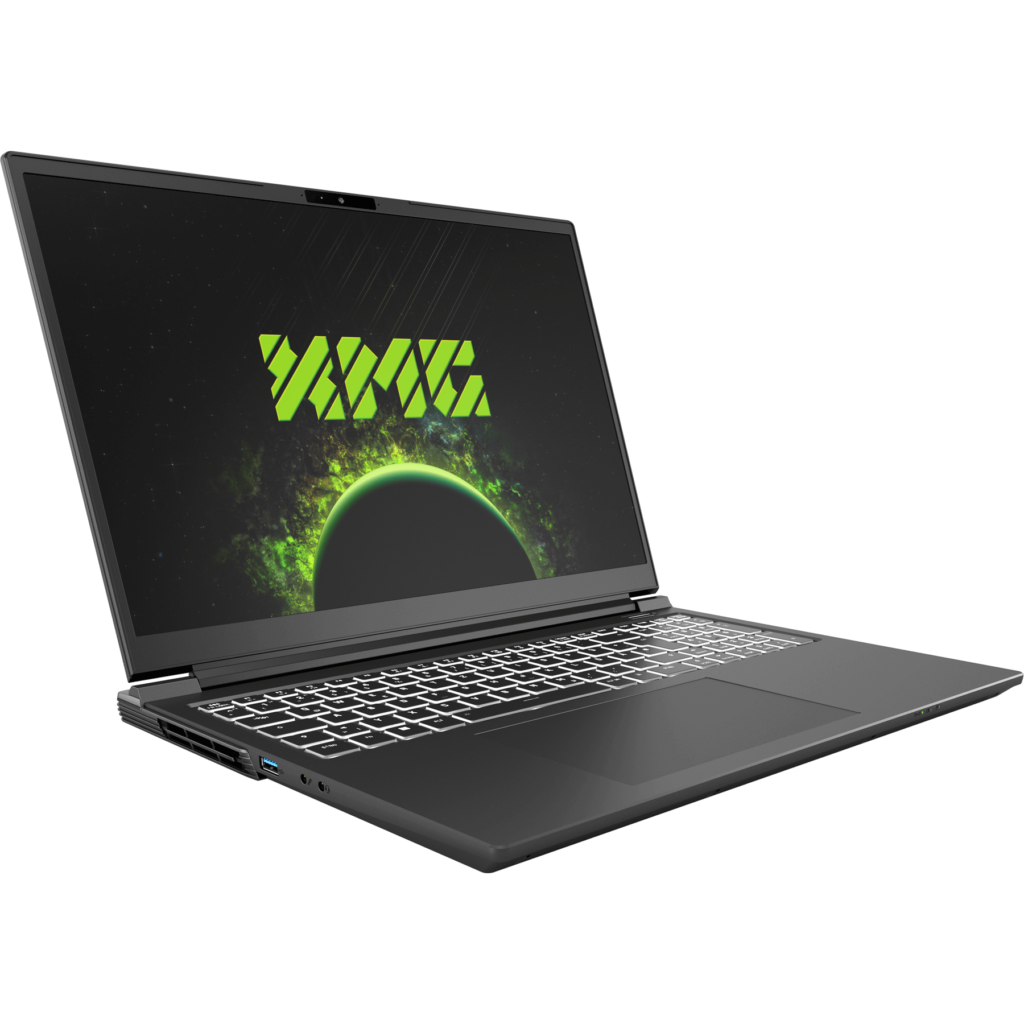 In line with the approach of the XMG PRO series, the new XMG PRO 16 Studio (M23) also dares to strike a balance between a gaming laptop and a content creation workstation. The notebook is based on Intel's Core i9-13900H with 14 cores (6 performance and 8 efficiency cores) and 20 threads as well as either an NVIDIA GeForce RTX 4070 or RTX 4060 – each with a graphics performance of up to 140 watts (115 watts plus 25 watts Dynamic Boost 2.0).
One special feature is the cooling system: a large-scale, massive vapor chamber made of copper is integrated, which covers both the processor and graphics card as well as surrounding areas on the mainboard such as the voltage regulator modules. An advantage of this more powerful cooling upgrade is improved temperatures and significantly quieter operation.
Compared to a classic laptop cooling system, the use of a vapor chamber also allows for a thinner laptop design without sacrificing performance. Accordingly, the XMG PRO 16 Studio with its predominantly aluminium chassis (display lid, bottom shell) is compact and measures only 359.5 x 273 x 19.9 mm. The low construction height is an important feature for the certification as an NVIDIA GeForce RTX Studio laptop, which the model is the first in the XMG portfolio to receive. Due to the massive construction of the vapor chamber, the weight comes in at 2.56 kg.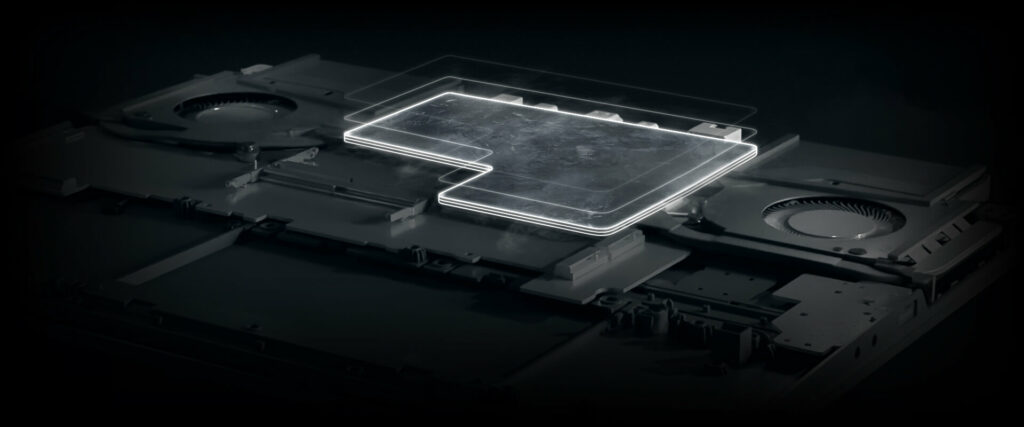 Memory, storage and connectivity
Free configuration options for up to 64 GB of plugged-in DDR5-5200 RAM and a maximum of two M.2 SSDs with PCI Express 4.0 connection correspond to the upscale XMG standard. Even if the laptop is ordered with only one SSD via the partner shop bestware.com, both SSD slots are equipped with a thermal pad ex works. The bottom shell of the laptop is mounted with screws and thus makes subsequent upgrading or cleaning of the cooling system possible.
The extensive connectivity includes Thunderbolt 4, two USB-A 3.2 Gen1 ports, USB-C 3.2 Gen2 and a microSD card reader. Wi-Fi 6E and a 2.5 gigabit ethernet port are available for the network connection, and there are also separate connectors for headphones (headset-compatible) and a microphone. In total, the XMG PRO 16 Studio can natively address up to three external monitors in addition to its internal display: via HDMI 2.1 and a Mini DisplayPort 1.4, each directly connected to the NVIDIA graphics card, as well as via the Thunderbolt 4 port linked to the integrated Intel graphics unit. The latter uses the iGPU for image output, but can offload calculations to the faster dGPU based on NVIDIA Optimus when high performance is required. All graphics interfaces are located on the back of the laptop.
X-Rite certified WQXGA display and advanced security features
The 2,560 x 1,600 pixel resolution, 350 nits bright IPS display is 240 Hz fast, covers over 95 percent of the sRGB colour space and is additionally X-Rite certified. The XMG PRO 16 Studio is the only laptop in this series to adopt the 16:10 format – the most recently introduced PRO 15 and PRO 17 models use 16:9. A MUX switch allows the connection of the internal display to be switched between the NVIDIA graphics card (dGPU) and Intel's integrated graphics chip (iGPU): If the display device operates directly linked to the dGPU, this brings a performance plus in some games.
In terms of special security features, the XMG PRO 16 Studio comes with a tamper-proof hardware-based TPM 2.0 module (dTPM), which is used in the professional field to manage cryptographic keys; for example, for device authentication or storage encryption via Bitlocker. To improve image quality, the Windows Hello-compatible Full HD webcam uses a temporal noise reduction function. And, of course, the laptop also includes a Kensington Lock.
In addition to a 150 x 90 mm Microsoft Precision-compliant touchpad, the XMG PRO 16 Studio provides a full-size keyboard with a dedicated numeric pad, large arrow keys and a backlight that can be freely selected from 15 colours.
Freely configure and buy XMG PRO 16 Studio
The basic configuration of the XMG PRO 16 Studio (M23), which can be freely configured on bestware.com, includes Intel's Core i9-13900H, an NVIDIA GeForce RTX 4060, 16 (2×8) GB DDR5-5200-RAM, a 500 GB Samsung 980 SSD and a WQXGA IPS display with 240 Hz. The starting price is € 1,749 including 19% VAT. An upgrade to the more powerful GeForce RTX 4070 is available for € 295. The laptop, which can be pre-ordered with immediate effect, is expected to ship from end of August.
Additional information
For more information on the features and data sheets , please check out the product page of the XMG PRO 16 Studio on xmg.gg.