With the XMG FOCUS, XMG creates a brand new product series in the entry-level gaming segment. Intel's Core i7-11800H and an NVIDIA GeForce RTX 3050 Ti offer decent gaming performance, while good connectivity and memory round off the overall package. All four new models feature an IPS display with 144 Hz.
Slim entry-level gaming machine with i7-11800H and RTX 3050 Ti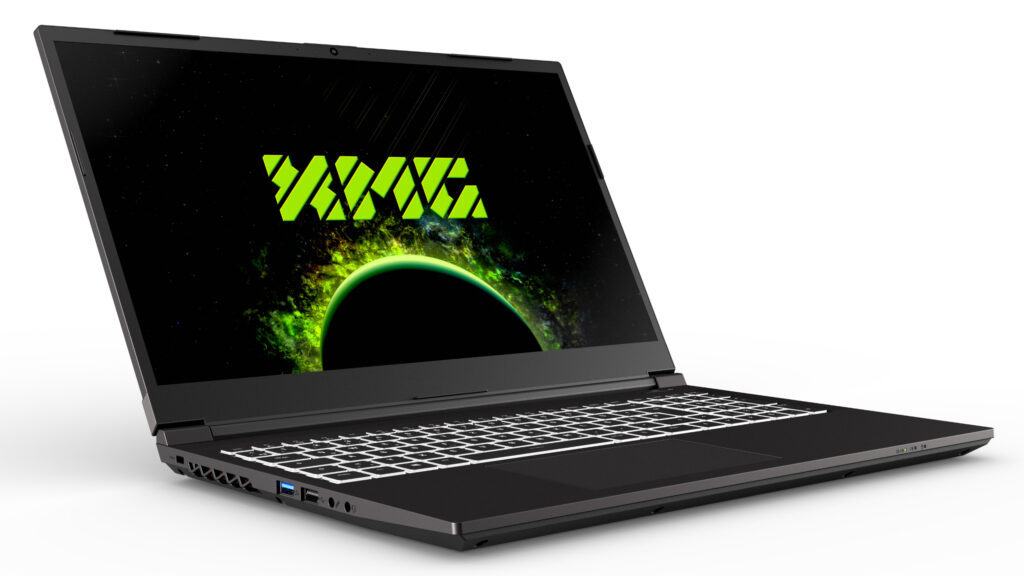 While the CORE laptops with an RTX 3060 have so far been the entry point to XMG's current 15.6- and 17.3 inch portfolio, the German-based company is now extending its lineup with a new model series, the FOCUS 15 and FOCUS 17 (M21). Just like the Intel-based versions of the CORE and NEO series, the FOCUS makes no compromises in terms of processor performance, offering the Core i7-11800H with eight cores and 16 threads. NVIDIA's ray-tracing-capable entry-level GeForce RTX 3050 Ti with a TGP of up to 75 watts (60 watts plus a maximum of 15 watts Dynamic Boost 2.0) is included as the discrete graphics card.
Flexible memory and storage expandability
At 359.5 x 238 x 21.9 mm and less than 2 kg (XMG FOCUS 15) and 369.9 x 262 x 23.5 mm and 2.4 kg (XMG FOCUS 17), the laptops are slim and light for their size class. At the same time, they offer good memory expansion options: In addition to up to 64 GB DDR4-3200 RAM, they can hold an M.2 SSD connected via PCI Express 3.0 as well as a supplementary 2.5-inch SSD or HDD – a comparatively inexpensive solution for high storage volumes.
Discreet design meets fast 144 Hz displays
The laptop chassis are characterised by a torsion-resistant base and a discreet, clearly structured design; avoiding excessive gaming elements. Only the LED backlighting of the full-format keyboard, with a key travel of 1.8 mm, separate numpad and large arrow keys, can be customised in 15 colours – if desired. The battery capacity is 49 Wh in each version. XMG equips both with a 144 Hz IPS, Full HD resolution panel, featuring brightness of 300 nits and 90 percent sRGB colour space coverage. In the case of the XMG FOCUS 15, one-handed opening is possible.
Good connectivity
On the connectivity side, the laptops provide three USB-A ports and one USB-C 3.2 Gen2 port. The latter does not integrate its own DisplayPort stream, instead the FOCUS 15 and FOCUS 17 each feature a Mini DisplayPort and an HDCP-capable HDMI output. Both are directly connected to the Intel Xe graphics unit of the Core i7-11800H via NVIDIA Optimus, allowing automatic deactivation of the dedicated NVIDIA graphics card in office or web operation, thus reducing energy consumption and extending battery run-time.
The network connection is either wireless via Wi-Fi 6 or via a Gigabit Ethernet port. Furthermore, the laptops feature a headset-compatible headphone jack and an additional, separate microphone input, as well as a full-size SD card reader.
Freely configure and buy XMG FOCUS 15 and FOCUS 17
In our online shop bestware.com you can freely configure and buy the XMG FOCUS 15 (L21) and XMG FOCUS 17 (L21).
Additional information
On the individual product pages of the XMG FOCUS 15 (L21) and XMG FOCUS 17 (L21) you can find additional information about the specifications, data sheets and more. It's also always worth taking a look at our launch thread on Reddit, where we provide a lot of additional details.