XMG is updating its entry-level XMG FOCUS laptop series to the M22 model generation and is now pushing it into a higher performance class: a significantly more powerful NVIDIA GeForce RTX 3060 replaces the 3050 Ti from last year's laptops and an Intel Core i7-12700H is used instead of the Core i7-11800H. Another new feature is that XMG is offering three different model sizes for the first time. In addition to the FOCUS 15 and FOCUS 17 in 15.6 and 17.3 inch format, the FOCUS 16 is the first 16 inch laptop in its portfolio – featuring a high-resolution, 165 Hz IPS display with 2,560 x 1,600 pixels in 16:10 format.
Intel Core i7-12700H and NVIDIA GeForce RTX 3060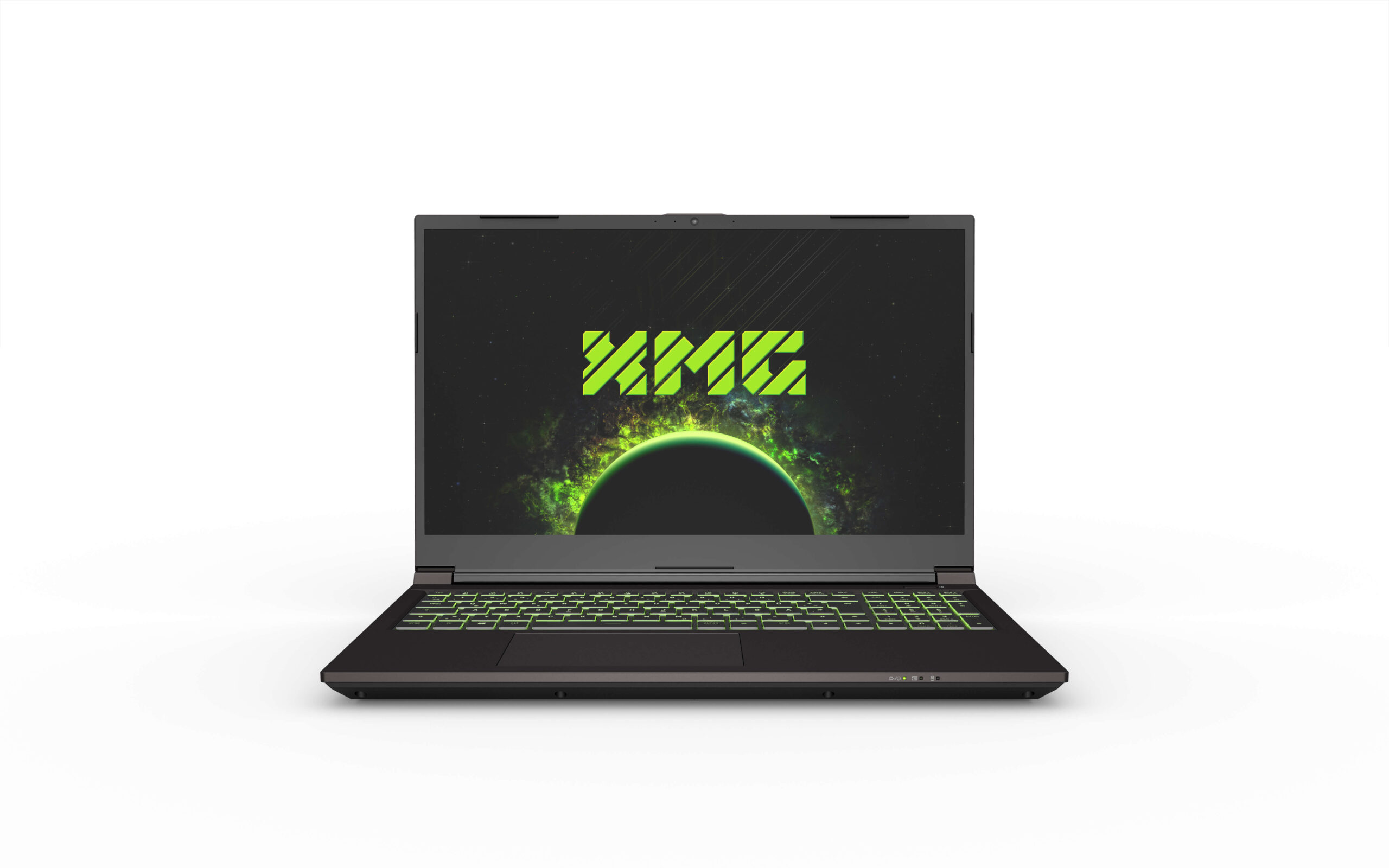 Intel's Core i7-12700H with 14 cores and 20 threads as well as a GeForce RTX 3060 with a TGP of 115 watts (90 watts plus 25 watts Dynamic Boost 2.0) and 6 GB GDDR6 RAM deliver upper mid-range performance in all three FOCUS laptops. This makes the new M22 model generation suitable for more demanding tasks than the original 2021 version, which, with a GeForce RTX 3050 Ti, served as entry-level mobile gaming devices for less graphically demanding esports titles. In the 3DMark Time Spy benchmark, the FOCUS (M22) with RTX 3060 increases its graphics score by around 48% compared to the FOCUS (M21) with RTX 3050 Ti, with 8,310 instead of 5,602 points – both measured in the highest performance profile. In line with the higher GPU performance, the cooling system has also been significantly revised.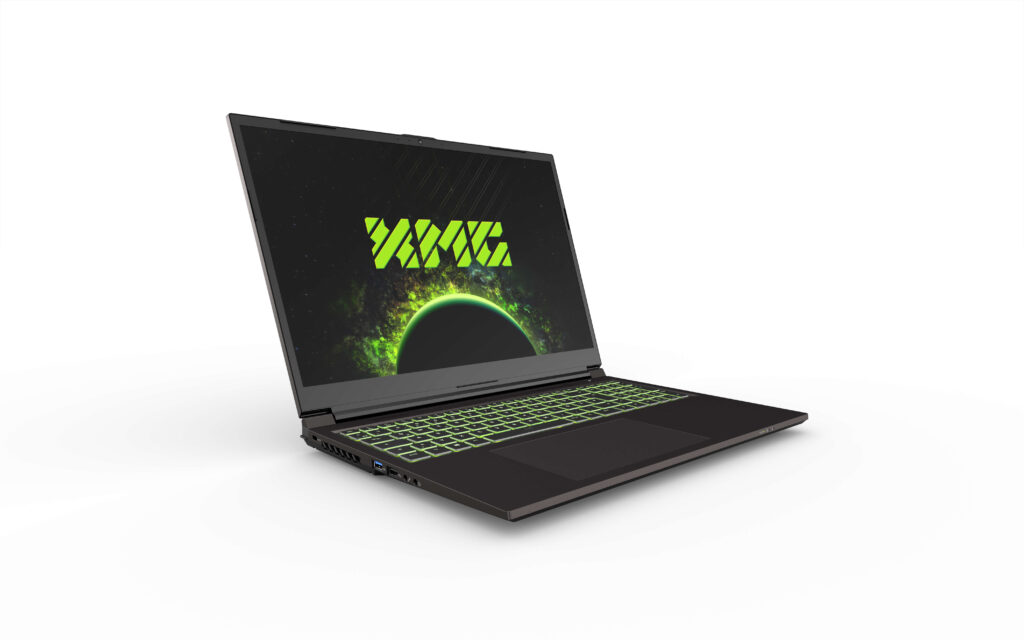 Despite the performance gain, the XMG FOCUS 15 (359.5 x 238 x 23.9 mm, 2.05 kg), FOCUS 16 (359.5 x 263.8 x 24.3 mm, 2.2 kg) and FOCUS 17 (396.9 x 262 x 25 mm, 2.6 kg) remain comparatively light and therefore portable in their respective form factors. Internal chassis structual optimisations increase the stability of the laptops in the touchpad area with additional metal reinforcement, and the 16 inch model includes a display lid made of aluminium.
144 Hz Full HD or 165 Hz WQXGA IPS display depending on the model

While the FOCUS 15 and FOCUS 17 feature IPS displays with Full HD resolution (1,920 x 1,080 pixels), a refresh rate of 144 Hz and a brightness of 350 nits (FOCUS 15) and 300 nits (FOCUS 17), the FOCUS 16 is the first laptop in the XMG portfolio to offer a 16.0 inch display in 16:10 format: The IPS panel has a much higher resolution of 2,560 x 1,600, runs at a brighter 400 nits and covers 95 per cent of the sRGB colour space. Considering these features, the WQXGA display is also suitable for more demanding tasks in the content creation sector. All panels are connected via a MUX switch, so it is possible to run them via the powerful NVIDIA dGPU or the efficient Intel Xe iGPU via selecting an option in the BIOS. In addition, they are capable of switching to a refresh rate of 60 Hz in favour of efficient, battery-saving operation; when the performance profile in the XMG Control Center is changed to "power saving" mode, this refresh rate change is automatically applied.
Up to 64 GB DDR4-3200 RAM and two M.2 SSDs
The interior of the laptops can accommodate up to 64 GB of plugged-in DDR4-3200 RAM in two SO-DIMM sockets as well as two M.2 SSDs; the primary slot has a fast PCI Express 4.0 connection. Subsequent upgrades are just as easy via the removable bottom shell as cleaning the laptop's interior or replacing the 54 Wh internally screwed battery.
Modern connectivity with Thunderbolt 4 and Wi-Fi 6E
Connectivity on the 15.6 inch, 16.0 inch and 17.3 inch XMG FOCUS laptops is identical and includes two of each USB-A and USB-C (with the port on the right side of the laptop also being capable of Thunderbolt 4), HDMI, a mini DisplayPort, Gigabit Ethernet, a microSD card reader and separate jacks for headphones (compatible with combo jack headsets) and microphone.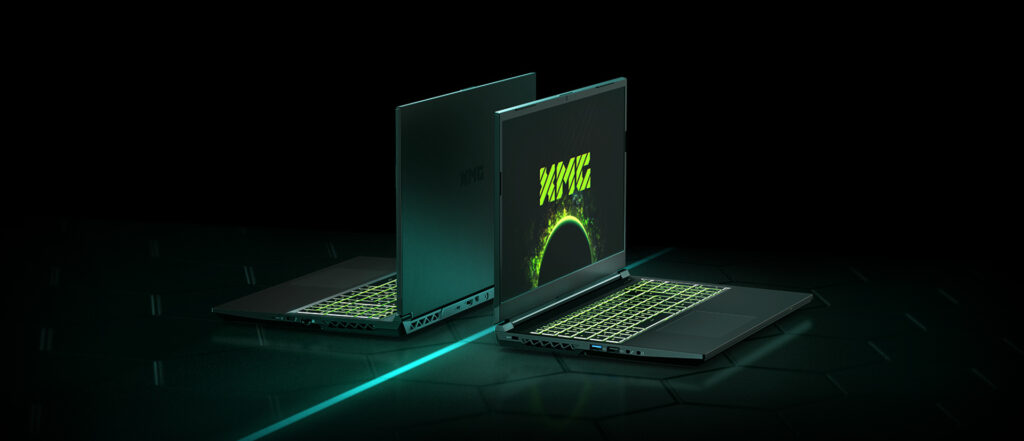 In combination with an Intel AX211 or Killer AX1675x module that can be configured as an optional upgrade on bestware.com, the XMG FOCUS already supports Wi-Fi 6E and covers the extended, international frequency spectrum from 5,925 to 7,125 MHz – within the EU, only the frequency range from 5,945 to 6,425 MHz has been approved for the new WLAN standard so far. HDMI and Mini DisplayPort are directly connected to the NVIDIA dGPU; only Thunderbolt 4 with two 4K-capable DisplayPort streams works according to Intel's design specifications via the integrated Xe graphics unit.
When it comes to input devices, the laptops feature a full-size keyboard with a separate numpad, large arrow keys and a multi-level adjustable LED backlight with a free choice of 15 colours of illumination. All three models integrate a Microsoft Precision-compliant touchpad, which in the case of the FOCUS 17 and FOCUS 16 is particularly generous at 15 x 9 cm.
Freely configure and buy XMG FOCUS 15, FOCUS 16 and FOCUS 17
In our partner shop bestware.com you can freely configure and buy all three laptops from the new XMG FOCUS series. The base configuration of the XMG FOCUS 15 (M22) and XMG FOCUS 17 (M22) includes Intel's Core i7-12700H, a GeForce RTX 3060, 16 (2×8) GB DDR4-3200, a 500 GB Samsung 980 SSD and a 144 Hz Full HD IPS display. The starting price including 19% VAT is € 1,679 (FOCUS 15) and € 1,729 (FOCUS 17) respectively. In contrast, the 16 inch XMG FOCUS 16 (M22) already features a 165 Hz WQXGA IPS display in 16:10 format in the base configuration and starts from just € 1,749.
Accompanying the product launch, bestware.com is running an early bird discount campaign: until September 8th, there is a 10 percent discount on each XMG FOCUS of the latest model generation configured with an SSD from Samsung. All three laptops are available with immediate effect.
Additional information
For more information on the features and data sheets of the XMG FOCUS 15, FOCUS 16 and FOCUS 17, please check out the respective model page on xmg.gg. Full details on the new version of the FOCUS series can also be found in our technical deep dive.