Today we launched our 2022 refresh of XMG FOCUS series with Intel Core 12th Gen and RTX 3060. As usual, here is a deep dive with additional information and a technical overview of the gaming laptops that goes beyond the announcement in our product news – including benchmarks, performance data and all improvements compared to the predecessor model.
New features in 2022 series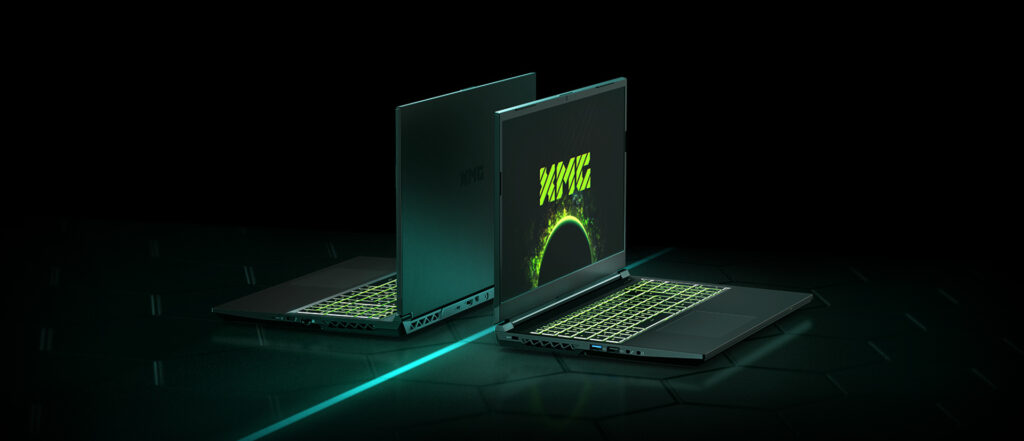 XMG FOCUS series in 2022 represent a thorough overhaul of last year's model. This list showcases the most important highlights and changes compared to last year's 2021 series:
Upgrade der CPU auf Intels 12. Core-Generation (Core i7-12700H)
Upgrade der GPU auf eine NVIDIA GeForce RTX 3060 mit 6 GB GDDR6
MUX-Layout zwischen Laptop-Display und RTX 3060, somit ist NVIDIA Optimus aktivierbar 
Grafikkarte arbeitet mit einer TGP von 115 statt zuvor nur 75 Watt
Neues, 2 Millimeter höheres Laptop-Gehäuse sorgt für einen besseren Airflow
Bessere Verarbeitungsqualität des Chassis durch beispielsweise zusätzliche, stabilisierende Metallstreben im Inneren
Upgrade des Kühlsystems auf einen leistungsstärkeren Heatpipe-Verbundkühler und 4 statt 3 Luftauslässe
Überarbeitung der externen Schnittstellen, die nun unter anderem jeweils zwei USB-A- und USB-C-Ports umfassen
Upgrade eines der beiden USB-C-Ports auf Thunderbolt 4
HDMI und Mini DisplayPort mit direkter Anbindung an die NVIDIA Geforce-RTX-Grafikkarte
Thunderbolt-4-Anbindung an die integrierte Intel-Xe-Grafikeinheit
Ein zweiter M.2-SSD-Slot mit PCIe-Anbindung ersetzt den 2,5-Zoll-Laufwerksschaft des Vorgängermodells
Primärer SSD-Steckplatz arbeitet über vier PCIe-4.0- statt vier PCIe-3.0-Lanes
Wi-Fi 6E-Kompatibilität mit Unterstützung für das 6-GHz-Frequenzband
Höhere Akkukapazität mit 54 statt zuvor 49 Wh
Ergänzung der FOCUS-Modellserie durch das XMG FOCUS 16 mit neuem 16-Zoll-Display im 16:10-Format und mit WQXGA-Auflösung (2.560 x 1.600 Pixel)
For a full spec sheet comparison between XMG FOCUS 15, 16 and 17, please check out the tab "XMG FOCUS" in this master table: XMG & SCHENKER | Portfolio Overview and Feature Comparison
Introducing XMG FOCUS 16
While XMG FOCUS 15 and FOCUS 17 have been completely overhauled with the beefed up cooling system, re-distributed I/O port layout and improved build quality, we introduce a new variant with a 16:10 display called XMG FOCUS 16. XMG FOCUS 16 shares its general layout with FOCUS 15 because it has exactly the same x-width – it even uses exactly the same thermal module and cooling system. But it has a "taller" chassis thanks to the 16:10 screen ratio. Please check out this animated picture to compare the 3 screen sizes:
For more comparisons, please check out the look inside each chassis at the end of this post. Please note that we are using a customized version of this chassis. Where some other vendors may have white, horizontal stripes below the LCD screen, our XMG FOCUS 16 is coming without such paint-on decoration.  
LCD Panels
The three different screen sizes of XMG FOCUS series have slightly different specs between each other. This table compares the most important specs between them:
| Model | XMG FOCUS 15 | XMG FOCUS 16 | XMG FOCUS 17 |
| --- | --- | --- | --- |
| LCD Model Name(s) | LG LP156WFG-SPB3 (LGD0625) and BOE NV156FHM-N4J (BOE083B) | BOE NE160QDM-NY1 (BOE0985) | BOE NV173FHM-N4A (BOE0823) |
| MUX Layout | ✔ with RTX 3060 | ✔ with RTX 3060 | ✔ with RTX 3060 |
| Refresh Rates | 60 and 144 Hz | 60 and 165 Hz | 60 and 144 Hz |
| Brightness | 350 nits | 400 nits | 300 nits |
| sRGB Coverage | 90 % | 95 % | 90 % |
As you can see in the table, XMG FOCUS 15 might utilize two different LCD panels with similar specs. The chosen LCD panel for XMG FOCUS 15 may vary between batches depending on available stock at time of manufacturing. XMG FOCUS 16 and FOCUS 17 use a fixed source, without any panel-lottery.
Benchmarks & Thermals
The following table compares the new XMG FOCUS series with its 2021 predecessor. Since the power limits and thermal layout is identical between each screen size, the table does not need to distringuish between FOCUS 15, 16 and 17 as they all allow more or less the same results.
CPU benchmarks
| Model | XMG FOCUS (M21) | XMG FOCUS (M22) | XMG FOCUS (M22) |
| --- | --- | --- | --- |
| CPU  | i7-11800H | i7-12700H | i7-12700H |
| Profile | Performance | Entertainment | Performance |
| CB R20 Single Score | 536 | 701 | 701 |
| CB R20 Multi Score | 4307 | 4151 | 6398 |
| CB R23 Multi Score | 10879 | 10846 | 16490 |
| Maximum CPU Package Power | 89 watts | 80 watts | 100 watts |
| Sustained CPU Package Power | 56 watts | 45 watts | 65 watts |
| Sustained CPU Temperature | 80 °C | 72 °C | 86 °C |
As you can see in this table, the single-core performance is already at maximum in the more balanced 'Entertainment' profile. The 10 minute all-core performance of Cinebench R23 is 52% higher with the new XMG FOCUS compared to last year's model.
GPU benchmarks
| Model | XMG FOCUS (M21) | XMG FOCUS (M22) | XMG FOCUS (M22) |
| --- | --- | --- | --- |
| GPU  | RTX 3050 Ti | RTX 3060 | RTX 3060 |
| Profile | Performance | Entertainment | Performance |
| Time Spy Score | 5970 | 8034 | 8614 |
| Time Spy Graphics Score | 5602 | 7703 | 8310 |
| Time Spy CPU Score | 9523 | 10624 | 10873 |
| GPU TGP | 60 watts | 80 watts | 90 watts |
| Maximum Graphics Power | 75 watts | 95 watts | 115 watts |
| GPU Temperature Target | 87 °C | 87 °C | 87 °C |
As you can see in this table, while the GPU power has increased by up to 53 %, the benchmark graphics score has also increased by 48 %. Of course, the performance increase might scale differently in other games, as it is typical in comparisons between RTX 3050 Ti and RTX 3060. The RTX 3050 Ti in last year's model was already a pretty good performer. But with a VRAM capacity of only 4 GB, last year's model may risk running into VRAM bottlenecks in future titles, whereas the RTX 3060 in this year's model has more VRAM headroom for high-resolution textures and high-resolution monitors.
Thermal performance
This 20-minute run of 3DMark Time Spy Stress Test demonstrates how the system behaves under non-stop GPU-focused situations. The graph compares the GPU power and temperature of last year's model against XMG FOCUS in 2022, showcasing that the cooling system is able to keep the GPU temperature within similar levels to last year's model, despite the fact that the GPU power has increased by a 1.5x factor.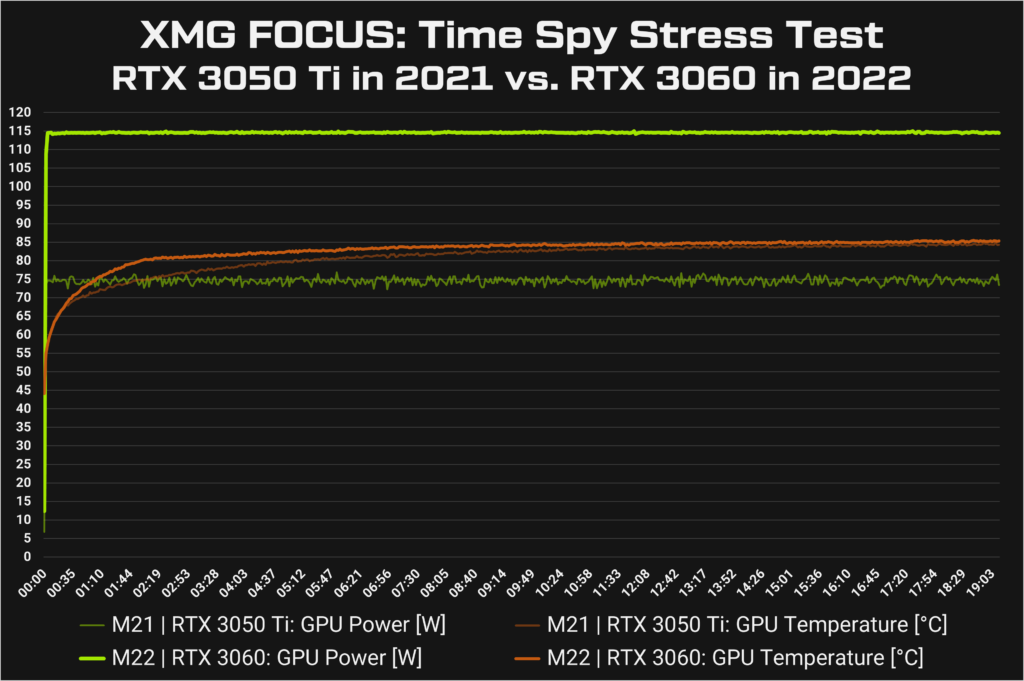 As you can see in the graph, the RTX 3060 is quicker in breaking through the 80 °C GPU temperature barrier, but it then approaches a similar temperature target just below NVIDIA's 87°C specification. Please note that some games and settings may put additional CPU-side thermal load on the system, adding to the overall thermal budget. For high-intensity gaming sessions, it is recommended to prop up the laptop on a stand or increased airflow. If you are interested at running the system in its performance-per-watt sweet spot for silent gaming sessions, please read our relevant FAQ article here: How can I reduce the fan volume under 3D load? (NVIDIA Whisper Mode and FPS Limiter)
Look inside
Like all XMG laptops, XMG FOCUS series is easy to disassemble for component upgrades and for cleaning the cooling system at least once a year. For more information on how to open your laptop's chassis, please check out our FAQ article "Disassembly for SSD and RAM upgrades." The following pictures show the inside of each screen size variation. The pictures are scaled correctly to size:
Die folgenden Bilder zeigen das Innere der drei Laptops im 15,6-, 16,0- und 17,3-Zoll-Format maßstabsgetreu: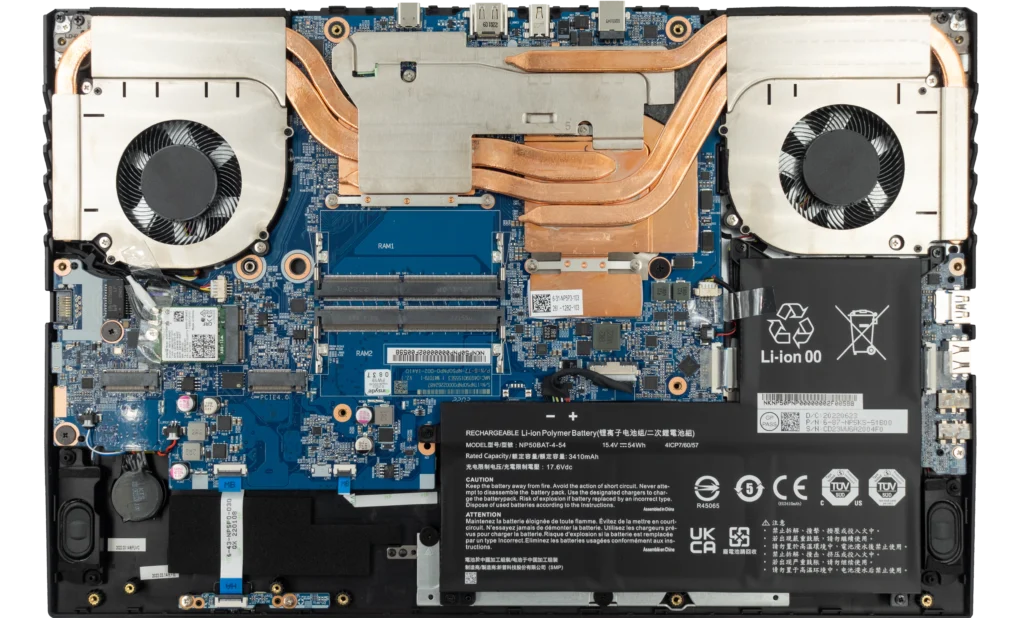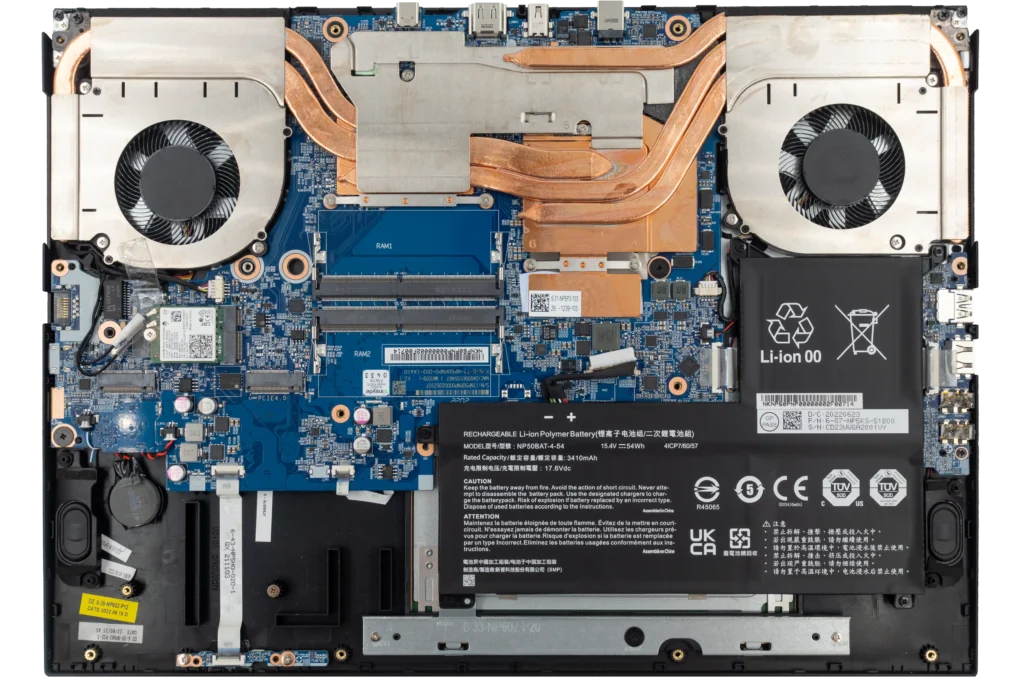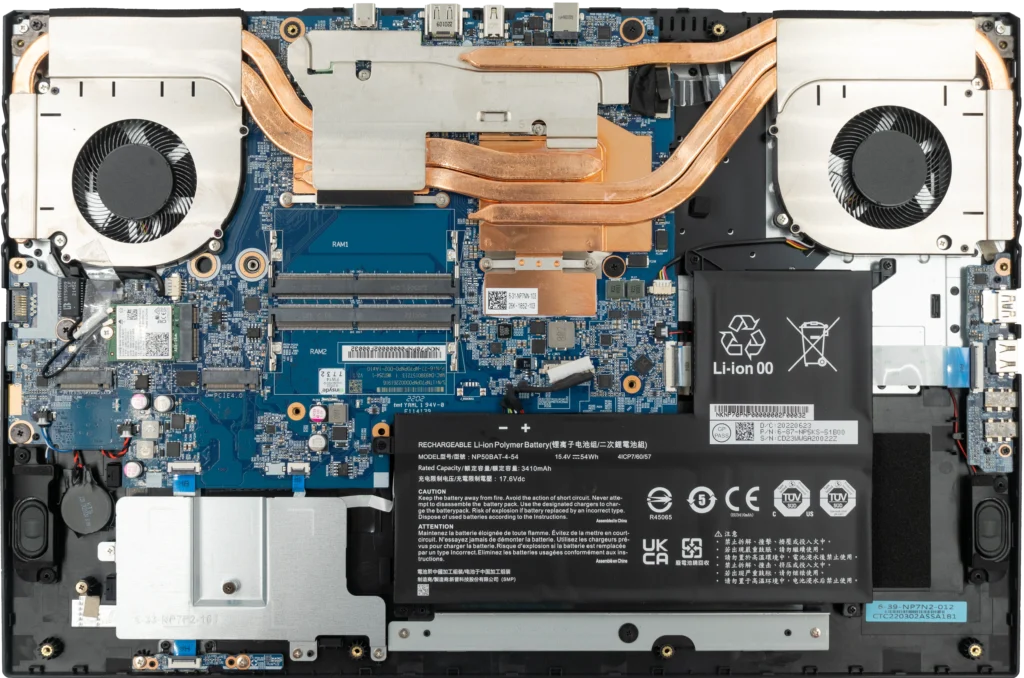 The next picture shows an animation that compares the internal layout of XMG FOCUS 15 (M21) from last year with XMG FOCUS 15 (M22) from this year: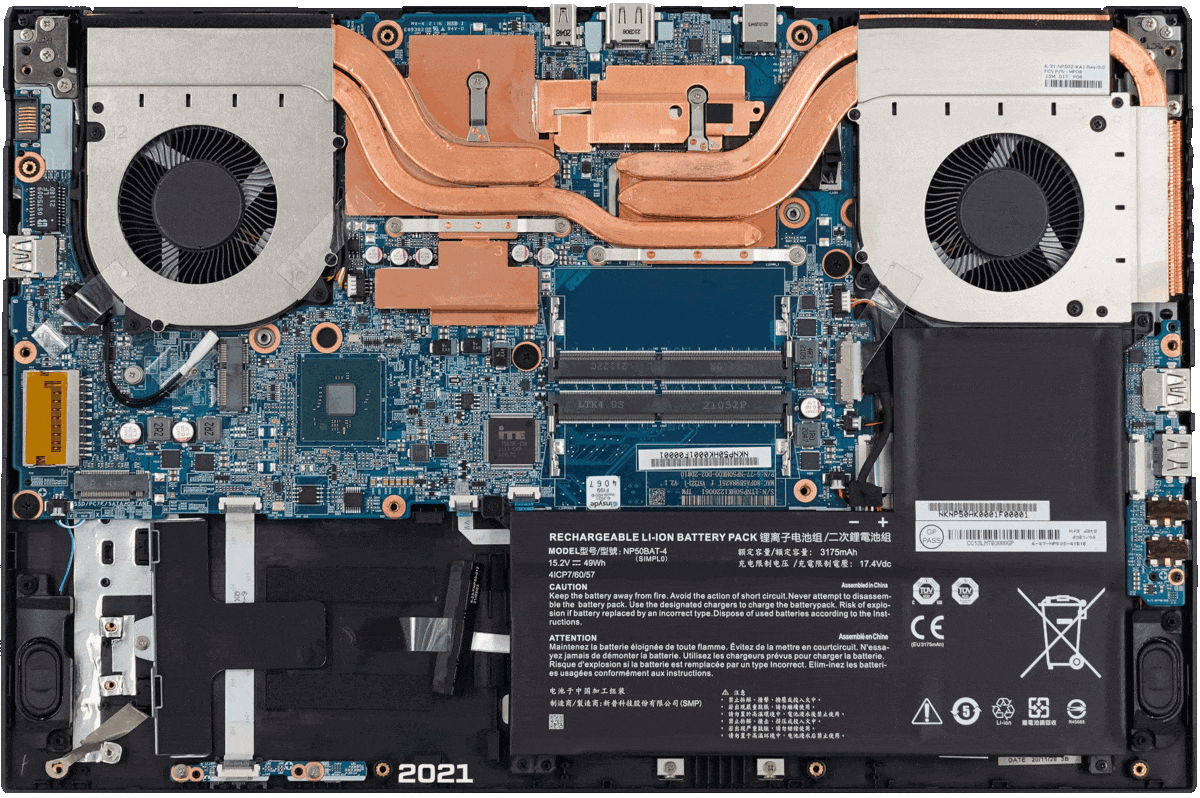 As you can see in the animation, last year's model had only 3 fan exhaust positions while this year's model has 4. This thermal redesign made it necessary to redistribute all I/O ports. You can also see that last year's 49 Wh battery looks pretty much identical to this year's 54 Wh battery. However, the two batteries are not compatible as they have their battery cable located in a different place due to the new mainboard layout.
Configure & buy
XMG FOCUS is now available with built-to-order customization in our partner shop bestware.com. Please check out the product images, spec sheets and configuration options behind these links:
For a limited amount of time, you can also still buy last year's model until remaining stock lasts:
Your feedback
As you can see in our recent roadmap update, XMG FOCUS series is only our 3rd release this year with Intel Core 12th Gen platform after XMG NEO and XMG PRO. We are glad that we finally have a well-rounded portfolio with some attractive options for the mid-range sector. If you have any questions about XMG FOCUS series, please let us know in the comments in our Redit thread. We would also like to invite you to our Discord server where you can discuss both generations of XMG FOCUS in the dedicated #xmg-focus channel. We are looking forward to your feedback!