The 2022 generation of the XMG PRO 15 and PRO 17 moves away from the thin-and-light approach of last year's models and positions itself as a performance-focused, balanced full package. The gaming workstation's configuration options include Intel processors from the 12th Core generation, Nvidia graphics cards from the RTX 3080 Ti to the 3060, and 4K, WQHD and Full HD displays.
XMG PRO (E22): Well-equipped gaming workstation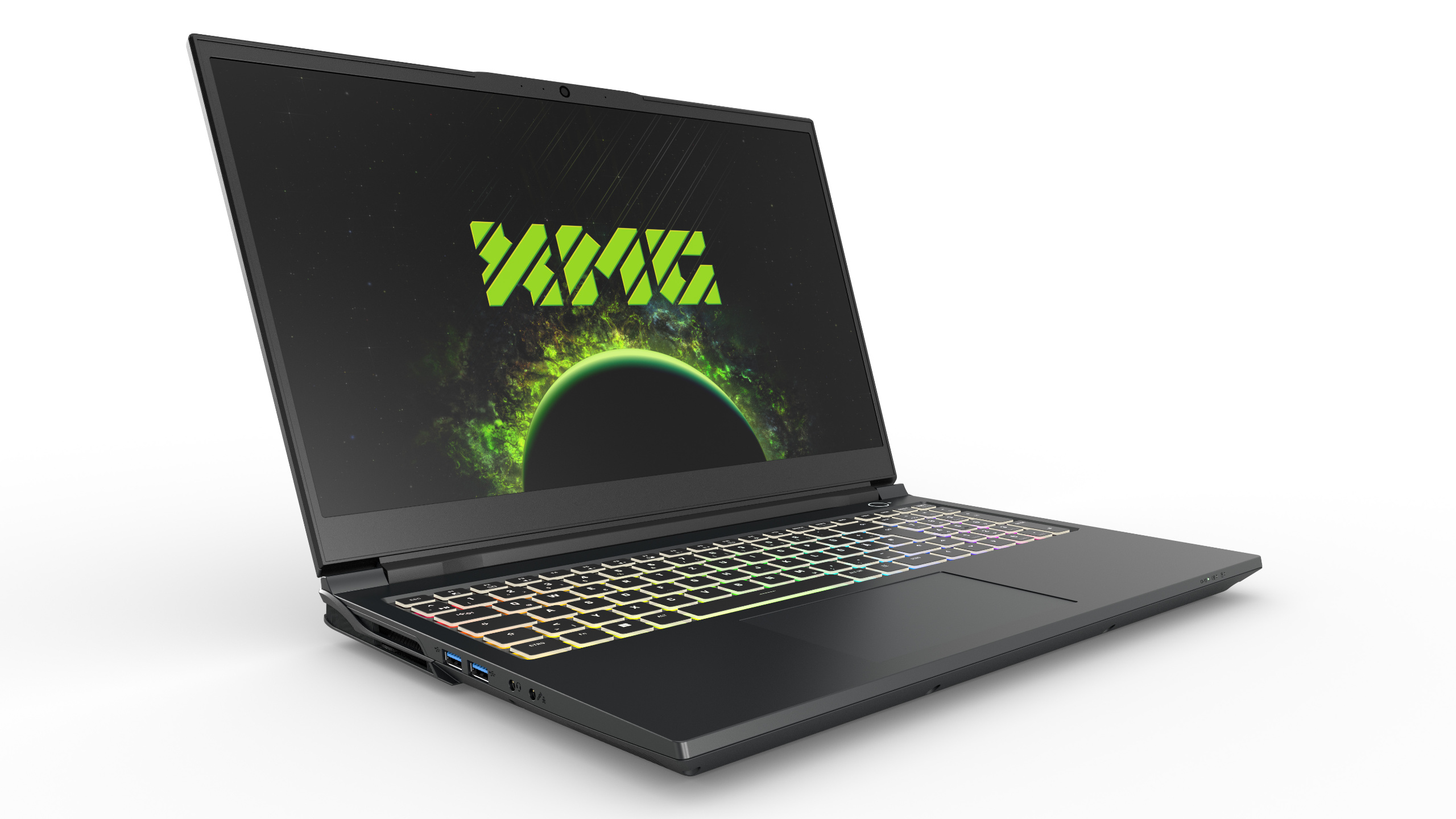 XMGs PRO 15 and PRO 17 feature either Intel's Core i9-12900H or Core i7-12700H, each with 14 cores and 20 threads, and are equipped with two M.2 SSDs connected via PCI Express 4.0 as well as SO-DIMM slots for up to 64 GB DDR4-3200.
There is also an upgrade on the graphics card side. Customers can choose between Nvidia's three current top models: the GeForce RTX 3080 Ti with 16 GB VRAM, 3070 Ti and 3060 (PRO 15 only). Including 15 watt Dynamic Boost 2.0, these graphics cards respectively operate with a TGP of up to 135, 125 and 120 watts – thus delivering more power than in last year's PRO laptops, which had to make do with more limited cooling resources and power limits due to the ultra-slim design. As a result, the dimensions and weight increase to 35.8 x 24 x 2.49 cm and 2.4 kg (PRO 15) and 39.6 x 26.2 x 2.49 cm and 2.8 kg (PRO 17), bringing an additional benefit of battery capacity increases to 80 Wh in the new models.
Additional optimisation of the cooling system is gained through the use of liquid metal pads on the core components. In contrast to conventional heat conductors, these are characterised by particularly high long-term durability.
XMG markets the 15.6 and 17.3 inch laptops as gaming workstations. Both the configurable display options with high colour space coverage and their connectivity features are duly versatile. Whilst the PRO 15 is available with a 144 Hz fast Full HD IPS panel, a WQHD IPS panel at 165 Hz and a UHD OLED panel, the PRO 17 offers a choice between a 165 Hz fast WQHD IPS and a UHD IPS panel. Both 4K displays feature factory X-Rite colour calibration.

The hybrid concept of gaming laptop and creative workstation is also reflected in the abundant connectivity: Thunderbolt 4, a DisplayPort-capable USB-C 3.2 port, HDMI 2.1 and Mini DisplayPort 1.4 can run up to four external monitors. The Thunderbolt 4 port is linked to Intel's efficient iGPU, whilst all other graphics interfaces are connected to the dedicated Nvidia graphics card and thus support G-Sync and VR headsets.
In addition, there are two USB A 3.2 ports, a microSD card reader, Gigabit LAN and Wi-Fi 6, a full HD webcam with temporal noise reduction, a headset-compatible headphone output and a microphone input with S/PDIF support. The keyboard offers a full numeric keypad, separate navigation and arrow keys and RGB per-key illumination.
Freely configure and buy XMG PRO 15 and XMG PRO 17
In our partner shop bestware.com you can now freely configure and buy the XMG PRO 15. The entry-level configuration featuring Intel's Core i7-12700H, a GeForce RTX 3060, 16 (2×8) GB DDR4-3200, a 500 GB Samsung 980 SSD and a Full HD IPS display with 144 Hz is in stock an available from € 1,979. Meanwhile, the XMG PRO 17 with a 165 Hz WQHD IPS display and RTX 3070 Ti starts at € 2,499.
Additional information
On the product page of the XMG PRO 15 and XMG PRO 17 you can find additional information about the specifications, data sheets and more.