The XMG PRO laptops are by far the slimmest high-end gaming options in XMG's 15.6 and 17.3 inch portfolio, thanks to an overall z-height of less than two centimetres. Up to now, graphics cards up to the NVIDIA GeForce RTX 3080 have provided maximum performance. With Intel's Core i7-11800H, an eight-core processor of the latest generation now also makes its entrance, bringing with it features including Thunderbolt 4 and PCI Express 4.0. Since the powerful, lightweight laptops with excellent connectivity are also aimed at mobile creative professionals, XMG not only offers the laptops with a 300 Hz fast gaming display in Full HD resolution. Also available is a 4K version with 100 percent Adobe RGB colour space coverage and X-Rite calibration. The XMG PRO 15 even utilises OLED technology.
High-end gaming performance – yet slim and light!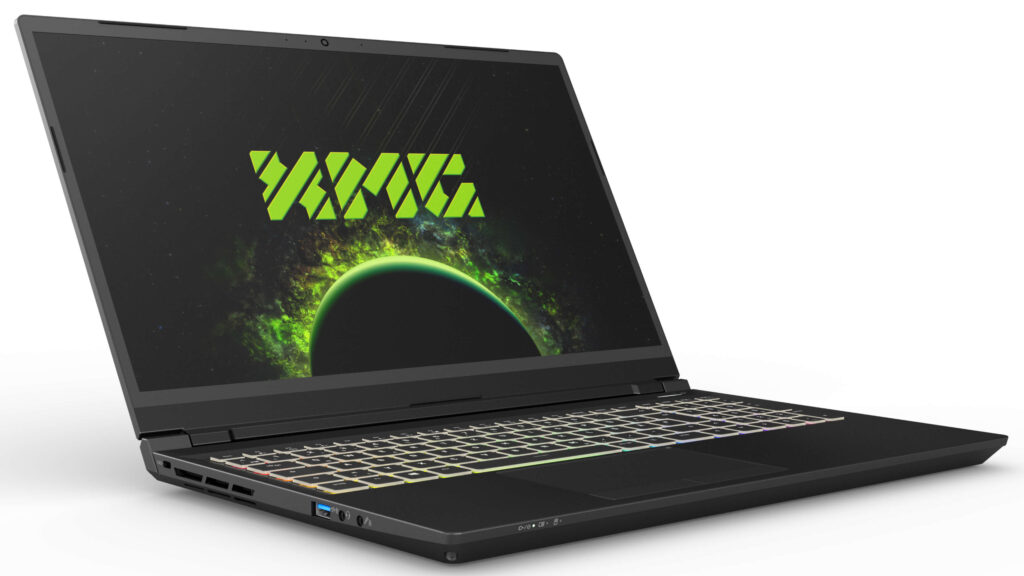 In contrast to the XMG NEO laptops, which are focused on delivering maximum mobile performance, the XMG PRO 15 and PRO 17 in the new L21 model generation strive for an optimal balance between high-end performance and mobility. The slim dimensions and low weight of 357.9 x 238 x 19.8 mm and 2 kg (XMG PRO 15) as well as 395.9 x 264.95 x 19.9 mm and 2.3 kg (XMG PRO 17) are evidence of this: both the 15.6 inch version and the larger 17.3 inch model remain below the 20 mm line in terms of z-height. With the exception of the display bezel, the sturdy cases are made entirely of aluminium.
GeForce RTX 3080 and 3070 in efficiency-optimised design
An NVIDIA GeForce RTX 3080 with 16 GB GDDR6 operates in the top performance envelope. Alternatively, the laptops are also available with an RTX 3070 with 8 GB GDDR6 which, following the very slim design of the aluminium cases, are efficiency-optimised versions with a TGP of 105 watts (90 watts plus 15 watts Dynamic Boost 2.0).
Platform update to Core i7-11800H
Unlike the E21 version, which was only introduced at the beginning of the year, the new L21 model series replaces Intel's Core i7-10870H with the new Tiger Lake eight-core Core i7-11800H. This is also accompanied by an update to Thunderbolt 4 and a PCI Express 4.0 connection to the graphics card and SSDs. Up to 64 GB DDR4-3200 and two fast M.2 drives are supported, whereby the primary SSD is connected via PCIe 4.0 and the secondary via PCIe 3.0, each with four lanes.
Professional 4K displays or blazing-fast Full HD panels with 300 Hz
XMG offers the PRO 15 with a high-resolution UHD OLED panel, 400 nits brightness and 100% coverage of the Adobe RGB and DCI-P3 colour space, in addition to a 300 Hz Full HD IPS panel. The PRO 17 also starts with a Full HD IPS display running at 300 Hz, with an available upgrade to a UHD IPS display with 100% Adobe RGB colour space.
The 4K models are each factory colour calibrated and X-Rite certified. This selection underlines that XMG is not only addressing the high-end gaming target group with the PRO series, but also meeting the demands of creative professionals. With the exception of the 60Hz 4K OLED panel, all displays are PWM-free.
High capacity battery, modern connectivity and precise input devices
Both laptops continue to feature a 73 Wh battery and, in addition to the already mentioned Thunderbolt 4 port with integrated DisplayPort stream, have a G-SYNC-compatible Mini DisplayPort as well as an HDMI output to simultaneously run up to three external monitors in addition to the laptop display. There is also a Gigabit Ethernet port, Wi-Fi 6, three USB-A ports and separate audio jacks for headphones (headset compatible) and microphone. The microphone input also functions as an S/PDIF output.
A keyboard with RGB per-key illumination and Microsoft Precision-compliant touchpads round off the package. While the XMG PRO 15 has a glass touchpad, the XMG PRO 17 uses a conventional model with integrated fingerprint reader.
Freely configure and buy XMG PRO 15 and PRO 17
In our online shop bestware.com you can freely configure and buy the XMG PRO 15 (L21) and XMG PRO 17 (L21).
Additional information
On the individual product pages of the XMG PRO 15 (L21) and XMG PRO 17 (L21) you can find additional information about the specifications, data sheets and more. It's also always worth taking a look at our launch thread on Reddit, where we provide a lot of additional details.