The pre-sale of the XMG NEO gaming laptops with Intel's Core i9-13900HX and NVIDIA's GeForce RTX-40 graphics cards starts today. For this reason, it is time for the technical deep dive into the NEO series of the E23 model generation (Early 2023), which provides a lot of additional information about the new features, improvements, and also the first benchmarks.  
Product pictures & unboxing video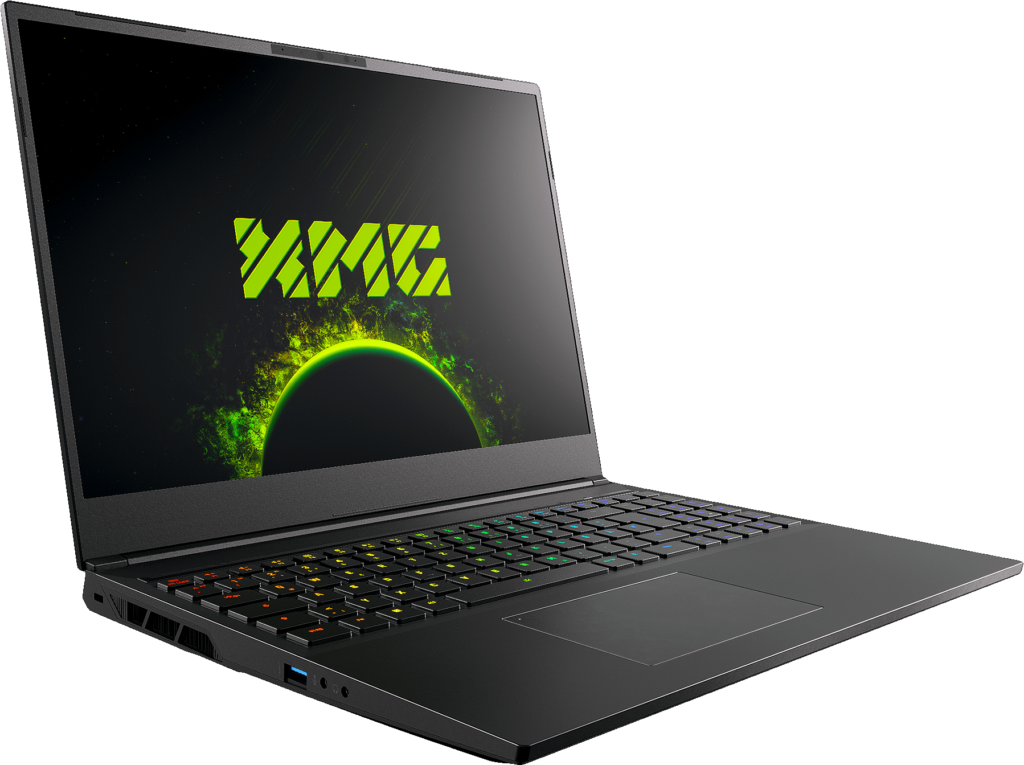 For more impressions of XMG NEO 16, check out this unboxing video, and for impressions of XMG NEO 17, check out the video from last year.
More preview videos, which were shot during CES 2023, can be found here:
New features and highlights
Besides the obvious upgrades in CPU and GPU selection, we introduce the following new features:
NVIDIA Advanced Optimus and NVIDIA G-SYNC across the whole series (previously only available in NEO 17, not NEO 15).
Hybrid Audio Ports that are compatible with both single-jack and dual-jack headphones (with integrated microphones). This was previously already available on XMG APEX, PRO and ULTRA series, but comes now for the first time to XMG NEO. In previous generations, users with single-jack headphones had to use a CTIA splitter.
16:10 Display Ration across the whole series. Previously, only NEO 17 (M22) had a 16:10 panel, whereas NEO 15 was 16:9.
Thermal Grizzly Conductonaut on both CPU and GPU. Previously, liquid metal was only used on the CPU in XMG NEO series, now it is extended to GPU as well.
The choice between two keyboards: Both XMG NEO 16 and NEO 17 are available with both Cherry MX and traditional membrane keyboards. This is the first time that an XMG laptop has the choice between such two wildly different keyboard technologies in one single product line. This choice is available between all GPU SKUs.
Thunderbolt 4 with direct connection to the dGPU. This used to be the standard for a long time, but that standard became diluted with the introduction of Intel Core 12th Gen (H-series) and with the introduction of USB 4 on the AMD Ryzen CPU platform. Since then, many gaming laptops provide Thunderbolt and USB 4 directly from the CPU, without using a dedicated host controller anymore. This highly integrated solution does not allow to connect Thunderbolt to the dGPU anymore. XMG NEO series (E23) however does not follow this trend and connects Thunderbolt to the dGPU again.
DDR5 XMP profile support and memory tuning is integrated in the BIOS setup and can be used to run selected DDR5 memory modules with clock speeds beyond the previous DDR5-4800 standard. The Intel Core i9-13900HX already supports DDR5-5600 CL46 out of the box, but with XMG NEO, we see ourselves being able to run DDR5-6400 CL40 on selected modules.
A new, lighter 330 watts power adapter. The new adapter is significantly lighter than on previous models.
A new, self-sealing, magnetic plug mechanism for our XMG OASIS liquid cooling solution. Where the previous tube connection for XMG OASIS was only self-sealing on the end of the tube itself (not on the laptop), the new interface is now self-sealing in both ways. Once the tubes are disconnected from the laptop, liquid will not be able to disperse from the laptop anymore. However, users will still be able to manually drain liquid from the laptop with a new drainage adapter that comes together with XMG OASIS.
The Intel Core i9-13900HX advantage
We have committed to Core i9-13900HX in all variations of XMG NEO (E23) because of the following advantages:
Twice the amount of E-cores compared to i7-13700HX.
20% more L3 cache compared to i7-13700HX.
Officially supports DDR5-5600, where i7-13700HX only supports DDR5-4800.
Possibility of connecting Thunderbolt to the dGPU – a feature that would not have been pragmatically possible anymore with the i7-13700H (without X).
Larger cache and faster memory will help gaming performance while the bigger core/thread count helps with content-creation workloads. Thanks to our volume commitment, the price gap between Core i7 and Core i9 in this generation is surprisingly small with less than 50 € incl. 19% VAT. Some background: Intel Core 13th Gen's (Raptor Lake) is manufactured in the "Intel 7" process which initially saw its first wide release with Intel Core 11th Gen (Tiger Lake). The fact that this process is quite mature may also result in Intel getting good yields on these big-core "HX" chips, helping to further bring their price down.
The following table shows a complete overview: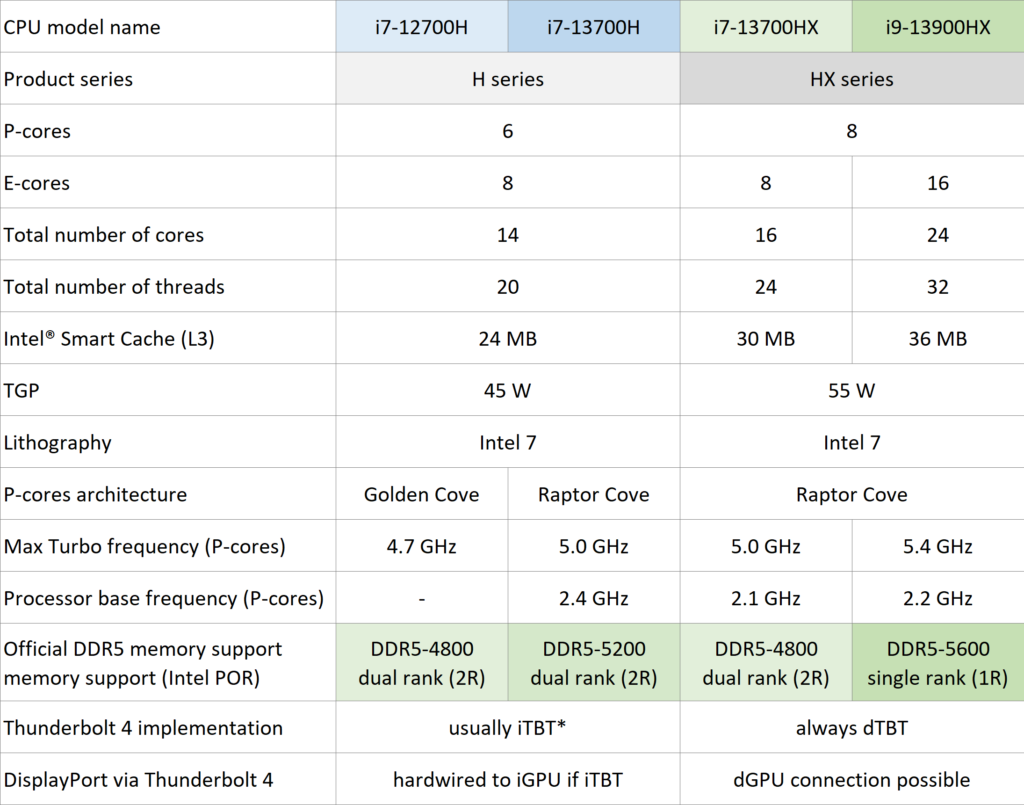 These spec and performance differences are much greater than what the market has seen in previous Core i9 laptop generations. Previously, the Core i9 in Intel's H series was the same chip as the Core i7, just with slightly better binning and thus slightly higher maximum clock speeds. Now in the HX line-up, the difference in silicon, combined with the potent cooling systems in XMG NEO, PRO, FOCUS and ULTRA, actually provide for a significant uptick in performance, not unlike the differences between many of Intel's desktop CPUs. In fact, the "HX" series is directly derived from Desktop CPUs and chipsets. In Intel-internal documents, HX is described as the "SBGA" platform – essentially the "S" (Desktop) platform on a BGA socket.
Thunderbolt 4 with dGPU connection  
* About the differences in Thunderbolt 4: the "iTBT" solution was introduced in Intel Core 12th Gen H series and also applies to the U and P series. It provides Thunderbolt directly from the CPU, without the requirement of a dedicated host-controller. This solution is quite efficient and takes less space on the mainboard, but it makes it impossible to provide a DisplayPort signal directly from the dedicated graphics card. The same is true for AMD's implementation of USB4 in AMD Ryzen 6000 and 7000. As far as we know, almost all laptops with Intel Core 12th Gen H-series have this iTBT solution, hence the word "usually" in our table.
The "dTBT" solution describes the traditional implementation with a dedicated host controller, currently called "Maple Ridge". dTBT used to be the norm until it was made obsolete in H-series with 12th Gen. However, technically, dTBT is still possible with H-series, but almost no vendor would opt to build a solution for a dTBT solution when iTBT is already included in the CPU. One can assume that Intel's board support for the supposedly obsolete dTBT in systems with U/P/H series is also only relatively small by now. For Intel, iTBT has no disadvantage, as it connects Intel's iGPU to the external monitors.
However, with HX-series, derived from desktop chipsets, dTBT is still a hard requirement for Thunderbolt 4. With the dTBT solution, the OEM can choose the source of the DisplayPort signal to come either from iGPU or dGPU. In XMG NEO (E23), the Thunderbolt 4 solution provides 2 separate DisplayPort streams from the NVIDIA GeForce RTX graphics. This makes the Thunderbolt port in XMG NEO compatible with AMD FreeSync and NVIDIA G-SYNC displays and with all currently known consumer-grade tethered VR headsets.
Performance profiles
As it is known from XMG NEO series, users will have the ability to fine-tune performance profiles to much detail. Out-of-the-box, Control Center will offer three performance profiles:
Balanced
Enthusiast
Overboost
This table shows the default values for all profiles: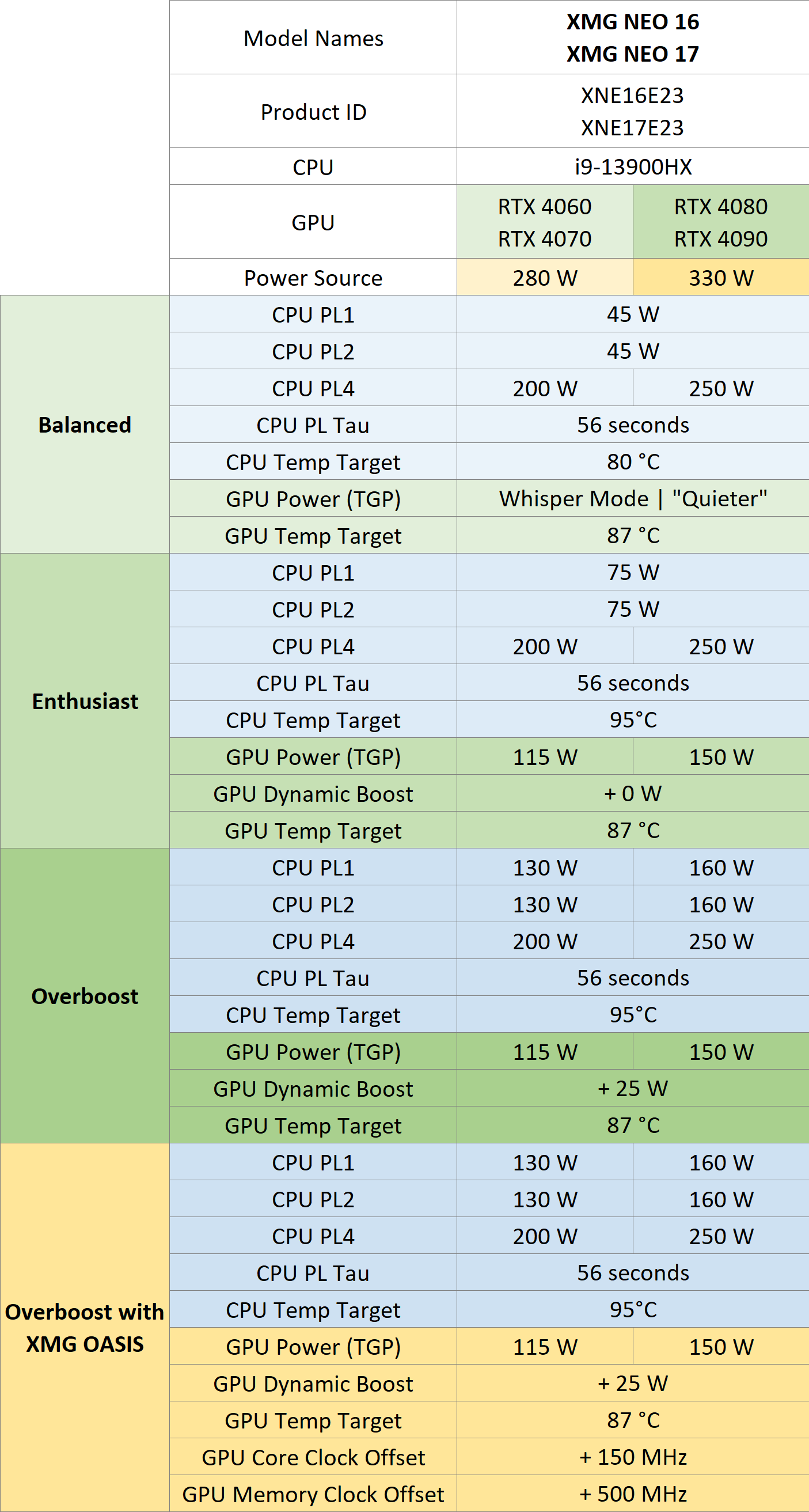 In previous generations, the differences between Enthusiast and Overboost were pretty slim at default, because the Overboost profile still had to be maxed-out by the user. In this generation, the Overboost profile will already come with a pretty "close to maxed-out" preset. So if you just want to get the best performance out of your system, switch to "Overboost" and enjoy.
Custom profiles
Instead of customizing the pre-existing profile, the new Control Center interface will allow the user to enable a Custom Mode which exists separately from the pre-configured profiles. In this Custom Mode, users can freely adjust all the most relevant performance dials, such as:
CPU and GPU power limits
CPU and GPU temperature targets
NVIDIA Dynamic Boost
Automatic GPU Overboost
The following screenshots show an overview: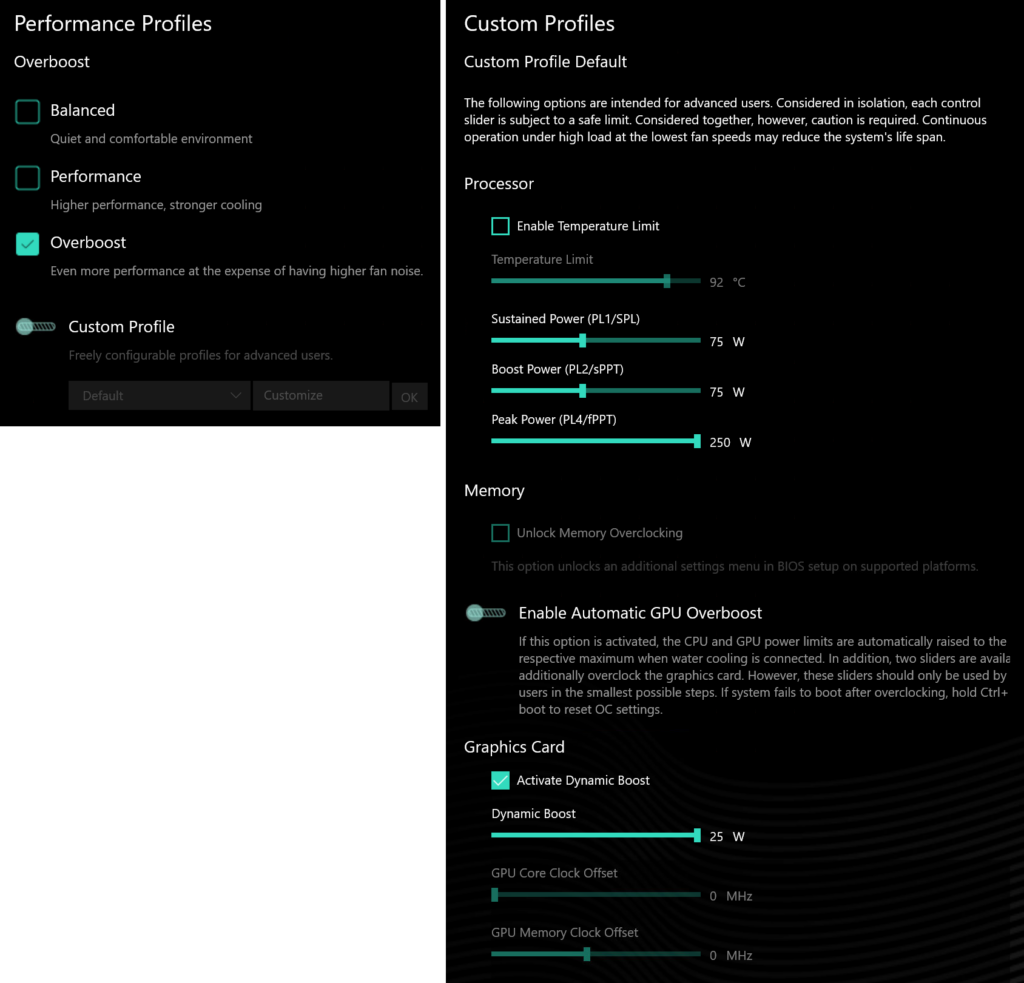 Using the Custom Mode also allows you to unlock the memory tuning menus in BIOS setup. More on that in the next paragraph.
Benchmarks
All values taken with Intel Core i9-13900HX, NVIDIA GeForce RTX 4090 and 2x 16GB SO-DIMM DDR5-4800 memory. All benchmarks were run in the Overboost performance profile on a flat table, without any manual tuning.
Temperatures
This chart demonstrates that XMG NEO 16 is capable of sustaining the RTX 4090 at its maximum GPU power limit on air coooling. The same is true for the "smaller" GPUs and the bigger NEO 17.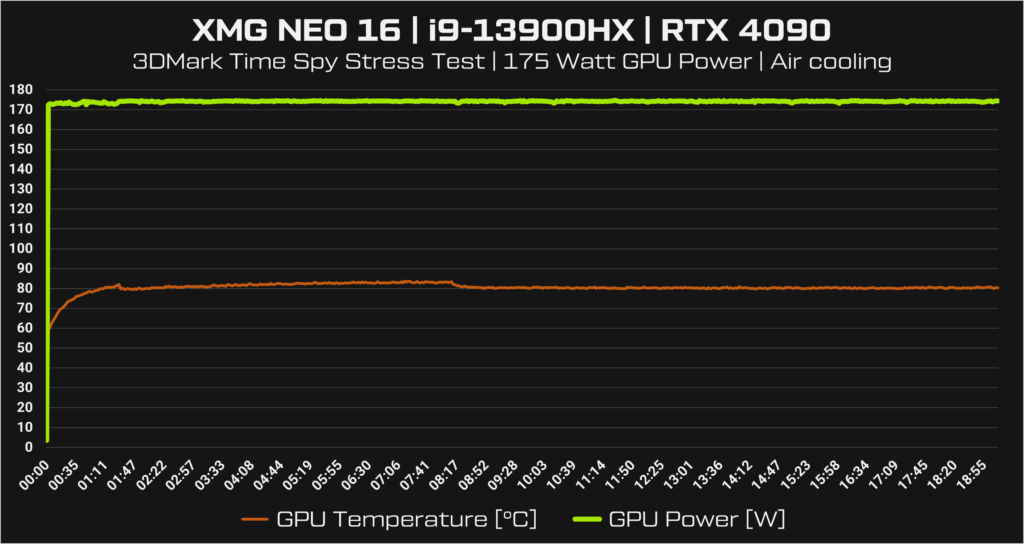 The next diagram shows the same information for the CPU: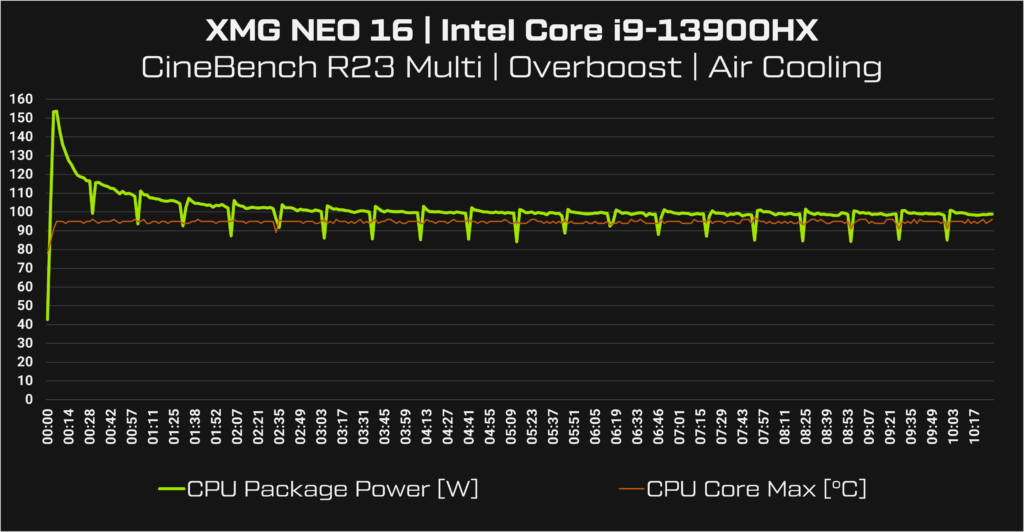 Here you can see that the CPU can call up just under 160 watts for a short time and then settles down to a stable level of around 100 watts with air cooling. The permanent CPU performance in the XMG NEO is thus almost twice as high as the TDP specified by the CPU manufacturer.
Alternative view: Clock speeds of E- and P-cores in the same data set
CPU benchmarks
This table shows Cinebench R23 Multi-Core for various GPU and chassic combinations.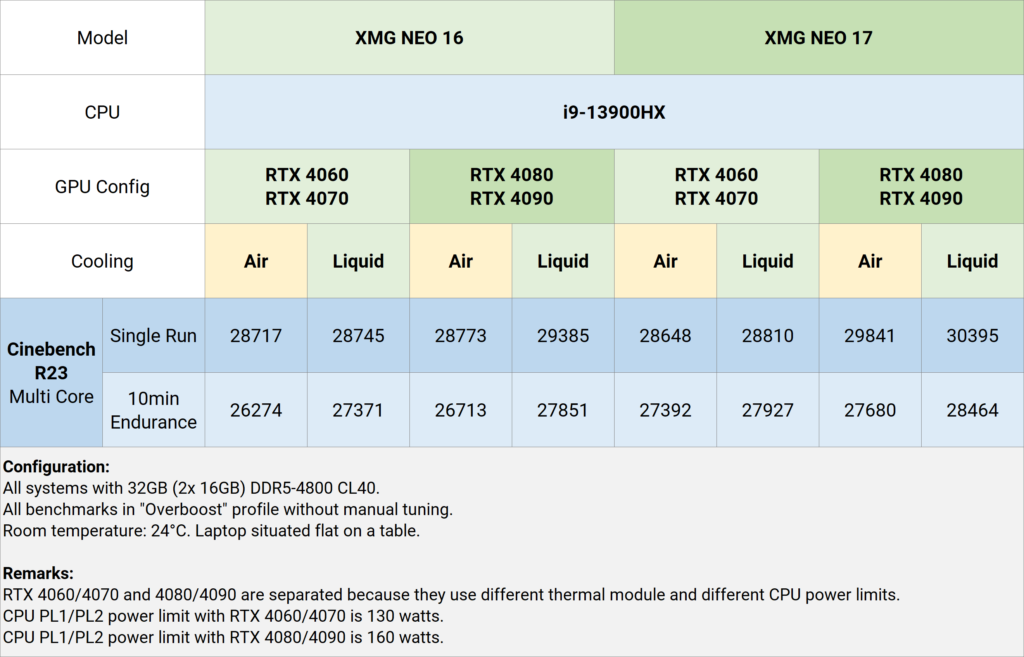 RTX 4060/4070 and 4080/4090 are separated because they use different thermal module and different CPU power limits.
CPU PL1/PL2 power limit with RTX 4060/4070 is 130 watts.
CPU PL1/PL2 power limit with RTX 4080/4090 is 160 watts.
GPU benchmarks im XMG NEO 16
This table shows 3DMark Time Spy and Shadow of the Tomb Raider on XMG NEO 16.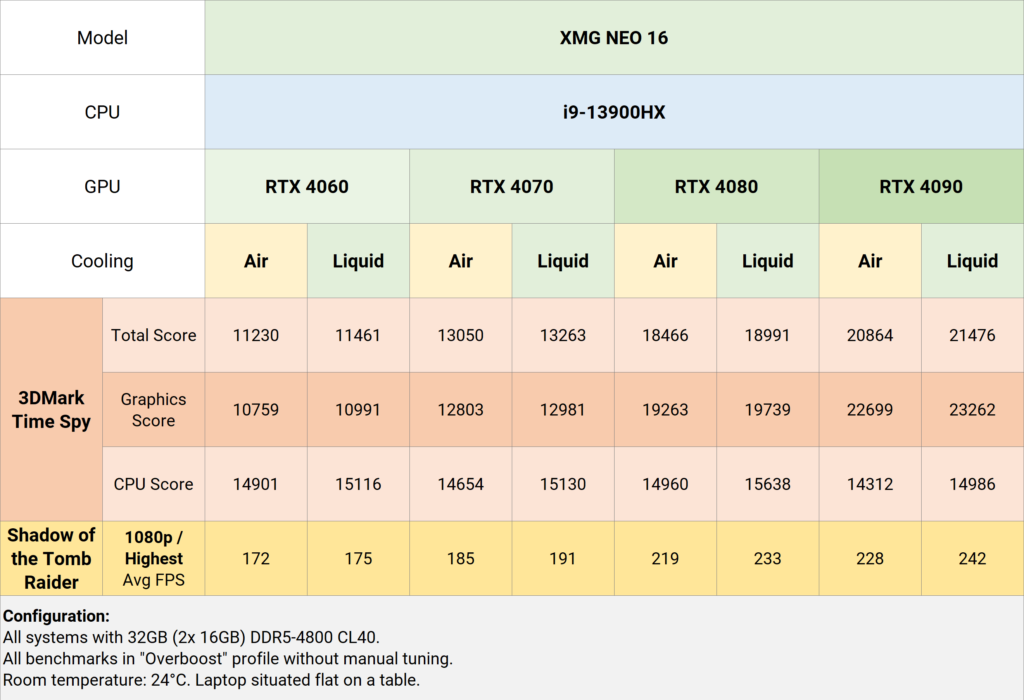 GPU benchmarks im XMG NEO 17
This table shows the same benchmarks but on XMG NEO 17. The result with RTX 4080 is preliminary as it was not available with Core i9 at the time of testing.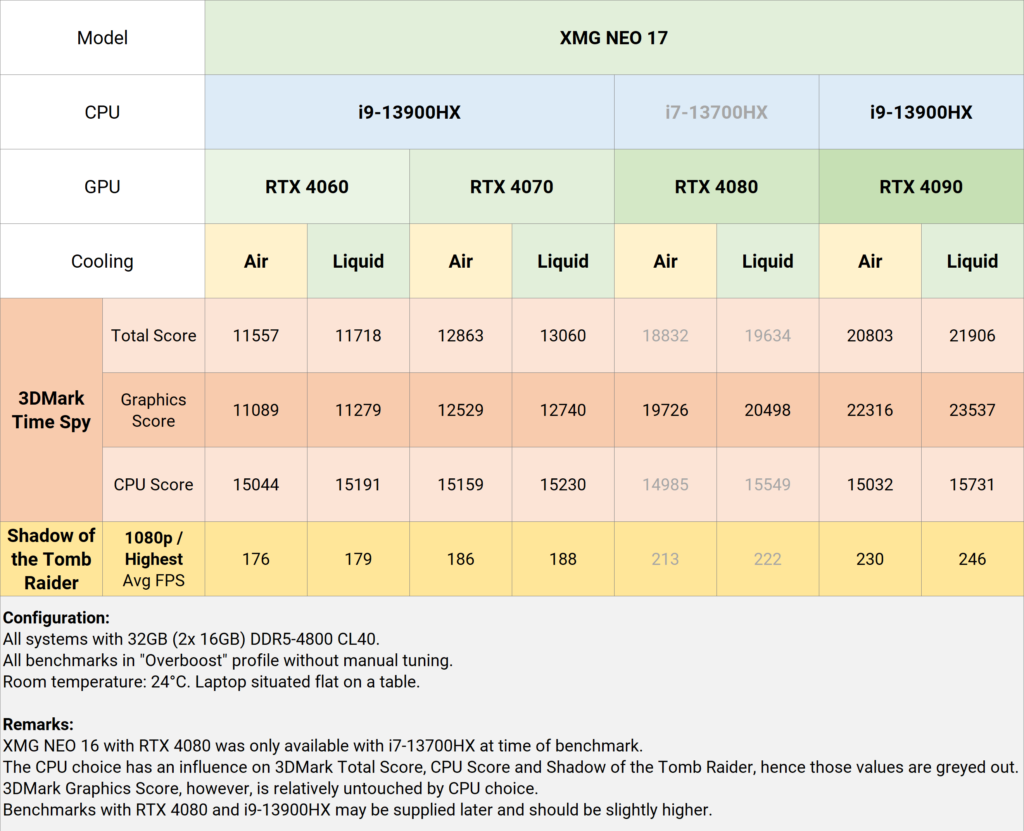 Remarks on GPU benchmarks
Time Spy Graphics Score is usually maxing out the GPU, while the 1080p setting of Tomb Raider can be partially CPU- and memory-limited, thus showing both CPU and GPU performance in tandem.
The score with XMG OASIS liquid cooling is only a few percent higher than with air cooling, but temperatures and and fan noise are significantly lower. This only shows how capable the air cooling of XMG NEO series already is. Overclocking potential of RTX 40 series seems to be limited by NVIDIA's VBIOS and drivers.
Differences between latest benchmarks and previous benchmarks from CES 2023 (early January)
Last update: February 22, 2023
The tables seen above are created with final mass production units the second half of February 2023. Compared to the disclosure in early January, there have been a few updates:
Previous results showed pretty consistent Cinebench R23 scores around 30k, even on air cooling. We are not sure why current scores are slightly lower, as the power limits are still the same at 160 watts (PL1/PL2) for RTX 4080/4090. This might be related to Intel microcode updates, security functions or Windows updates. All current results are taken with default Windows 11 settings, with VBS (Memory Integrity) being enabled.
The CPU Package Power reading during that sample stage was too high because the CPU load current monitor ("IMON") was not fully calibrated yet. The difference between sensor reading and real power consumption has been around 8%. Thus, the new sustained CPU Package Power reading in the mass production will be lower than these advertised values. However, this only concerns sensor-readout, not real-life performance. New Cinebench scores for 10min Endurance run will be updated soon.
The maximum CPU package power for XMG NEO with RTX 4060/4070 is lower than with RTX 4080/4090. As seen in the Performance profiles table, the CPU can boost PL1 and PL2 up to 160 watts with RTX 4080/4090, but only up to 130 watts with RTX 4060/4070. A similar difference can be seen in the PL4 power limit. These differences are due to the different mainboard layouts between these two GPU pairs. The effect on real-world performance is negligible as these kinds of power levels can only be held for very short time periods (fractions of seconds, or a few seconds at maximum) under all-core load.
We'd like to clarify that the main difference in GPU performance with liquid cooling is in the GPU core and GPU memory clock offset, not the GPU power. The maximum GPU power sensor read-out will not change between air and liquid cooling. However, the GPU core and memory core clocks will be higher, leading to higher performance. You may also see differences when measuring total system power consumption on the AC wall socket. The core clock offsets are specified in the Performance profiles table at the top of this paragraph.
XMG NEO is able to max out the GPU power consumption of the RTX 40-series laptop GPUs (140 W for RTX 4060/4070, 175 W for RTX 4080/4090) in synthetic stress tests (e.g. FurMark). However, according to the NVIDIA specifications, the actual GPU power consumption depends on the type of workload. Therefore, the power consumption may be below (sometimes significantly lower) than the specified TGP and Dynamic Boost power draw values and is defined by NVIDIA.
Differences between XMG OASIS and air cooling
As is well known, the XMG OASIS reduces system temperatures and operating noise quite considerably. With the OASIS connected, the NVIDIA graphics card is also slightly overclocked. The GPU core and memory offsets can be taken from the table above.
The biggest difference in performance comes into play when both the CPU and GPU are working at 100% capacity. This is because the system then reaches its thermal limits despite the very potent air cooling, which leads to a reduction in power consumption, especially on the CPU side.
The following diagram illustrates the difference: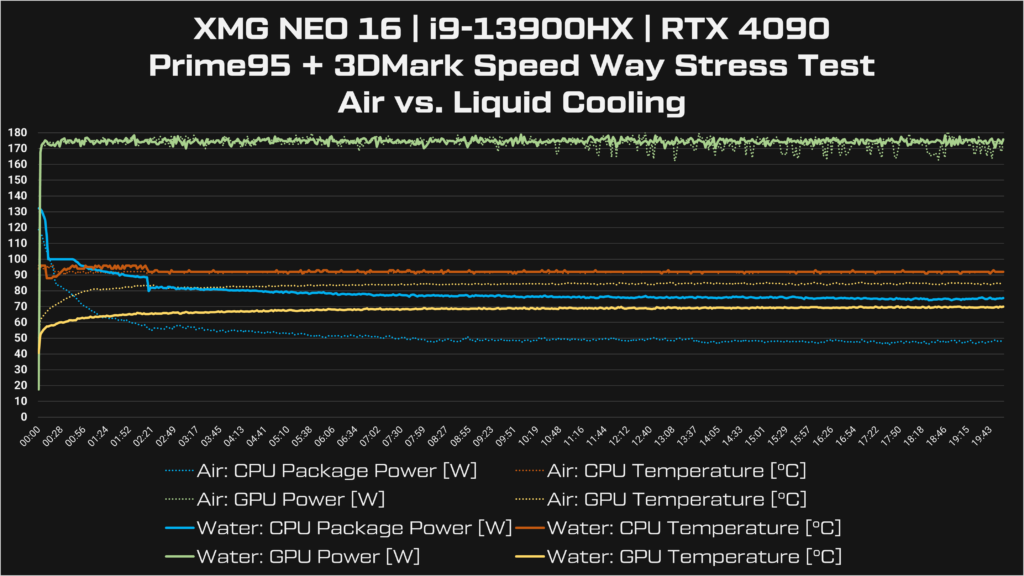 The raw data of the diagram can also be seen here:
In comparison:
With air cooling, just under 175W GPU and approx. 55W CPU can be kept permanently.
With XMG OASIS, however, the temperature of the graphics card is 15°C cooler with air cooling.
The graphics card's power consumption is more stable, especially in the second half of the graph.
The power consumption of the CPU is about 25 watts higher and then remains at this high value permanently.
In addition, there is the slight overclocking of the graphics card, which is not directly visible in the diagram.
Details on DDR5 memory support
Introduction
DDR5 in the SO-DIMM (laptop) form factor has been introduced with Intel Core 12th Gen and AMD Ryzen 6000 with standard specs of 4800 MHz and a CAS Latency of 40. Now, with Intel Core 13th Gen, the memory speed is being increased for some CPUs. Which CPU supports which memory speed can be seen further up in the section about the Core i9-13900HX.
Since all XMG NEO in the E23 generation will be built with the Intel Core i9-13900HX, we will only discuss memory support of this specific CPU. The most notable difference comes in the Single vs. Dual Rank question.
DDR5-5600 is only supported with Single Rank modules
Dual Rank modules will cock-down to DDR5-5200
These limits are specified by Intel's official support. There may be ways to exceed these limitations with manual memory tuning or XMP profiles, but for a smooth and stable out-of-the-box experience, it is strongly recommended to follow Intel's specification.
Full list of supported modules
This table shows the full list of modules that are currently supported on XMG NEO (E23).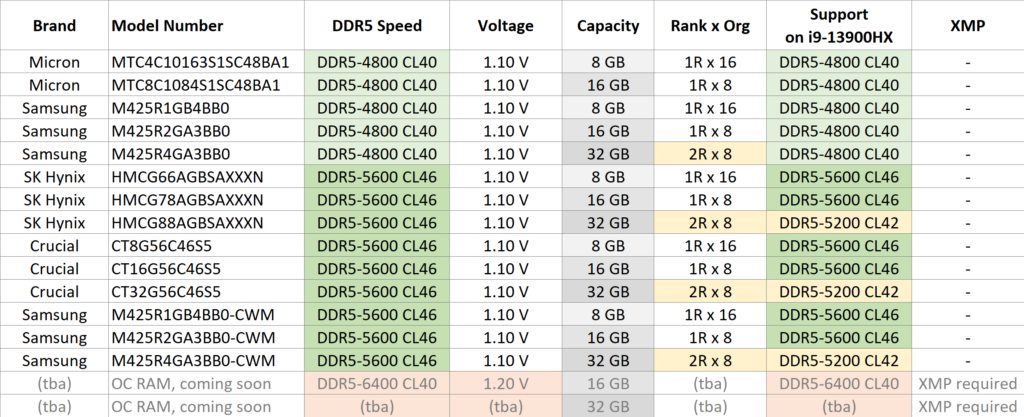 The list of DDR5-4800 modules only includes those modules that we currently have in stock. The DDR5-5600 modules include some models that are not available yet but that might be planned for the near future.
As you can see in the table, all current DDR5-5600 modules have the same basic specifications. The 8GB and 16GB capacities are Single Rank, and only the 32GB capacities are Dual Rank. Those 32GB modules will only run at 5200 MHz with a 42 CAS Latency.
DDR5 Memory Overclocking and XMP Support
XMG NEO has already seen options for DDR4 memory tuning in the 2021 generation with Intel Core 11th Gen. However, memory tuning was not available in the 2022 models due to lack of support on Intel Core 12th Gen H-series and AMD Ryzen mobile platforms. Now, with Intel Core 13th Gen HX-series, Intel supports a similar set of overclocking and tuning features like on their desktop platforms. This includes the full set of DDR5 memory tuning, including memory clock speed, latencies, timings and voltage.
Based on DRAM modules from SK Hynix, we are partnering with a memory vendor to deliver specially selected DDR5-6400 memory modules with a customized XMP profile, containing a certain set of timing and voltage settings that are specifically tuned to the XMG NEO mainboard platform.
However, memory overclocking in laptops comes with a few challenges:
To achieve higher clocks and lower latencies, the memory needs to run at higher voltages. This increases power consumption and memory temperatures.
SO-DIMM slots in laptops are not optimized for airflow. Due to space constraints, the SO-DIMM slots in XMG NEO are stacked on top of each with only minimal amount of air gaps between them.
To make things worse, the standardized stacked DDR5 SO-DIMM slots for laptops are oriented in such a way that the "front" of the DRAM module (containing the DRAM chips) are facing down towards the mainboard. This is not ideal for the cooling of the modules.
These OC memory modules have to be carefully binned to provide the necessary specifications to work in such an environment. Due to these challenges, our memory partner has not been able to ramp up production early enough to be ready for launch this month.
We still remain committed to bring these modules to market. To enable early adopters to order their XMG NEO right now (without waiting for better memory), we pledge to offer post-sales memory upgrades to all owners of XMG NEO (E23) once the OC memory modules are available in sufficient quantity. The already sold modules will then be bought back from those customers. The current deadline for this offer is June 30, 2023. The deadline can be extended in case the OC memory modules get delayed beyond current estimates.
Manual tuning via BIOS setup
Some brands have already announced DDR5 SO-DIMM modules with tighter timings or higher clock speeds. Currently we know about Kingston FURY Impact and G.E.I.L.
We have not tested those modules yet because tests of single modules may not be sufficient to make general statements as to their compatibility and stability. However, customers are welcome to try these modules and tune them with the manual memory tuning options in BIOS setup. This picture shows a few of these options: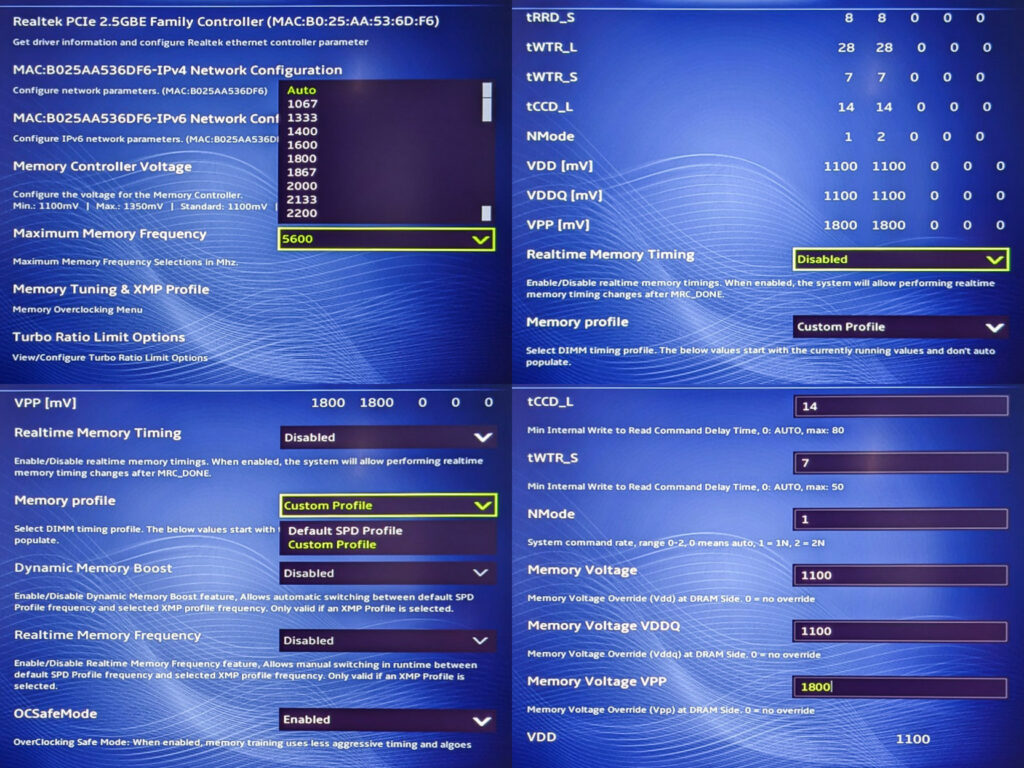 A full set of BIOS setup screenshots can be found here: xmg-neo_e23_bios-setup-screenshots.pdf
Failsafe mechanism
Our BIOS has a failsafe mechanism where it will automatically reset all memory settings in case a chosen configuration is not able to boot (not able to POST). This failsafe mechanism can also be triggered manually by holding Ctrl+B for up to two minutes during a cold boot. This hotkey will reset all tuning options back to default.
Advanced BIOS setup
As usual with XMG, we strive to unlock a number of advanced BIOS setup options while still keeping the BIOS setup free of clutter and relatively easy to understand. A few highlights:
FnLock for F1 to F12
MUX Switch to disable NVIDIA Optimus or Advanced Optimus
Enable/Disable P or E-cores
Enable/Disable Webcam, Wi-Fi, Audio etc.
Enable/Disable USB ports
Enable/Disable TPM
Load Line Calibration
Custom Turbo Ratio Limits for P- and E-cores
SSD Security options
RAID setups through Intel VMD
A full set of screenshots can be found here (already linked in previous paragraph).
Voltage Offset is currently missing
CPU Core Voltage Offset is currently disabled due to a critical incompatibility with the BIOS Update tools from AMI, the BIOS vendor. At present, even a gentle undervolt of -30 mV may cause BIOS updates to fail with current AfuEfi64 and AfuWin64 tools, rendering a system to become unbootable. This issue is being discussed with AMI but it is not sure if this can be resolved on the current platform. Further details: XMG response to "Intel Blocks Undervolting: The Whole Story"
Internal layout and comparison between 16" and 17"
Here is a comparison of the inside of XMG NEO 16 and XMG NEO 17: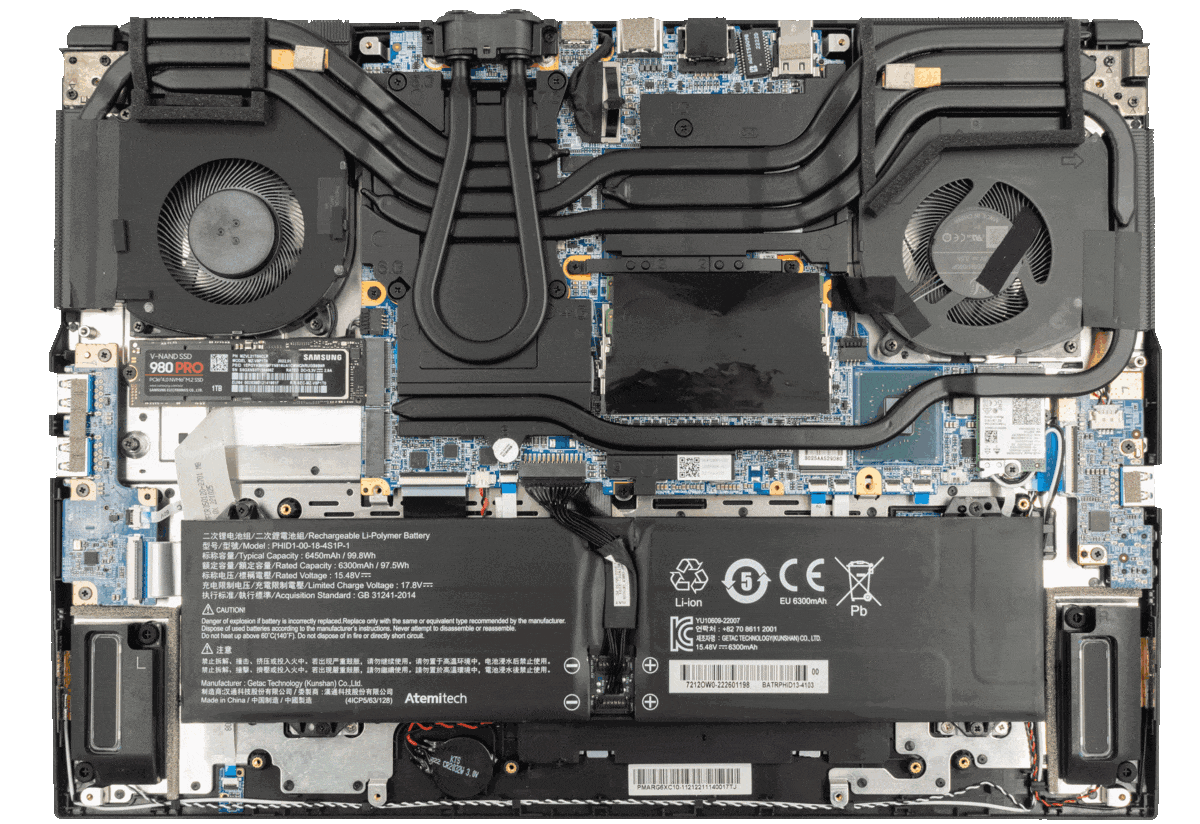 Full resolution:  
Differences:
The motherboard layout of the RTX 4060 and 4070 differs from that of the RTX 4080 and 4090, which also means that the heat pipes run differently.

The difference in GPU layout also moves other mainboard components around such as PCH (chipset) and DDR5 memory slots.
The mainboard with RTX 4060/4070 has a "butterfly" memory layout, where both memory modules are side-by side; the RTX 4080/4090 has a more compact, "sandwich" layout with the memory modules being stacked on top of each other.

Both systems have two SSD slots

The NEO 16 picture has 1 SSD assembled
The NEO 17 picture has both SSD slots occupied

Both systems are nearly identical except for their screen size and the slight differences in air cooling capacity.
Both systems are available with exactly the same membrane and mechanical keyboards.
Both systems use the same internal components, offering the same set of I/O ports.
Both systems have solid build quality with a metal display lid and a grip-touch palm rest. XMG NEO 17 also has a metal bottom case.
Both systems offer similar matte IPS-type LCD panels with 2560×1600 pixels, 240Hz and support for NVIDIA G-SYNC and NVIDIA Advanced Optimus.
As you can see, XMG NEO 17 has larger fans, giving it a slight advantage in air cooling. But both systems are able to sustain up to 175 watts of constant GPU power draw with RTX 4090 on a GPU-focused endurance stress test under air cooling. Thanks to their large fans and z-height chassis space, both systems have fairly low and pleasant fan noise levels compared to other similarly powered systems. Fan noise can be reduced further with the optional XMG OASIS liquid cooling solution.
(About NEO 17) "But it looks so empty…!" Yes, the empty space is for buoyancy. 😉
XMG NEO 17 weighs only 2.8 kilogram, despite the gigantic 17″ 16:10 display, powerful air cooling system and additional liquid heatpipe.
Choose between mechanical and membrane keyboards
For the first time in XMG history, XMG NEO (E23) offers two completely different keyboard solutions in one single chassis – actually, in two single chassis because this applies to both NEO 16 and NEO 17. Customers are able to choose between a mechanical keyboard with per-key RGB backlight and CHERRY MX Ultra Low Profile Tactile switches and a traditional (but also very good) silent membrane keyboard with 4 RGB backlight zones. Both solutions share these features:
Identical key matrix, keycap size and Fn key layout
N-key rollover and Anti-Ghosting
The mechanical keyboard supports per-key RGB, whereas the membrane keyboard has a 4-zone RGB layout. Both keyboards can be set to any single color (e.g. warm white) across the whole keyboard.
Despite their identical keycap sizes, the look between the membrane and mechanical keycaps is different.
The membrane keycaps have a white skirt around them
The mechanical keycaps have pure black keycaps
A comparison can be seen and heard in our unboxing video at timecode 3:08. The mechanical keyboard has already seen its debut in XMG NEO 17 (M22) with AMD Ryzen 7 6900HX. Please see reviews from that model for comparison: https://www.xmg.gg/en/xmg-neo-17-m22/
Please note: some keys in the mechanical keyboard use membrane switches as well, notably the Function-row and the numpad. The keys highlighted in this animation are fully mechanical and have the same haptic feeling. This includes all cursor-keys, inclucing cursor-right. Exactly the same mechanical keyboard with per-key RGB backlight and CHERRY MX Ultra Low Profile Tactile switches is now being introduced into XMG NEO 16 as an upgrade-option on top of the silent membrane keyboard. All keyboards are offered with over 25 different European keyboard layouts, including all kinds of QWERTZ, QWERTY and AZERTY layouts, plus boutique layouts such as Dvorak and combined hybrid layouts such as Ukrainian/US. The price gap between membrane keyboard and mechanical keyboard is 125,- € incl. 19% VAT.
XMG OASIS Mark I Rev. 3
The new self-sealing water port on XMG NEO (E23) requires new adapter tubes for XMG OASIS. This lifts the hardware revision number of XMG OASIS to Revision 3. The following table explains the differences since launch:

A press release detailing the introduction of Revision 2 from October '22 can be found here:
There is currently no release schedule yet for Mark II of XMG OASIS with the all-new chassis. As you can see in the table, the planned upgrades of Mark II are mostly cosmetic and do not directly affect the acoustic or thermal performance of our liquid cooling solution.
NVIDIA Advanced Optimus and NVIDIA G-SYNC
NVIDIA Advanced Optimus is a very advanced feature that requires certification from NVIDIA for each laptop, GPU and display combination. Only a limited number of notebook LCD panels are able to support this feature. Official information about NVIDIA Advanced Optimus can be found here:
XMG NEO 16 and XMG NEO 17 support NVIDIA Advanced Optimus with all available GPU options and both display form factors. With Advanced Optimus comes NVIDIA G-SYNC – these two features are inseparable in NVIDIA's support policy. A laptop display can only have both features or neither. We have both.
What's the difference between NVIDIA Optimus and Advanced Optimus?
NVIDIA Optimus (aka 'MSHybrid') is a hybrid graphics solution where pictures that are rendered on the dGPU are funnelled through the iGPU toward the laptop display. On some laptop SKUs, NVIDIA Optimus can be disabled via a MUX switch. When Optimus is disabled, the iGPU is completely offline and the laptop display is directly connected to the dGPU. This kind of traditional MUX layout requires a system reboot for the switch to occur.
NVIDIA Advanced Optimus is basically a MUX switch that does not require a reboot.
When does the switch occur?
The switch happens automatically when the NVIDIA driver detects the launch of certain applications – typically most benchmarks and games. However, not all games and benchmarks trigger the switch. For example, 3DMark Time Spy does trigger the switch, but Geeks3D FurMark does not. The number of applications that trigger the switch may increase with each NVIDIA driver update.
How do I know the switch has occurred?
During the automatic switch, the screen freezes for 2 to 3 seconds, including any mouse cursor movement. The screen will not turn black – it will just freeze momentarily. This short freeze time is normal by NVIDIA's standard and a technical necessity for the switch to occur. Don't be surprised: Windows might revert window positions to the previous arrangement after the switch, similar to how Windows remembers window arrangements on different external monitors. This, too, is normal and can not be prevented by NVIDIA.
How can I control NVIDIA Advanced Optimus?
On a system with support for NVIDIA Advanced Optimus, the NVIDIA Control Panel offers a new page called 'Manage Display mode' (see picture on the top right) with 3 options: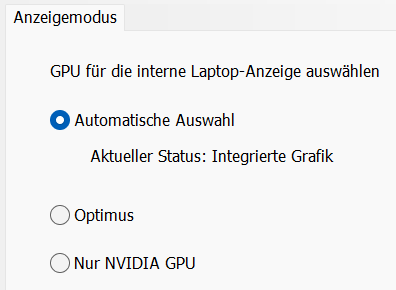 Configure & buy
The XMG NEO is now available for pre-order with built-to-order customization in our partner shop bestware.com. Please check out the product images, spec sheets and configuration options behind these links:
Further questions or feedback?
Thank you for your continued interest. Follow us on Reddit or join our Discord server for some occasional sneak peaks into our product planning – and subscribe to the newsletter of our partner shop bestware.com if you would like to be the first to receive more information about upcoming product launches. We look forward to your feedback!
If you have any questions about XMG NEO series (E23), please let us know in the comments in our Redit thread.