This January 3rd, NVIDIA and Intel launch the latest generation of processors and graphics cards for laptops. Even though the sales launch is not scheduled until February, taking into account the embargoes of both companies, we already would like to provide an overview of which XMG laptops with 13th Gen Intel Core CPUs and NVIDIA GeForce RTX 40 graphics cards can be expected in the very near future. Announcements with full details on each individual model series will follow in separate news and closer to the actual time of availability.
Configurations and timeline
The following chart shows which product launches are scheduled at XMG between Q1 and Q2 in 2023. The first wave of new products includes gaming laptops from the FOCUS, PRO, NEO and ULTRA series. Our overview compares the key specifications (processor, graphics card) of last year's models with those of the new 2023 laptop generation, which will be based across the board on Intel's Core i9-13900HX and feature G-SYNC-capable displays and NVIDIA Advanced Optimus.
13th Gen Intel Core HX CPUs boast a significant performance boost compared to H-series processors – this is a fundamental improvement over 12th Gen Intel Core CPUs, where the performance difference between the two models was much smaller. Featuring 24 cores, 32 threads and 36 MB cache, the Core i9-13900HX is significantly faster at moderately higher power limits compared to a Core i9-13900H or i7-13700H with only 14 cores, 20 threads and 24 MB cache.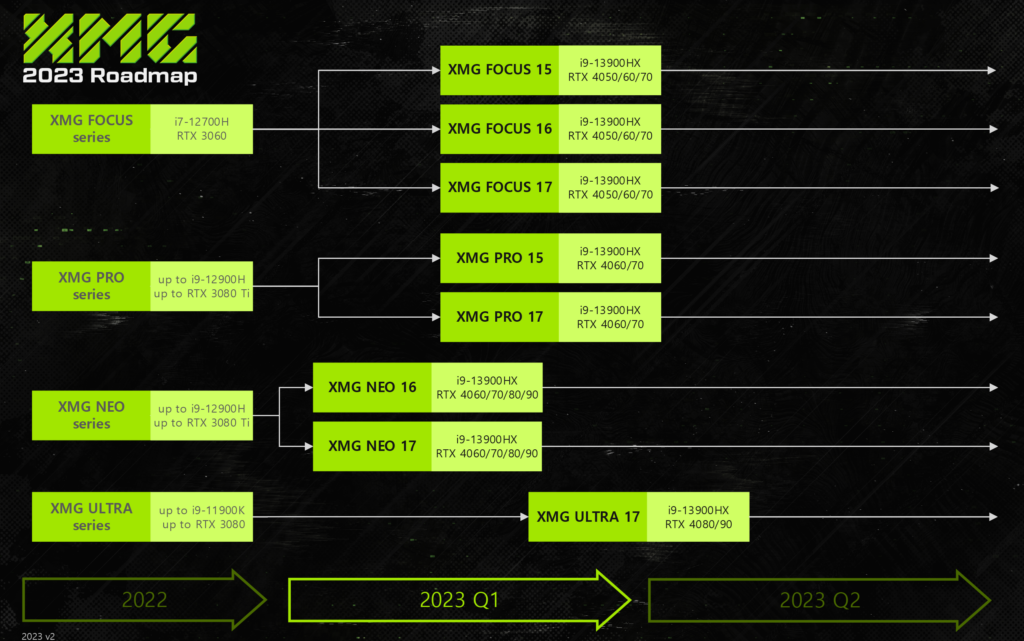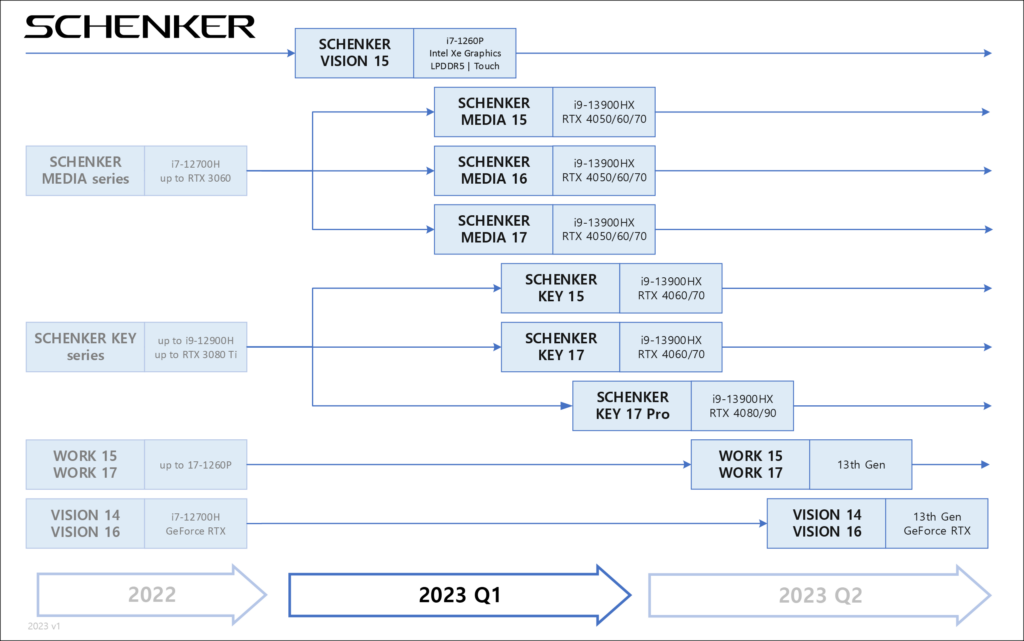 These XMG laptops will arrive in early 2023
XMG FOCUS
While the XMG FOCUS laptops were previously our entry-level series for gamers, the next-gen versions of the FOCUS 15, FOCUS 16 and FOCUS 17 advance to the upper performance mid-range: The Intel Core i7-12700H (14 cores, 20 threads) is replaced by the new Core i9-13900HX (24 cores, 32 threads). The NVIDIA GeForce RTX 3060 as the most powerful graphics card configurable for these laptops so far is replaced by the new RTX 4070. In addition, an RTX 4060 and RTX 4050 are also available. In line with the significantly higher maximum performance, the FOCUS series is equipped with a more powerful cooling system.
XMG PRO
The XMG PRO 15 and PRO 17 will continue to make use of their already familiar and well-established laptop chassis in the next generation. New features include an Intel Core i9-13900HX and graphics cards up to NVIDIA's GeForce RTX 4070, which require a stronger cooling system: Although the 2022 model generation utilised graphics cards up to the RTX 3080 Ti, it did so with reduced graphics power (watts). The RTX 4070, on the other hand, will be capable of permanently calling up its maximum power of 140 watts. In addition, the PRO laptops are also available with a GeForce RTX 4060.
XMG NEO
While the XMG NEO 16 is a completely new design in a 16-inch format, the upcoming NEO 17 is an update of the already popular predecessor model. Both laptops pair Intel's Core i9-13900HX with high-end graphics cards up to the NVIDIA GeForce RTX 4090. A notable feature is the very powerful air cooling system: this allows even the flagship graphics card to operate permanently at a graphics power of 175 watts. In addition, the NEO laptops are compatible with the optional XMG OASIS external liquid cooling system and feature a high-resolution WQXGA IPS display in 16:10 format with 240 Hz. More information on the NEO 16 and NEO 17 will follow at the official product launch in a few days.
XMG ULTRA
The 2023 XMG ULTRA 17 is also a completely new design. Just like the NEO series, it features Intel's Core i9-13900HX and graphics cards up to the NVIDIA GeForce RTX 4090. However, the ULTRA 17 will raise the bar in terms of connectivity – and with two Thunderbolt 4 ports and an additional Mini DisplayPort, it will be the ideal solution for VR and multi-monitor gaming. However, more information and all specifications will only be available at a later date, considering that the XMG ULTRA 17 will be released after the FOCUS, PRO and NEO.
Additional plans: AMD, Intel Arc, XMG CORE and XMG FUSION
What about AMD-based XMG laptops (Ryzen 7000 and AMD graphics cards)?
Although XMG laptops with AMD Ryzen 7000 processors and GeForce RTX graphics cards are already in the planning and development process, it is too early for an official XMG product announcement or scheduling of availability – this applies to the CPUs that go by the codename "Rembrandt+" as well as "Phoenix" (Zen 4).
Besides, XMG is working with its partners on a mid-range laptop with a Ryzen 7000 processor and AMD Radeon graphics cards. However, product planning has not yet been completed, so apart from the plan itself, there is no further information to be announced yet.
What about laptops with Intel Arc graphics cards?
There are currently plans for a laptop with Intel Arc A730M based on an Intel NUC reference design. The launch is expected at best shortly before Q2 2023.
Will there be configurations with more than 64 GB system memory?
All currently planned models in our 2023 roadmap offer a maximum of two SO-DIMM slots for pluggable DDR5 RAM due to space and complexity constraints.
DDR5 SO-DIMM modules are currently available with a maximum of 32 GB (gigabytes). Two 32 GB SO-DIMM modules therefore result in a maximum total capacity of 64 GB.
At present, it is not foreseeable whether larger memory modules will be available again for the current laptop model generation. The HX processors from Intel's 13th Core generation theoretically support a maximum capacity of 128 GB. However, this can so far only be utilised in configurations with four SO-DIMM slots, as modules in configurations with more than 32 GB have not been available yet.
Announcements on DDR5 SO-DIMM modules with 64 GB have not been made yet either.
Some RAM manufacturers are apparently currently planning modules with capacities of 12, 24 and 48 GB. One of these manufacturers has already gone public with this. These are so-called "non-binary" memory capacities because, unlike 8, 16, 32 etc., they are not based on a doubling of two (2). Whether such modules can work on the "13th Gen Intel Core" platform has not been fully confirmed yet. At the current time (1 March 2023) we have contradictory statements on this. Test samples are not yet available to us.
Whether and when it will be possible to equip current XMG and SCHENKER models with up to 96 GB is still unclear. We are in active contact with our partners and suppliers and will keep you informed.
When are the new XMG CORE and XMG FUSION coming?
Due to the performance upgrade of the XMG FOCUS in the 2023 generation, these laptops now feature many of the performance virtues of the XMG CORE, whose continuation is currently not yet certain. The XMG FUSION 15 (M22) with Intel's Core i7-11800H and graphics cards up to the GeForce RTX 3070 will continue to be the most up-to-date XMG FUSION for the time being, especially since it is available at an excellent price. Anyone looking for an extremely thin and light high-end laptop of the latest generation is invited to take a look at the SCHENKER VISION series, which has adopted many of the XMG FUSION's features.
Further questions or feedback?
Thank you for your continued interest and loyalty this year. Follow us on Reddit or join our Discord server for some occasional sneak peaks into our product planning – and subscribe to the newsletter of our partner shop bestware.com if you would like to be the first to receive more information about upcoming product launches. We look forward to your feedback!