Leipzig, Germany, 30th March 2021 – In times of an increasingly worsening graphics card shortage, desktop replacement laptops are, now more than ever, becoming an attractive and above all available alternative for gamers: At XMG, the brutally performance-focused ULTRA 17 epitomises this approach without compromise. Unlike slim, portability-focused laptops, this latest model not only uses desktop processors up to Intel's brand-new Core i9-11900K, but also exceptionally high-performance graphics cards with a maximum TGP of 165 watts. Even the memory, storage and connectivity options easily keep up with those of a high-end desktop PC. Proof of this is support for up to 128 GB DDR4-3200 RAM, four M.2 SSDs and two Thunderbolt 4 ports.
Crushing performance: a laptop with Rocket Lake desktop CPUs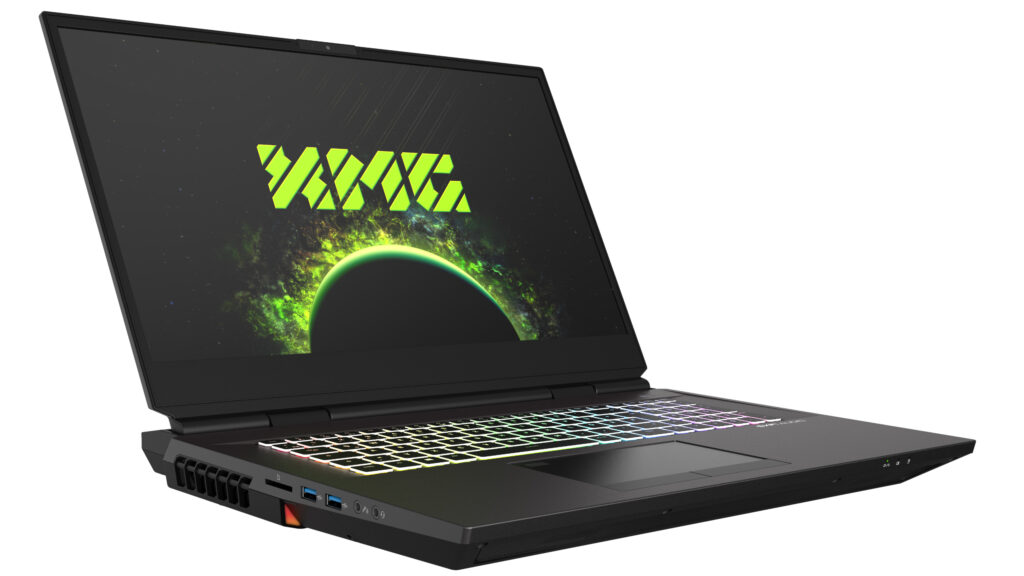 Inside the XMG ULTRA 17 (model generation E21) is a socket 1200 motherboard with a Z590 Express chipset. Consequently, the laptop does not have to make do with mobile CPUs with a TDP of typically 45 watts, but instead utilises swappable desktop processors at up to 125 watts. XMG offers the ULTRA 17 with Rocket Lake processors from the 11th Core generation, such as the flagship Core i9-11900K or i7-11700K models – each with 8 cores, 16 threads and increased per-core performance compared to their Comet Lake predecessors. However, as the only ten-core processor in the socket 1200 line-up, the Core i9-10900K remains available as an option. The rest of the CPU line-up also includes smaller models such as the Intel Core i5-11600T with six cores from the efficient 35 watt TDP class.
Maxed out GeForce RTX 3080 in MXM card format
But it is not only on the CPU side that the new XMG ULTRA 17 is challenging many a high-end desktop PCs. In terms of graphics cards, there is a choice between various top models in MXM card format with increased TGP: including a GeForce RTX 3080 (165 watts), RTX 3070 (140 watts) and RTX 3060 (130 watts). For comparison, the most powerful GeForce RTX 3080 laptop GPUs typically regulate at a maximum of 150 watts; in the case of many slim notebooks, TGP and performance are significantly lower again in favour of portability. However, unlike the desktop graphics card, the mobile version has a clear advantage in terms of memory – offering 16 instead of only 10 GB VRAM. One particular advantage results from the combination of running with Rocket Lake processors: the XMG ULTRA 17 connects the GPU with a full 16 lanes via PCI Express 4.0. Until now, laptop graphics cards could only use third-generation PCI Express.
Up to 128 GB DDR4-3200 and four M.2 SSDs along with heat sinks
The laptop's memory configuration options are impressive; up to 128 GB DDR4-3200 can be installed in four SO-DIMM sockets and with four M.2 slots available, the laptop outclasses even most high-end ATX motherboards. The primary SSD slot for the system drive already uses PCI Express 4.0, while the remaining three communicate via PCI Express 3.0 and support RAID levels 0, 1 and 5.
IPS displays in Ultra HD resolution and 300 Hz fast Full HD panels
XMG introduces the new ULTRA 17 with two different displays, both based on IPS technology with correspondingly good display characteristics such as particularly high contrast, excellent viewing angle stability and intense colour image reproduction. The Full HD panel, featuring a refresh rate of 300 Hz and NVIDIA G-SYNC, is primarily aimed at high-FPS gamers and impresses with 100% coverage of the sRGB colour space. As a high-resolution alternative, a G-SYNC capable Ultra HD display with 60 Hz and 100% coverage of the extended Adobe RGB colour space is available.
Maximum connectivity including two Thunderbolt 4 ports
Even in terms of connectivity, the XMG ULTRA proves to be a genuine, portable rival to the desktop PC. A pair of Thunderbolt 4 ports with additional DisplayPort functionality are included, in addition to the three separate dedicated graphics interfaces. Thanks to an HDCP-compatible HDMI 2.1 port and two G-SYNC-compatible Mini DisplayPort 1.4, the desktop replacement machine can be easily expanded with a multi-monitor setup, both interfaces already offering Dynamic-HDR support. Other features include USB-C 3.2 Gen 2, three USB-A 3.2 Gen 2 ports, a fast full-size SD card reader connected via UHS-III and separate audio jacks for headphones (headset compatible) and a microphone. A 2.5 Gigabit Ethernet port is available for wired network connections, while the laptop also works wirelessly via Wi-Fi 6. If an optional Killer Wi-Fi card is used, this enables the utilisation of Killer DoubleShot Pro. The technology allows the optimisation of network traffic, for example a prioritised game to be assigned exclusively to the Ethernet port and the remaining traffic to run via Wi-Fi.
Powerful cooling system with dust protection technology, premium sound and RGB keyboard with N-key rollover
At 399 x 319 x 43.5 mm and 4.6 kg, the dimensions and weight are somewhat higher, as is usual in the desktop replacement segment. In return, the XMG ULTRA offers ample space to integrate a high-performance cooling system, specially designed for the Rocket Lake CPUs as well as NVIDIA's GeForce RTX 3000 in MXM card format. As a result, even the Core i9-11900K operates permanently within the range of the specified 125 watt TDP. To keep maintenance low and cooling performance permanently high, the ULTRA 17 features an anti-dust tunnel that directs penetrating dust out of the chassis. In addition, an automatic reverse function of the fans regularly blows the fins of the heat sinks free of dust. The generously dimensioned chassis also integrates a powerful 2.1 sound system with dedicated subwoofer. For perfectly emulated surround sound on headphones, Creative's AI-based Super X-Fi UltraDSP chip with integrated headphone amplifier and 24-bit sound reproduction is included. The gaming-ready keyboard of the XMG ULTRA 17 features N-key rollover, anti-ghosting and freely configurable RGB per-key illumination.
Pricing and availability
The XMG ULTRA 17, which can be freely configured at bestware.com, can be ordered immediately starting from € 2,799. The recommended base configuration includes Intel's Core i7-11700K, an NVIDIA GeForce RTX 3060 (MXM card), 16 GB Corsair Vengeance DDR4-3200 RAM, a 500 GB Samsung 980 Pro and a 300 Hz IPS display with Full HD resolution. Upgrades to an RTX 3070 (+ € 365), RTX 3080 (+ € 974), a Core i9-10900K (+ € 198) or an Ultra HD display (+ € 292) are available for an additional charge, as well as upgrade options for memory and storage. Those who require less CPU performance can also choose a smaller processor such as the Core i5-11500 (saving € 273 compared to the price for the recommended base configuration).
Websites:
https://bestware.com/en/xmg-ultra-17-e21.html
https://www.xmg.gg/en/xmg-ultra-17-e21
Press materials (download of the press release, pictures, data sheets):