Leipzig, Germany, February 22nd 2023 – With the new PRO and the FOCUS (E23), XMG introduces two laptop series on a similar hardware basis: Both feature Intel's Core i9-13900HX and NVIDIA graphics cards up to the GeForce RTX 4070. While the PRO 15 and PRO 17 are slightly thinner as gaming workstations and boast more extensive connectivity, the FOCUS scores at a more affordable price and is not only available in 15.6 and 17.3-inch versions, but also in a 16-inch format. For the laptops originally designed as an entry-level series, the hardware upgrades mean a significant upgrade: the FOCUS series moves closer to the PRO laptops.
Core i9-13900HX and GeForce graphics cards ranging from RTX 4050 to the 4070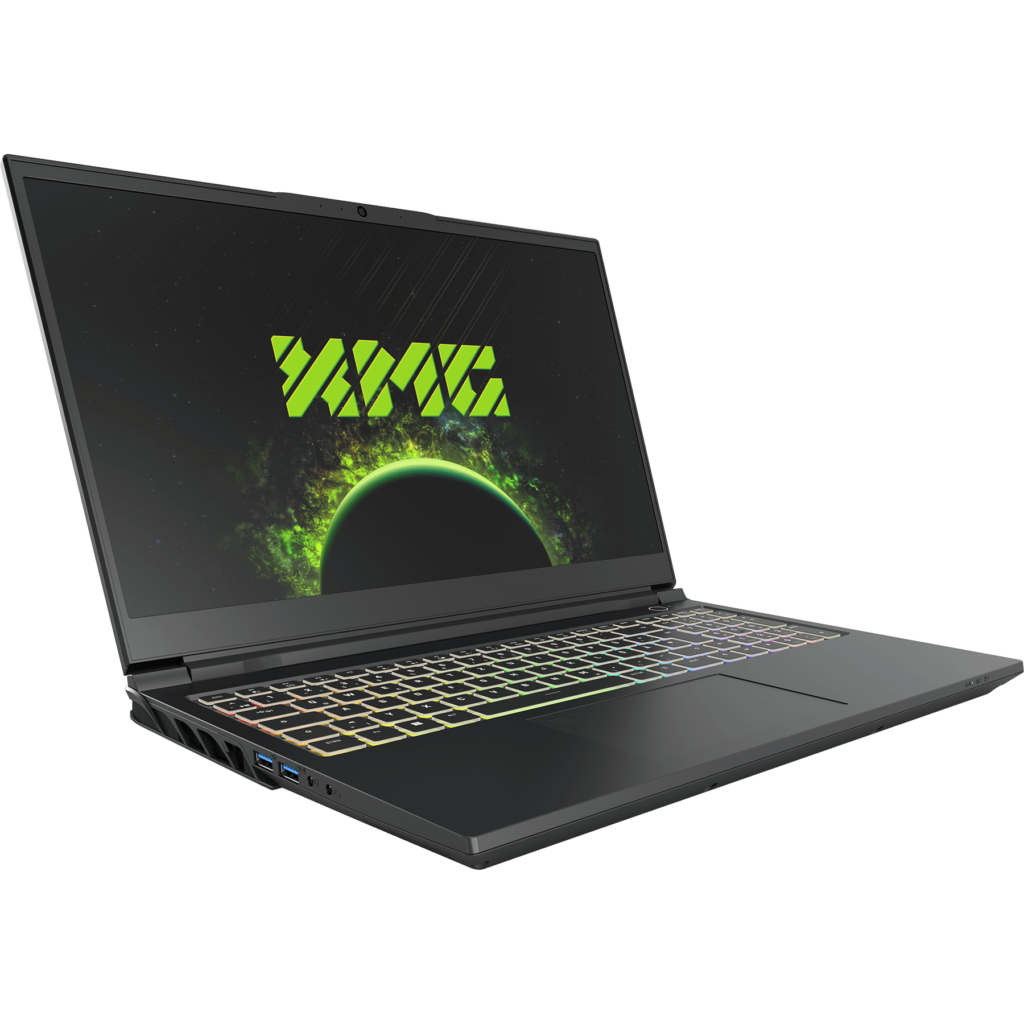 The key components found in the new XMG PRO 15 and PRO 17 as well as the XMG FOCUS 15, FOCUS 16 and FOCUS 17 are almost identical. All laptops employ Intel's Core i9-13900HX with 24 cores (8 P-cores, 16 E-cores) and 32 threads. The freely configurable graphics card options each include NVIDIA's new, DLSS-3-capable GeForce RTX 4050 (FOCUS only) as well as 4060 and 4070 (FOCUS and PRO) with a maximum graphics power rating of up to 140 watts (115 watts TGP plus 25 watts Dynamic Boost 2.0). However, since the clock behaviour and the actual power consumption of the GPUs in the new generation are subject to much more restrictive, application-specific specifications from NVIDIA, the maximum values are only achieved in synthetic stress tests such as Furmark – according to the official requirements of the graphics chip manufacturer.
Both model series are equipped with a more powerful composite cooling system with five 6 mm and one 8 mm heat pipe – a novelty and significant upgrade for the FOCUS series. In the PRO, longer heat pipes provide enhanced cooling performance. In addition, a more powerful fan with optimised, low-frequency sound characteristics is introduced in both model series.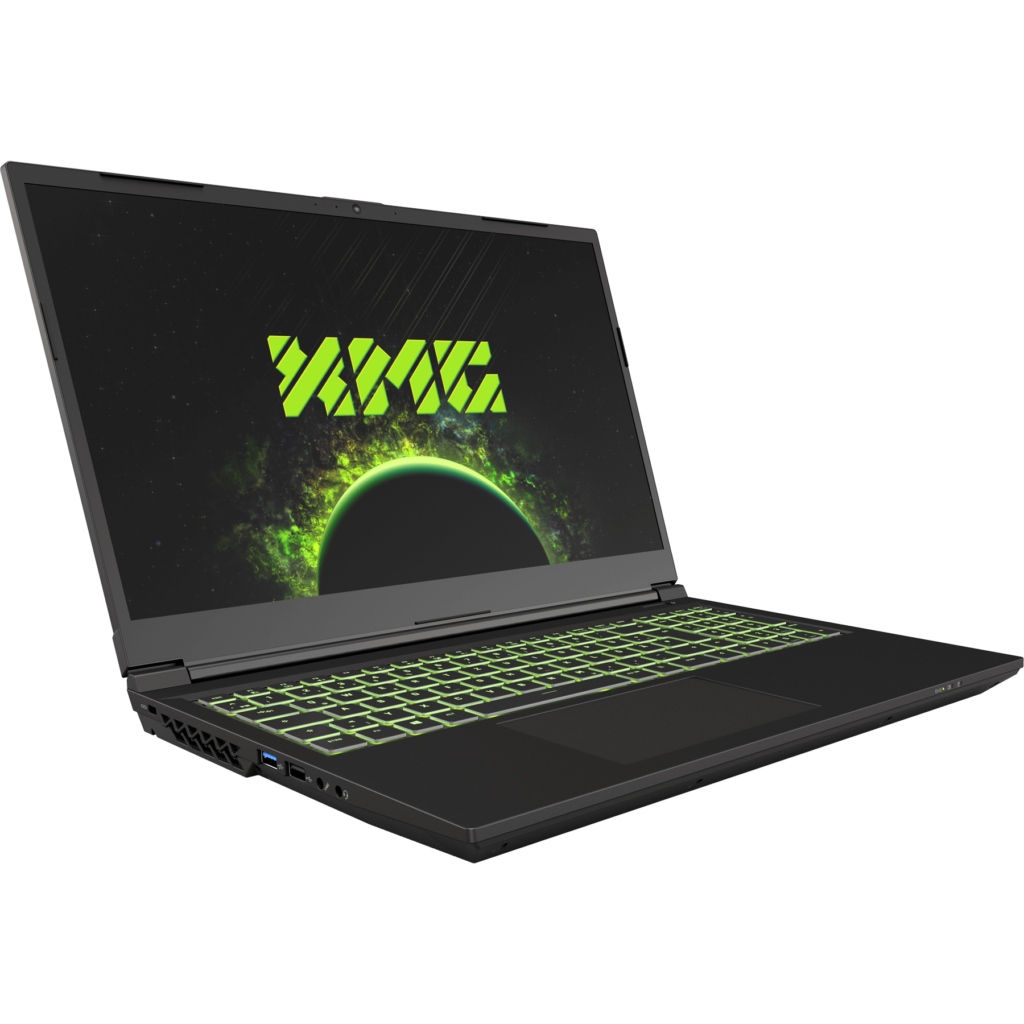 Along with the platform update, XMG replaces the previously employed DDR4 with faster DDR5 RAM at up to 5600 MHz in the E23 model generation. Both laptop series provide two M.2 SSD slots with PCI Express 4.0 connection – the FOCUS thus receives another upgrade compared to the predecessor model.
High resolution and refresh rate display options and G-SYNC
The XMG PRO 15 and FOCUS 15 as well as the PRO 17 and FOCUS 17 both feature WQHD IPS panels (2,560 x 1,440 pixels) in 16:9 format with very similar display characteristics. They are 240 Hz fast and are both a good choice for content creation applications thanks to 99 percent coverage of the sRGB and DCI-P3 colour space.
Alternatively, the XMG FOCUS 15 is also available with a 165 Hz fast Full HD IPS display with 95 percent sRGB colour space coverage. The XMG PRO 17 can also be configured as a high-resolution content creation workstation with a 144 Hz UHD display: The bright 400 nits IPS panel covers 99 percent of the sRGB and DCI-P3 colour space.
As the only 16-inch laptop among the five new products, the XMG FOCUS 16 is equipped with a WQXGA (2,560 x 1,600 pixels) IPS display in 16:10 format. The screen offers a brightness of 400 nits and 95 percent sRGB colour space coverage.
All available display options support G-SYNC, NVIDIA Advanced Optimus and an additional MUX switch. Switching the display connection between the efficient Intel iGPU and the high-performance NVIDIA dGPU is thus possible both automatically and manually – in each case during ongoing operation and without requiring a system restart.
Extensive connectivity and VR compatible
All three FOCUS laptops provide identical connectivity: USB-C 3.2 Gen2, USB-A 3.2 Gen1, USB-A 2.0 and an additional Thunderbolt 4 port with iGPU connection. In addition, there are HDMI 2.1 and a Mini DisplayPort 1.4, so the laptops can natively control up to three additional monitors. Separate audio jacks for microphone and headphones (compatible with combo plug headsets) are provided, with Gigabit Ethernet, Wi-Fi 6E and a microSD card reader completing the ample connectivity features.
The XMG PRO series scores with even more advanced features, enabling up to four external monitors to be connected natively: via HDMI 2.1, Mini DisplayPort 1.4 and a USB-C 3.2 Gen2 port, all with dGPU connection, as well as the Thunderbolt 4 port linked to the iGPU -which also supports Power Delivery exclusively on the PRO. In addition, the PRO 15 and PRO 17 offer two USB A 3.2 Gen1 ports, 2.5 Gigabit Ethernet and Wi-Fi 6E in addition to separate audio jacks for microphone and headphones – the latter of which is compatible with combo plug headsets. The microphone port also supports an optical S/PDIF signal.
Both the FOCUS and PRO laptops include a Full HD webcam with temporal noise reduction. Due to the versatile connectivity options, both model series are compatible with current VR headsets – either via the dedicated Mini DisplayPort (FOCUS, PRO) or the USB-C port with dGPU connection (PRO only).
Dimensions, weight and battery capacity
At 358 x 240 x 24.9 mm and 2.4 kg as well as 396 x 262 x 24.9 mm and 2.8 kg, the XMG PRO 15 and PRO 17 feature a predominantly aluminium chassis (display lid, bottom shell) and are somewhat slimmer than the FOCUS 15 (359.5 x 238 x 27.1 mm, 2.4 kg), FOCUS 16 (359.5 x 263.8 x 27.5 mm, 2.6 kg) and FOCUS 17 (396.9 x 262, 28.2 mm, 2.9 kg). With the exception of the aluminium display lid of the 16-inch laptop, the FOCUS chassis are made of ABS polymer, though offer higher stability compared to the previous generation.
In the E23 model generation, the battery capacity of the XMG FOCUS grows from 54 to 73 Wh, while the new XMG PRO continues to make use of an 80 Wh battery. A further difference is on the input device side: both laptops offer full-sized keyboards with a dedicated numeric pad and large arrow keys, however while the PRO comes with freely customisable RGB single-key illumination, the LED options of the FOCUS are limited to 15 colours.
Pricing and availability
The base configuration of the XMG FOCUS 15, XMG FOCUS 16 and XMG FOCUS 17 as well as the XMG PRO 15 and XMG PRO 17, which can be freely configured on bestware.com, include Intel's Core i9-13900HX, an NVIDIA GeForce RTX 4050 (only FOCUS) or an NVIDIA GeForce RTX 4060 (PRO), 16 GB (2×8) DDR5-5600 RAM, a 500 GB Samsung 980 SSD and, depending on the laptop, a WQHD or WQXGA display with a high refresh rate. Only the XMG FOCUS 15 starts with a 165 Hz Full HD IPS display. The starting prices, including 19% VAT, are € 1,549 (FOCUS 15), € 1,679 (FOCUS 16), € 1,679 (FOCUS 17), € 1,999 (PRO 15) and € 2,049 (PRO 17).
Upgrades such as from the RTX 4050 to the RTX 4060 (€ 158, FOCUS only) or from the RTX 4060 to the RTX 4070 (€ 195) are available for an additional charge. This also applies to the 240 Hz WQHD display in the FOCUS 15 (€ 79) and the 144 Hz UHD display in the PRO 17 (€ 248). Almost all laptop models are available for order and in stock now. Only the FOCUS 17 with RTX 4050 or 4060, the PRO 17 with WQHD display (both expected from the end of February) and the PRO 17 with UHD display (expected from the end of March) will arrive a little later.
Overview table: base configurations, upgrades, prices, availability
All of the laptops are running an Intel Core i9-13900HX as well as 16 (2×8) GB of DDR5-5600 RAM and a 500 GB Samsung 980 SSD in the upgradable base configuration. The following table shows differences and upgrade options:
Base config
FOCUS 15
FOCUS 16
FOCUS 17
PRO 15
PRO 17
GPU
RTX 4050
RTX 4050
RTX 4050
RTX 4060
RTX 4050
Display
Full HD
(16:9, 165 Hz)
WQXGA
(16:10, 165 Hz)
WQHD
(16:9, 240 Hz)
WQHD
(16:9, 240 Hz)
WQHD
(16:9, 240 Hz)
Starting price
€ 1,549
€ 1,679
€ 1,679
€ 1,999
€ 2,049
GPU upgrades
RTX 4060 (€ 158)
RTX 4070 (€ 480)
RTX 4060 (€ 158)
RTX 4070 (€ 480)
RTX 4060 (€ 158)
RTX 4070 (€ 480)
RTX 4070 (€ 295)
RTX 4070 (€ 295)
Display upgrades
WQHD 240 Hz (€ 79)
–
–
–
UHD 144 Hz (€ 248)
Availability
now available
now available
now available with RTX 4070; end of February with RTX 4060 and 4050
now available
end of February with WQHD display; end of March with UHD display
Websites:
https://bestware.com/en/xmg-pro-15-e23.html
https://bestware.com/en/xmg-pro-17-e23.html
https://bestware.com/en/xmg-focus-15-e23.html
https://bestware.com/en/xmg-focus-16-e23.html
https://bestware.com/en/xmg-focus-17-e23.html
https://www.xmg.gg/en/xmg-pro-15-e23/
https://www.xmg.gg/en/xmg-pro-17-e23/
https://www.xmg.gg/en/xmg-focus-15-e23/
https://www.xmg.gg/en/xmg-focus-16-e23/
https://www.xmg.gg/en/xmg-focus-17-e23/
Press material (download of the press release, pictures, data sheets):