Leipzig, Germany, May 11th 2022 – XMG presented its current top model in the gaming laptop segment in January with the XMG NEO 15 (E22) – featuring Intel's Core i7-12700H and graphics cards up to GeForce RTX 3080 Ti. The laptop, which is compatible with the optional XMG OASIS external liquid cooling system, now receives its first upgrade: with immediate effect, an Intel Core i9-12900H with an even higher clock rate can be configured.
Core i9-12900H adds extra performance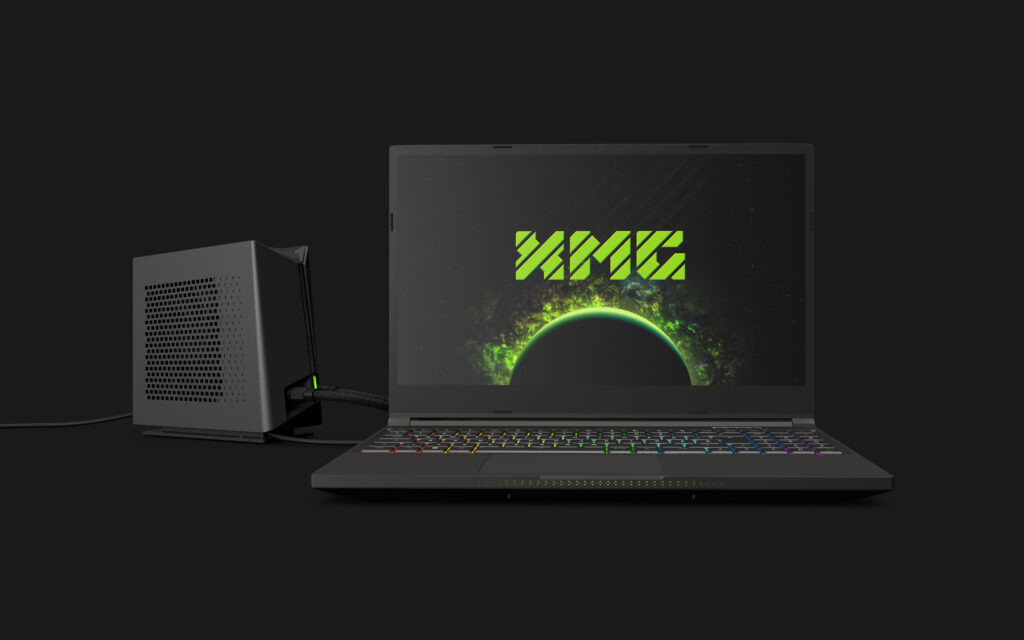 Unlike the Intel Core i7-12700H, the Core i9-12900H, which is now available in the XMG NEO 15, runs at a 300 MHz higher base and boost clock of 3.8 and 5 GHz respectively. The step to offer an even more powerful CPU in the already very high-performance gaming laptop was only a matter of time, especially considering the cooling solutions potential: The PL1 and PL2 values of the Core i9 can be increased to up to 140 watts in the XMG Control Centre (Core i7: 120 watts). In combination with the optional XMG OASIS external laptop liquid cooling system, the processor, which is connected to its three heat pipes via liquid metal, maintains a package power of around 106 watts even in the long run, which corresponds to a clock rate of 4 GHz (performance cores) or 3 GHz (efficiency cores).
In benchmarks: In the XMG NEO 15, the Core i9-12900H scores 742 (single-core) and 7355 points (multi-core) in Cinbench R 20, with a CPU score in 3D Mark Time Spy of 14645 points. In contrast, a Core i7-12700H, also running with OASIS water cooling in the NEO 15, achieves 696 (CB R20, single), 7147 (CB R20, multi) and 13768 points (Time Spy CPU score).
GeForce RTX up to 3080 Ti, WQHD display, DDR5-4800 and plenty of storage
The rest of the XMG NEO 15's specifications remain unchanged. The laptop still offers the choice between a GeForce RTX 3080 Ti, 3070 Ti or 3060 with the maximum performance envelope specified by Nvidia. The upgrade to the Core i9-12900H, however, requires at least the 3070 Ti. Other features include a 240 Hz WQHD IPS display with 350 nits and at least 95 percent sRGB colour space coverage, up to two M.2 SSDs with PCIe 4.0 connection and a maximum of 64 GB socketed DDR5-4800 SO-DIMM.
The 360.2 x 243.5 x 26.6 mm part-aluminium chassis weighs 2.2 kg and accommodates a 93 Wh battery as well as the renowned optomechanical RGB keyboard with tactile silent switches and N-key rollover. On the connectivity side, there is Thunderbolt 4 with two 4K-capable DisplayPort streams and connection to the Intel Xe iGPU, HDMI 2.1 with connection to the Nvidia dGPU, 2.5 Gigabit Ethernet, Wi-Fi 6, three USB A 3.2 ports, a full-size SD card reader and separate audio jacks for microphone and headphones.
Pricing and availability
The base configuration of the XMG NEO 15 (E22), which can be freely configured on bestware.com, includes Intel's Core i7-12700H, an Nvidia GeForce RTX 3060, 16 (2×8) GB DDR5-4800, a 500 GB Samsung 980 SSD and a WHQD IPS display with 240 Hz. The starting price including 19% VAT is € 1,999. An upgrade to the Intel Core i9-12900H costs 145 euros, but also requires the configuration of a GeForce RTX 3070 Ti for another 485 euros.
Websites:
https://bestware.com/en/xmg-neo-15-intel-e22.html
https://www.xmg.gg/en/xmg-neo-15-intel-e22/
Press material (download of the press release, pictures, data sheets):