Leipzig, Germany, 1st October 2020 – For years, MacBooks have been the de facto standard for digital DJ setups. Apple's recent product iterations, however, have left much to be desired in terms of professional connectivity – using industry standard DJ equipment with a MacBook requires the purchase of expensive and impractical adapters or hubs. XMG responds to the DJ community's growing demand for a functional, reliable alternative by releasing the DJ 15 – the first ever laptop designed, optimised and tested specifically to meet the needs of professional DJs. Weighing in at a mere 1.6kg, this machine features a 15" non-glare Full HD IPS display and a wide array of standard ports. An entirely bloatware-free Windows 10 Pro installation, perfectly tuned to the DJ 15's hardware components, ensures ultra-low, stable DPC latency out of the box, even running off battery with WiFi and Bluetooth activated. On top of that, XMG offers unique and highly specialised support – by DJs, for DJs.
Made to Create with DPC latency values below 1 millisecond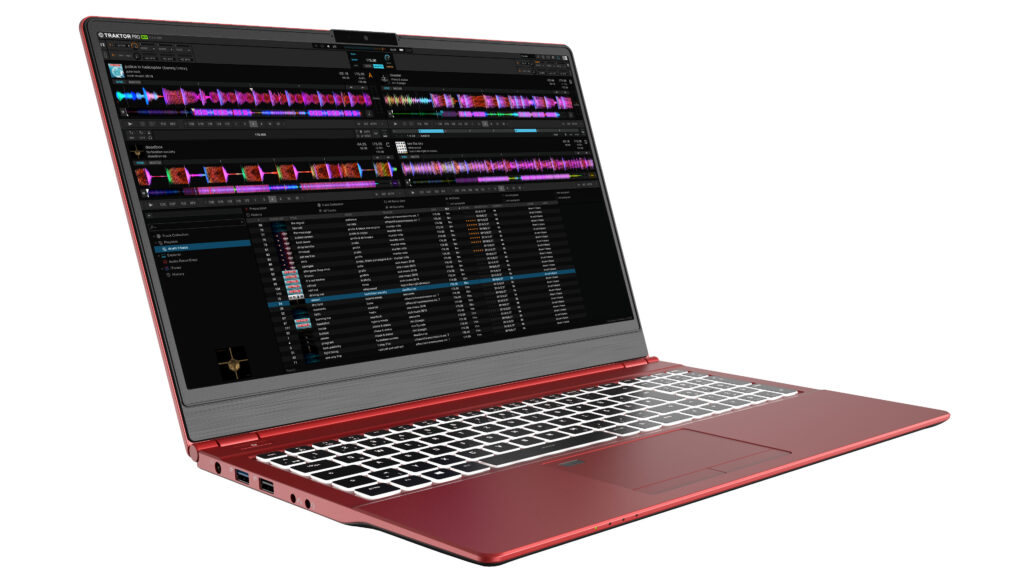 The XMG DJ 15 is ready to go straight away – all DJs need to do is pick their favourite software to install, followed by ASIO drivers for their mixer or audio interface. None of the tweaking typically required for using a regular Windows-based computer for DJing is necessary either, as low DPC latency values of below 1ms make sure nothing interferes with system stability while performing. The machine has also been tested in real-life settings with most common DJ software like Native Instruments Traktor Pro, Serato DJ Pro, Pioneer Rekordbox DJ and Virtual DJ 2021 – as well as several mixers, controllers, audio interfaces and modern accessories like MWM Phase. XMG calls this certification "Made to Create", which will soon include more laptops optimised for different pro A/V use cases.
Thin, lightweight and powerful
The XMG DJ 15 is available in a classic silver and a more extravagant red. Both models are powered by 10th-generation Intel processors, each with 4 cores and 8 threads. The efficient Core i5-10210U will handle any DJ software with ease, while the i7-10510U offers plenty of power for more ambitious tasks. The aluminium chassis with a resin mold on the underside keeps the weight at just 1.6kg – and measuring just 360.4 x 244.5 x 19.9 mm, the machine will easily fit into any DJ backpack. The DJ 15's 54.5 Wh battery makes it easy to work on playlists while on the road, and the 15" non-glare Full HD IPS display is a pleasure to use even over longer periods of time.
Professional connectivity and plenty of storage
Unlike many other portable laptops, the DJ 15 features a wide array of standard connectors, making adapters entirely obsolete. This includes three USB-A ports (2x USB 3.1, 1x USB 2.0 for compatibility with older peripherals), one USB-C / Thunderbolt 3 combo port with charging functionality (20V / 3A), full-size HDMI, mini DisplayPort, an SD card reader, an RJ45 Ethernet port – and of course, standard 3.5mm headphone out and microphone inputs. An M.2 SSD connected via PCI Express offers fast loading times and up to 2 TB storage, and RAM can be upgraded to a maximum of 32 GB thanks to two SO-DIMM slots.
Tailor-made support by DJs for DJs
The Made to Create concept is based on an intense cooperation between XMG and Ray Arkaei – a DJ, producer and audio-visual live showcase artist who also acts as technical & creative lead at Berlin's Sample Music Festival. He oversees the new audio-optimised product line. This unique relationship allows XMG to offer customers an outstanding level of dedicated support for the DJ 15 and all subsequent audio-optimised machines. Due to Ray Arkaei's long-standing relationship with top brands in the industry and frequent involvement in beta tests and hackathons, he can offer highly specialised expert advice in regard to pro A/V applications on Windows, and will take over from customer support when necessary.
One tech demo to rule them all
To demonstrate the full capability and stability of the XMG DJ 15, Ray Arkaei has prepared an elaborate showcase performance, using the top 4 market-leading DJ apps (Serato DJ Pro, Native Instruments Traktor Pro, Pioneer Rekordbox DJ and Virtual DJ 2021) simultaneously – together with Ableton Live, an all-in-one DJ controller (Roland DJ-707M), the Allen & Health Xone:96 mixer and the Ableton Push 2. The video, available on Youtube, includes live desktop capture, showing all programs running on one screen, with live DPC latency readout from LatencyMon. Despite the tremendous stress placed on the system, DPC latency is clearly shown to remain well below 1ms, even with WiFi and BlueTooth activated – and with the laptop being flipped shut mid-performance. This proves beyond any doubt that the DJ 15 can handle significantly more of a workload that any DJ would typically require.
Pricing and availability
The XMG DJ 15 and XMG DJ 15 RED are immediately available from bestware.com. The default configuration is priced at € 1.220,44 (incl. 16% VAT, different tax rates may apply in some countries), features Intel's Core i5-10210U, 16 GB DDR4 RAM, a 1 TB Samsung 970 EVO Plus M.2 SSD and also includes the optimised Windows 10 Pro installation.
Product presentation and tech demo:
https://www.youtube.com/watch?v=x9EPfRKirSQ https://www.youtube.com/watch?v=mVF_IN0Hd7o
Websites:
https://bestware.com/en/xmg-dj-15-laptop.html (XMG DJ 15)
https://bestware.com/en/xmg-dj-15-red-laptop.html (XMG DJ 15 RED)
https://bestware.com/en/dj-laptop
https://www.xmg.gg/en/xmg-dj-15-laptop
Press materials (download of the press release, pictures, data sheets):