Leipzig, Germany, 3rd December 2020 – With the introduction of the XMG CORE 14, for the first time the CORE series can count a compact 14 inch model in its lineup: Alongside Intel's Tiger Lake processors, the German-based company integrates an NVIDIA GeForce GTX 1650 Max-P, both of which are designed to operate at the upper limit of the respective manufacturer's specifications. In addition, the CORE 14 features a 120 Hz IPS panel and modern connectivity options including Thunderbolt 4. Weighing just 1.5kg, it is the most compact and lightweight gaming and all-round laptop in XMG's history to date, offering excellent portability and great all-round performance. With the SCHENKER MEDIA 14, Schenker Technologies is also introducing a laptop based on the same technology as the XMG CORE 14, including a brand-exclusive configuration.
Intel Tiger CPU meets NVIDIAs GeForce GTX 1650 Max-P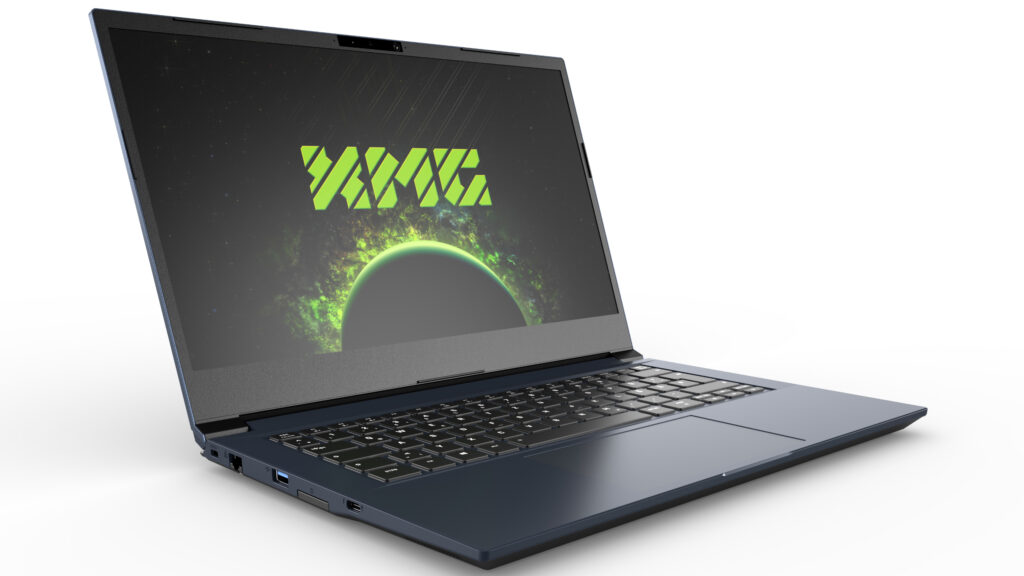 XMG offers its new mid-range laptop with two different CPU options; an Intel Core i7-1165G7 and a Core i5-1135G7. Both operate at the maximum specified TDP of 28 watts, allowing for solid gaming and application performance, along with high efficiency. This also applies to the NVIDIA GeForce 1650 Max-P Refresh graphics card featuring a standard TGP of 50 watts. Although, at least according to NVIDIA's official nomenclature, this GPU ranks behind the GeForce GTX 1650 Ti, it can easily compete with the Max-Q version of the supposedly faster graphics card in most games: depending on the game or benchmark, its performance is up to ten percent higher. The Core i7-1165G7 achieves excellent 573 (single) and 2290 (multi) points in Cinebench R20.
Matching the performance class of the laptop, XMG provides an IPS display with Full HD resolution, a refresh rate of 120 Hz, around 300 cd/m2 brightness and a high contrast of over 1000:1. Since XMG uses a GeForce GTX 1650 Max-P, despite the slim chassis, the laptop has enough power to take advantage of the high refresh rate of the display in eSports titles such as CS:GO, Rocket League or Fortnite. Featuring NVIDIA Optimus, the laptop additionally makes use of Intel's efficient Xe graphics unit in less demanding scenarios, which in turn is characterised by excellent multimedia performance. The 49 Wh battery provides a run time of around seven hours, both during video playback and browsing the Internet.
Versatile connectivity options and PCIe 4.0-ready
With an M.2 slot connected via PCI Express 4.0, the XMG CORE 14 is designed to take full advantage of the performance potential of the latest flash-based drives, such as Samsung's SSD 980 Pro or Seagate's FireCuda 520. Two SODIMM slots support up to 64 GB DDR4-3200 RAM, which can be freely configured in the manufacturer's own online store, bestware.com.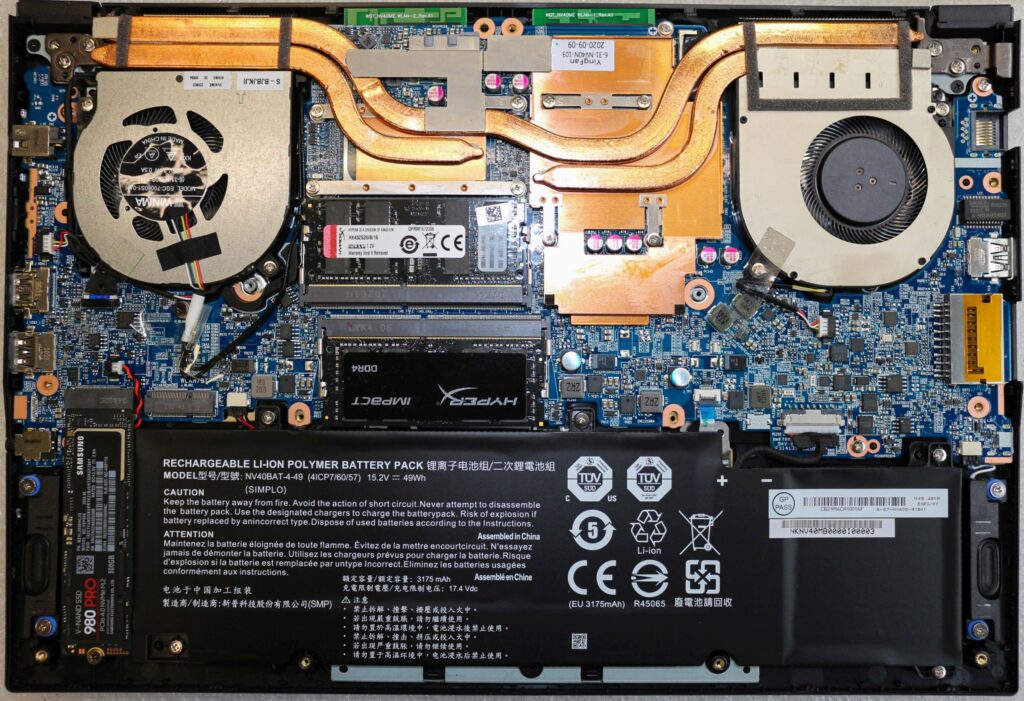 The wide range of connectivity options for a 14 inch laptop also emphasises its all-rounder concept, including Thunderbolt 4 with Power Delivery and DisplayPort function, a Gigabit Ethernet and HDMI 2.0 interface, USB-C 3.2 Gen2 and two USB-A 3.2 Gen1, a full-size SD card reader and a 3.5mm 2-in-1 audio jack. Wireless network communication is handled by a fast WiFi 6 module. Based on the power delivery function of the Thunderbolt 4 port, the laptop features two different charging options; either via the included external power supply using the barrel plug connector or via an optional USB-C power supply. By combining highly energy-efficient Tiger Lake processors (28W) with a GeForce GTX 1650 Max-P (50W), the laptop can be fully charged via a 90W universal USB-C power supply, even when under load. The HDMI and Thunderbolt 4 (DisplayPort) ports are directly connected to the iGPU supporting NVIDIA Optimus. This allows for battery-saving operation even when connecting an external monitor or video projector. In addition, the Thunderbolt 4 DisplayPort function supports Adaptive Sync or VRR (Variable Refresh Rate) via the NVIDIA graphics card. This supports both external monitors with AMD FreeSync support as well as G-SYNC-compatible monitors without the proprietary NVIDIA G-SYNC module. The Intel Xe GPU will also be able to support VRR in the future – a corresponding Windows 10 update is already in development.
Great everyday companion with a durable chassis
Thanks to its compact dimensions of 324.9 x 225 x 17.6 mm and a weighing less than 1.5 kg, the midnight blue XMG CORE 14 is highly portable. A sandblasted aluminium display cover and a sturdy ABS polymer base unit ensures an extremely robust and hard-wearing overall design. The laptop also performs the balancing act between gaming, multimedia and office in terms of input devices: In addition to a keyboard backlit by white LEDs, the laptop features a precise touchpad. Thanks to a Windows Hello compatible HD webcam located on the upper display bezel, the CORE 14 supports simplified and secure Windows user authentication as well as an optimal camera angle for video conferencing. Dank einer Windows-Hello-kompatiblen HD-Webcam am oberen Displayrahmen vereinfacht das CORE 14 sichere Windows-Anmeldeprozesse und ermöglicht Videokonferenzen aus einem vorteilhaften Aufnahmewinkel.
SCHENKER MEDIA 14 optionally available with or without dedicated graphics card
Schenker Technologies also offers the laptop to professional users, as the SCHENKER MEDIA 14, which like the XMG CORE 14 features an integrated TPM 2.0 module. Exclusively for the SCHENKER brand, an alternative configuration is also available using only Intel's efficient Xe-G7 graphics unit, resulting in a slightly lower weight of around 1.4 kg. Otherwise, the configuration options of both laptops are identical. Both are available with Intel's Core i7-1165G7 and Core i5-1135G7, feature the same 120 Hz display and are ideal as very compact, portable devices for content creation users thanks to their modern equipment level. The Intel Xe graphics card supports the latest Intel Quick Sync features: With hardware accelerated encoding and decoding of HEVC and VP9 (10-bit, decoding up to 12-bit) as well as decoding of AV1 videos (10-bit), the GPU notably reveals its strengths in video editing or high-resolution live streaming.
TUXEDO presents a special Linux version of the laptop
With the TUXEDO Book XP14, Schenker Technologies' sister company and Linux specialist TUXEDO introduces a technically identical model, being optimized especially with regard to the open source operating system; including a manufacturer-specific BIOS and specially adapted driver packages, which ensure the function of specific features such as hot-keys and smooth fan control under Linux.
Pricing and availability
The XMG CORE 14 and SCHENKER MEDIA 14, which can be freely configured on bestware.com, are now available from € 925.08 and € 876.34 (incl. 16 % VAT, in some countries different tax rates apply). The base configuration features a 120 Hz Full HD display, Intel's Core i5-1135G7, 8 GB DDR4-3200 RAM and a 250 GB Kingston A2000 SSD in M.2 form factor. All configurations of the XMG CORE 14 utilise an NVIDIA GeForce GTX 1650 Max-P, while the base configuration of the SCHENKER MEDIA 14 features an integrated Intel Xe graphics card, offering the GTX 1650 as an optional upgrade for € 126,72. Otherwise, the two laptops only differ in terms of the manufacturer's warranty of 24 (XMG CORE 14) and 36 months (SCHENKER MEDIA 14).
Websites:
https://bestware.com/en/xmg-core-14.html
https://bestware.com/en/schenker-media-14.html
https://www.xmg.gg/en/xmg-core-14 https://www.schenker-tech.de/en/schenker-media-14
Press materials (download of the press release, pictures, data sheets):
https://schenker.app.box.com/v/xmg-core-14-l20
https://schenker.app.box.com/v/schenker-media-14-l20