After Intel, AMD and NVIDIA have made their next-gen announcements on CES a few weeks ago, it is time for us to give a little roadmap update ourselves. We have already announced one product: XMG NEO 15 mwith Intel Core 12th Gen, RTX 3080 Ti and world-premiere support for XMG OASIS, an external AIO liquid cooling system for laptops. The following preview shows what else 2022 has in store.
Timeline
In previous years we were able to refresh our whole product line almost instantly with the latest CPU and GPU platform. This year will be a bit different. Let's have a look at the timeline first.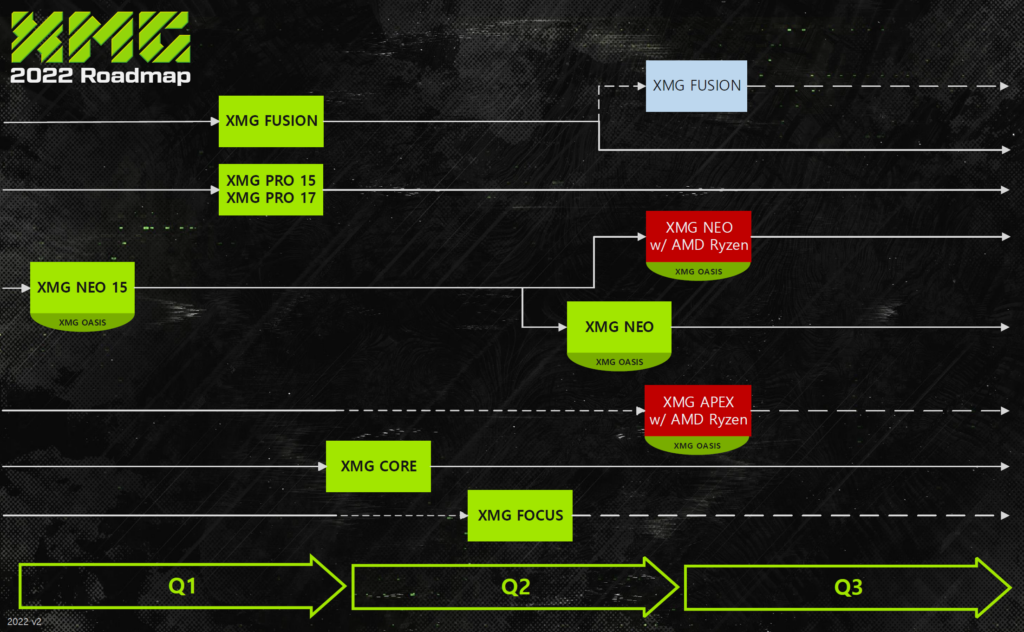 AMD, Intel and NVIDIA Platform Overview
Our plans with Intel Core 12th Gen
As you can see in the above table, we have a number of refresh models in the pipeline with Intel Core 12th Gen, also known as Alder Lake. The high-end models XMG NEO and XMG PRO will take priority in Q1 this year, other models will follow in Q2 and beyond. Most of these models are planned to launch with Intel Core i7-12700H, but we also have Core i9-12900H under consideration for some models.
Our plans with AMD Ryzen 6000 series
Refresh models with AMD Ryzen 6000 are planned (e.g. XMG NEO 15) or under consideration. Generally speaking, models with AMD Ryzen 6000 will mostly launch after their Intel Core 12th Gen counterparts. This is due to the general R&D timeline of these generations. CPU supply forecasts have been placed. If everything goes well, we hope to be able to launch and ship the first Ryzen 6000 models before the end of Q2.
Our plans with NVIDIA GeForce RTX 3070 Ti and RTX 3080 Ti
Both of these new Laptop GPUs from NVIDIA (also known as 'Ampere Refresh') will have their XMG debut in XMG NEO and XMG PRO series. Other models will follow. XMG NEO will support these cards with NVIDIA's maximum power levels of 150 Watts (RTX 3070 Ti) and 175 Watts (RTX 3080 Ti) respectively. XMG PRO will opt for a slightly more streamlined max. power limit of 155 Watt for RTX 3080 Ti. The new power limits are achieved by raising Dynamic Boost 2.0 from +15W to +25W in this generation.
Our plans with Intel Arc Discrete Graphics
We will have some opportunities to feature Intel Arc Graphics in some future models, but those are still in the planning stage and cannot be confirmed at this time.
Our plans with AMD Radeon RX Discrete Graphics
We might have some opportunity to feature AMD Radeon RX Discrete Graphics in a future model, but this is still in the planning stage and cannot be confirmed at this time.
XMG Product Overview
Our plans for XMG NEO series
XMG NEO will remain one of our most powerful laptop series and will be the first XMG model to be compatible with the liquid cooling solution XMG OASIS. XMG NEO will also be our first series to feature DDR5 memory. XMG NEO 15 has already been announced. Plans for XMG NEO 17 are still a little bit further out and will not materialize before the end of Q2 this year.
Our plans for XMG PRO series
XMG PRO is planned to get an all-new chassis, diverging from the Max-Q approach of the current model. XMG PRO will continue to be a more "reasonable" counter-part to XMG NEO with slightly more moderate power limits and a more diverse set of I/O ports, including a dedicated Mini DisplayPort. XMG PRO will remain on DDR4 memory.
Our plans for XMG ULTRA series
As has been previously discussed, the future of XMG ULTRA series is currently unclear because of a lack of industry support for the MXM GPU form factor. XMG ULTRA will not be able to continue in its current form without some form of modular dedicated graphics. As such, XMG ULTRA is currently planned to remain on Intel Core 11th Gen Desktop CPU (Rocket Lake) with up to RTX 3080.
Our plans for XMG CORE series
XMG CORE series might experience some fundamental renewal this year. We are considering a switch to a Magnesium chassis to reach a lower system weight, but this might also increase the price. As such, XMG CORE series might move a little bit closer to the spot of the previous XMG FUSION series this year. Details on this will be further announced when ready.
Our plans for XMG FOCUS series
XMG FOCUS will remain our entry-level series. It launched in 2021 with RTX 3050 Ti. We might see a few nice upgrades on this series later this year. This will be announced at some point in Q2.
Our plans for XMG FUSION series
XMG FUSION 15 with Intel Core i7-9750H and RTX 2070 has been going strong for over 2 years, but now it is time for a change. The new chassis will be slimmer and lighter and will sport new LCD panels with 16:10 screen ratio. Stay tuned for our announcement in the coming weeks!
Supply and Pricing
The industry is still gripped by some form of a supply shortage. It is clear from the start that models with Intel Core 12th Gen and Ampere Refresh are priced higher than their previous 11th Gen counter-parts. We expect a similar trend for the AMD-powered models.
Several key component prices have risen again recently. Additionally, we saw large price increases in shipping costs between East Asia and Europe and increased cost for the production of certain chassis parts, especially those made of Aluminum and Magnesium-Alloy. Cities in Mainland China are expected to experience the latest variation of human malware. This might put additional stress on parts suppliers and assembly lines in the first half of 2022, making price forecasts somewhat difficult at the moment.
DDR5 memory supply is also expected to be tight at first, making models with DDR5 RAM significantly more expensive at launch. Supply for MLCC and other power-related components is as tight as ever, but manageable. Supply with next-gen AMD chipsets and CPUs is yet to be determined. If you wish to stay informed about future price developments and sales campaigns, please make sure to subscribe to the newsletter of bestware – XMG's own online shop.
Conclusion
2022 is going to be an exciting year for us. With considerable upgrades on thermals, including the innovation of XMG OASIS liquid cooling, we hope to be able to set a new standard for portable computing. At the same time we will be able to further streamline our portfolio towards portability, productivity and high-quality chassis designs. There will be a number of models with 16:10 screen ratio and with the competing CPU and GPU platforms from AMD, Intel and NVIDIA we will offer more diversity than ever before. Please also check out our survey for the 2023 roadmap regarding 16:9 and 16:10 screen ratios.